Ocala, FL Spa and Massage
---
Spa & Massage Rewards Deals - Use Anytime
---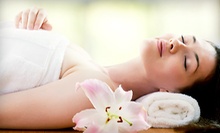 Aesthetician shapes brows by waxing away unwanted strands
---
Recommended Spa & Massage by Groupon Customers
---
A Touch of Heaven came to fruition under the direction of Andrea Sylvia, an aesthetician and former surgical nurse who dreamed of blending the pampering atmosphere of a day spa with the compassionate care of a doctor's office. Medical therapies appear throughout the extensive service menu, brightening complexions with pharmaceutical-grade skincare products from SkinCeuticals and trimming silhouettes with weight-loss programs. Nonsurgical face-lifts rely on microcurrent technology to diminish fine lines and visibly firm the skin, while the futuristic-looking alpha spa capsule combines the detoxifying benefits of a sauna with the rejuvenating effects of aromatherapy and vibratory massage.
In addition to these advanced treatments, traditional spa remedies such as manicures, hot-stone massage, and hugs from terry-cloth robes aim to quiet stressed minds and muscles. The spa also accents glowing complexions with glittering face and body art and donates all proceeds from the five-dollar service to Women at Risk, an organization devoted to combating human trafficking.
7733 W Newberry Rd., Suite B-1
Gainesville
Florida
352-332-5005
A butter-yellow canine named Praline formerly comforted nursing-home residents at pet-therapy sessions. Now, she serves as the tail-wagging mascot of Go Madd 4 Massage. Owner and massage therapist Diana Beranek takes Praline on strolls that cover up to 15 miles each week, and also practices pet massage therapy on the pooch's muscles. However, the tender care that Diana lavishes on Praline isn't reserved only for her pet; she also relieves physical stress and pain for human clients, drawing on 15 years of massage experience and a knowledge of deep-tissue, Swedish, and hot-stone massage techniques. Clients recline on a heated table surrounded by candles as soft music or recordings of Top-40 whale songs lull minds to peace. Heated lotion keeps flesh warm, and essential oils put nostrils at ease. A large massage room hosts twosomes with tense backs or a shared muscular knot.
2600 US Hwy. 1 S, Suite 7
St. Augustine
Florida
904-708-1083
Advanced Massage's licensed massage therapist Gerald Roach matriculated at Florida School of Massage and continued to pursue a successful career using his passion for helping clients feel better. Upon entering the therapist's domain, clients fill out a form detailing their massage-related wants and needs and solve a worksheet of posture-related geometric proofs. A slew of massage modalities is available; Roach can also customize treatments to meet guests' specifications.
4909 NW 27th Ct., Suite B
Gainesville
Florida
352-377-6008
Born with a penchant for serving others, Garrett Blanton began his professional life as a prison guard. "I'd always liked helping people," he says, but he soon realized that he also wanted people to be excited to see him—"a complete 180 from prison work." So, in 2008, he obtained his massage-therapist license and shortly after joined the team at Advanced Massage Professionals, where he set off on an entirely different career in corrections.
Though his expertise includes modalities such as deep-tissue and relaxation massage, Garrett specializes in myofascial therapy, which treats the connective tissue that ties together all bodily systems. He likens the human body to a sausage: "Things can't move around right if the casing's too tight," he says, not to mention the fact that it bursts when held over a campfire. After he leads them into a pale-blue treatment room adorned with Chinese lanterns and decorative dragonflies, Garrett's clients stretch out on a biomat, whose amethyst crystals work to draw out toxins and relieve pain as his nimble fingers work. Placing hot or cold packs on sore spots as needed, he assuages muscles with raw and organic shea or cocoa butter, eschewing perfumes that might lead to allergic reactions or bees attempting to pollenate your bellybutton.
4909 NW 27th Ct., Suite B
Gainesville
Florida
352-328-2919
Hi Gorgeous Salon draws clients with an array of aesthetic services, including manicures, waxing, and paraffin-moisturizing treatments. However, Ty, one of the salon's veteran stylists, draws clients with a single specialty: hair. He deftly snips locks into chic, custom cuts, and adds dimension to hair with highlights, tints, and all-over color. He can seamlessly blend hair extensions into natural hair, adding length without just plopping a mop on top of the client's head.
1215 NW 14th Ave.
Gainsville
Florida
352-374-7012
Inside Envision Salon & Spa, clients sit by a cozy stone fireplace while owner Danni Glenn channels 25 years of advanced cutting and coloring experience to craft their new look. The cosmetologist mastered European coloring techniques under the guidance of Keune's top educators. She went on to spend the next five years as an educator for the company, traveling throughout northeast Florida to share her skills with other salon professionals and flamingos born as natural brunettes.
Sharing the relaxing, sage-green space with Danni is nationally certified massage therapist Marla Taylor, who soothes achy muscles and clogged energy flows with reiki healing sessions or soothing LA stone-therapy massages. Guests can move from the serenity of her candlelit treatment room to enjoy a soothing facial or Shellac manicure, or just relax in the reception room's cushy, asymmetrical chair.
5413 A1A S
St. Augustine
Florida
904-461-4400
---