Restaurants in Ocean Pines
---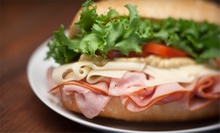 Breakfast subs, hoagies piled with meats and cheeses, new york pastrami sandwiches, and more at deli located close to the bay
---
Recommended Restaurants by Groupon Customers
---
At Nage's cozy dining room and wine bar, guests share small plates of truffle mac-n-cheese, mussels, and ricotta gnocchi paired with glasses of wine or specialty cocktails. The chefs use seasonal, local, and organic ingredients in their tapas and entrées, such as sirloin steak frites and Chesapeake crab cakes, making popular modern dishes with a tip of the hat to tradition. Exposed brick walls, low-hanging lights, and a chalkboard specials menu sets the scene at the eatery and wine bar. Nage features live acoustic music every Friday night, as well as weekly wine tastings and ladies' nights on Wednesdays.
19730 Coastal Hwy.
Rehoboth Beach
Delaware
302-226-2037
Under the watchful eye of owners Jose Perez and Yolanda Pineda, Mariachi Restaurant's culinary team builds homemade Mexican, Spanish, and Latin American cuisine from a catalogue of authentic and fusion-based recipes. The hearty dishes run the gamut from grilled chicken breast resting atop homemade durango sauce to charcoal-broiled pork marinated with imported Mayan spices that singe the true date of the apocalypse into the meat. Barkeeps man the restaurant's two watering holes, keeping fine wines and spirits flowing as feasts unfold in a dining room ornamented with white linens and paintings on the wall. Mariachis amble through semiprivate dining rooms to enliven soirees, and on the second-floor outdoor patio, guest sup alfresco overlooking the beach and boardwalk below.
14 Wilmington Ave.
Rehoboth Beach
Delaware
302-227-0115
Start off your dinner at The Chelsea with menu signatures such as an appetizer tower of fried onion rings ($8) or sweet potato won tons with ricotta, pecans, sage, and honey ($9). For the main meat attraction, try the buffalo meatloaf with mashed potatoes and green beans ($12) or the fried chicken sandwich, topped with sautéed basil cream sauce and artichoke hearts, capers, shitake mushrooms, and parmesan sided with The Chelsea Grill's crispy mix of white and sweet potatoes ($11). Test the eating waters with a light and satisfying grilled-shrimp spinach salad topped with manchego, kalamata olives, orange segments, and pink peppercorn vinaigrette ($11), or give weary taste buds a reason to taste again with a cup of Raul's chili ($5/cup, $6/bowl).
111 South Chelsea Ave
Atlantic City
New Jersey
US
At La Piazza Cucina Italiana, owner Joey M. and his chefs want everyone to feel at home—so much so that they'll prepare anything their diners request as long as the ingredients are in the kitchen. But with their expansive dinner menu and tasting menus to boot, it seems unlikely that anyone would need to craft their own entree. Joey's team's penne à la vodka draws its name from a creamy blush sauce sprinkled with salty strips of prosciutto, and chefs garnish veal, steak, or chicken with ingredients such as artichoke hearts, olive oil, and white-wine sauces. To help encourage a fun, friendly atmosphere, Joey M. himself frequently opens for weekend live music by crooning Sinatra's greatest hits or leading the dining room in sing-along songs to bring flatware to life.
4600 Pacific Ave.
Wildwood
New Jersey
US
609-522-8300
Though it sits on a bayside spot in Ocean City, de Lazy Lizard serves dishes evocative of the Caribbean islands. The Restaurant Association of Maryland's Favorite New Restaurant in 2012 spears fiery island shrimp splashed with orange and ginger and jerk-chicken salad with Caribbean-mango vinaigrette. That's not to say the Lizard ignores its East Coast roots—the menu also boasts scallops spiced with Old Bay, Maryland crab soup, and center-cut new york strip.
Patrons can approach the Lizard by land or sea, getting assistance from the dock master to park their boats or gargantuan seahorses. Beyond a row of dockside Adirondack chairs, potted palm trees frame tables scattered across a sand-strewn patio. Indoors, diners can breathe in ocean breezes that float into the dining room through large, open windows.
305 North 1st St.
Ocean City
Maryland
US
410-289-1122
---