Restaurants in Oceanside
---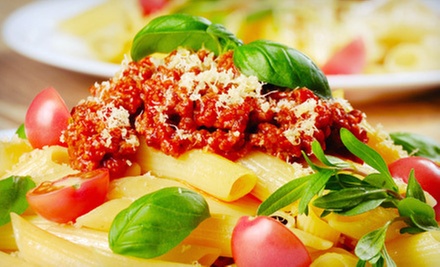 ---
Recommended Restaurants by Groupon Customers
---
Kansas City Smokehouse's hickory-wood smokers slow-cook succulent meats in the tradition of Missouri barbecue masters. Barbecued meets, including beef brisket, pulled pork, and smoked kielbasa pile on plates by the quarter pound. Tender st. louis ribs or one half of a barbecued chicken share platter space with cornbread and classic sides, such as Cajun rice, collard greens, baked beans, and sweet-potato fries. Chefs dust catfish and skewered shrimp in their signature kansas city dry rub, searing in the spices on a cast-iron griddle heated with their laser vision. Nineteen craft and domestic beers accent the smoky hues, or pair up with a bevy of burgers or steaks.
2367 Hempstead Tpke
East Meadow
New York
US
516-731-4227
At Cocina Latina, executive chef and owner Chris Dreams brings together culinary specialties from the world's Latin countries. He pays homage to traditional Spanish cooking with arroz con pollo, a dish that gains its flavor from a secret sofrito sauce known only by the chef and his spoon. To showcase the popular dishes of Central and South America, Dreams prepares fresh salmon ceviche, meat-stuffed empanadas, and Cuban-style mini burgers. Dreams' primarily old-world menu complements the dining room's rustic ambiance. Darkly stained wooden tables line up along sandstone-colored walls that reach to high ceilings with dimly lit chandeliers.
125-22 Queens Blvd.
Kew Gardens
New York
US
718-577-9800
Shimmering gold curtains line Passione's elegant dining room, where glasses of wine and specialty martinis clink over fine Italian dishes. Waiters transport gourmet pizzas to coves of cushy booths, where white-clothed tables hold pastas scattered with homemade mozzarella, fresh italian sausage, or seared chicken. Chandeliers sparkle to match the glimmering waters in a wall mural of a Venice canal, and an intricately patterned rug invites diners to decipher ballroom-dance-step diagrams encoded in its pile.
231 Old Country Rd.
Carle Place
New York
516-741-4800
Surrounded on all sides by the waters of Eastchester Bay, it's no wonder that The Black Whale's chefs add undersea favorites to their menu of homestyle comfort food. Maryland crab cakes with roasted-red-pepper sauce share table space with seared duck breasts painted with a black-currant-and-pomegranate sauce, and the behemoth Moby platter marries new york sirloin and jumbo shrimp with mashed potatoes and apple crisp. On Tuesdays, visual stimulation augments sips of sweet cocktails or shakes as Dinner and a Movie night transforms the eatery into a theater. Omelet and belgian-waffle stations serve up sustenance at the Sunday brunch buffet. Meals unfold in nautical-minded dining rooms or the back garden, which flaunts sun-drenched trees and a stone fountain instead of the more traditional sculpture of the patio's bricklayer.
279 City Island Ave
NY
New York
Vindalu curries hail from Goa, a state in western India. Kadai curries are a specialty of Pakistan. And so-called special club curries trace their lineage to the imperial kitchens of the Mughal dynasty, centuries in the past. Chefs at The Curry Club pay homage to these time-honored recipes as they add touches of flavor to medleys of veggies, meats, and seafood. Besides perfecting the restaurant's titular dish, they also hide spiced potatoes and peas inside samosas' crispy crusts, roast skewered lamb pieces in a clay oven, and marinate tandoori chicken overnight to lock in juices likely to sneak out after curfew.
96 North Broadway
Hicksville
New York
US
516-719-2888
On Sunday at Cannon's Blackthorn, a fluid collective of flutists, drummers, and fiddlers gather around brick fireplaces and play traditional Irish music through the afternoon. They welcome all musicians into their circle, as well as the occasional Irish dancers, whose footfalls reverberate off the dining room's stone floors and wood walls. Though Sundays provide the liveliest display of Irish pride at Cannon's Blackthorn, the eatery celebrates Irish culture in more subtle ways throughout the week. Dining companions can settle into private enclaves to share a romantic dinner and whisper sweet nutritional facts into one another's ears before noshing on hearty meat stews and pot pies. Additionally, bartenders pour brews until 4 a.m. seven nights a week.
49 N Village Ave.
Rockville Centre
New York
516-594-1222
---