Bars in Oceanside
---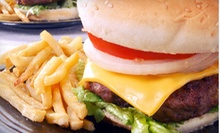 Buttermilk pancakes wake early-bird palates & Angus-beef burgers & chilidogs quiet carnivorous rumblings in sports-centric bar & grill
Use Today 11:15am - 9:00pm
---
Recommended Bars by Groupon Customers
---
Bite into at Medjoul dates stuffed with gorgonzola or potato herb gnocchi with bay scallops at Bite. Chef Chris Walsh of Confidential Restaurant and Loft serves French and Italian-influenced finger-food in small, tapas-style dishes. Deviled eggs with salmon caviar and banana pepper sauce for $3.50 and swordfish skewers for $5 mean you can sample and share plenty of plates for $55.
1417 University Ave.
San Diego
California
US
Gaslamp Tavern sates fans' appetites for bar fare and fun with 13 draft beers, a menu of pub-grub favorites, and 12 flat-screen plasma TVs broadcasting sporting events. Whet palates with a brew or specialty drink before stepping up to an appetizer of zesty nachos, a colossal conglomeration of tricolored chips, cheese, beans, and sour cream bonded together by guacamole and double-dog dares ($8.75). Burgervores delve into the tantalizing tastes of the South of the Border burger, with guacamole, jalapenos, and jack cheese ($9.50), while pizzaterians dine on barbecue chicken slices ($9.50). A weekend breakfast (Saturday and Sunday until 2 p.m.) features bacon-laden breakfast burritos ($7.75 each) and morning-ready cocktails such as a homemade-style bloody mary ($5–$7), served in a glass crafted from a deep-dish pizza.
868 5th Avenue
San Diego
California
US
619-239-3339
A person's choice of drink says a lot about them, though admittedly not as much as the fact that they're drinking it from a handmade amphora carved from the crystal skull of a hippogriff. Today's grapey Groupon lets you ooze sophistication and effortless worldliness from every pore without requiring immediate medical attention. For $20, you'll get $40 worth of pours and plates at Versai The Wine Bar, a Euro-like hot spot in Yorba Linda that specializes in rare sips, small plates, and nightly re-creations of Hannibal crossing the Alps using shadowpuppets. Versai The Wine Bar is open from 4 p.m. to 10 p.m. Monday through Saturday.
18248 Imperial Hwy.
Yorba Linda
California
Seeing nothing but kippers and meat pies when you look at the edible clouds in the sky is a sure-fire signal that your belly craves some British grub. Today's Groupon sends your appetite across the Atlantic for $25 worth of grub and libations at The Royal Falconer for $9. Journey to either of two locations, Riverside or Redlands, for genuine English fare, crisp brews, and the company of hearty pub goers.
4281 Main Street
Riverside
California
Gone are the days of lazy bar burgers built on beer-soaked buns and soups infested with over-salted peanuts. The cooks at 6740 hand-build custom creations for the people who nest in the place's cozily swiveling bar stools or seek shelter in the pub's sturdy red and gold wall seats below a soothing incandescent glow of booming jukebox tunery. Because any swimming pool needs pool toys, you can fill your stomach pool with fresh fare like garlic, thyme, and rosemary-marinated grilled herb potatoes ($5.95); signature Buffalo wings in spicy, regular, teriyaki, or barbeque sauce ($6.95 for a dozen); and 8 oz. Flatiron steak sandwiches ($10.95).
6740 Greenleaf Ave.
Whittier
California
Relaxed yet sophisticated lounge service in an iconic and luxurious setting.
326 Broadway
San Diego
California
619-744-2077
---