Massage in Oceanside
---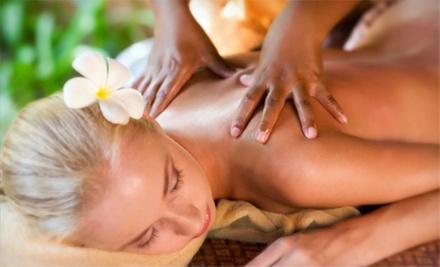 ---
Recommended Massage by Groupon Customers
---
One of the things that distinguishes Massage One Spa is its space; the 3,000-square-foot facility is replete with private massage rooms for individuals and couples, separate facial and nail-treatment rooms, and even a designated tranquility room. Inside the massage rooms, five types of strokes launch from therapists' wrists, from the intense, therapeutic manipulations of the deep-tissue technique to the injury-prevention methods of sports massage. Reflexology, an ancient Chinese technique of targeting pressure points in the feet and hands, dominates the eastern massage, which takes place not on a massage table but in an oversize recliner so that clients can make sure no wise guys are surreptitiously writing gullible on the ceiling. Unlike at some centers, Massage One's therapists perform each service for the full amount of time stated and never dock minutes for a pre-massage discussion or the client's uncloaking.
387 N Escondido Blvd.
Escondido
California
US
760-740-0406
Gene Metcalf of Golden Touch Therapy treats giant, muscular men very delicately—he's massaged pro athletes from more than eight teams, including the Denver Broncos and the St. Louis Cardinals. It's not surprising he's had such success with athletes, since he's developed a sports injury relief program that uses neuromuscular therapy to reduce scar tissue and improve circulation to crucial nerves. For other clients, he administers 60-minute therapeutic, deep tissue, Swedish, and reflexology massages. Many of his treatments target specific zones of the body, such as TMJ relief for the jaw and upper body and sciatica relief for the lower back and vestigial tail.
171 Saxony Rd., Suite 110
Encinitas
California
760-715-9704
Certified massage therapist Carmela believes that a calm mind is key to relaxing the body. During her bodywork treatments at Radiance Spa, she lulls clients into a meditative state with peaceful music, coaxing them to relinquish anxieties and peacefully exhale. Her modalities range from Swedish to sports to prenatal kneads, and aim to ease the unique tensions of each guest. Another partner in the spa's banishment of stress is skin specialist Tasha, whose facials, peels, and infrared body wraps refresh pores with customized formulas.
16416 Beach Blvd., Suite 119
Westminster
California
562-481-1629
Within a studio of deep mulberry-colored walls, the aestheticians of Pur Oasis Spa roll up their sleeves and encourage their clients to relax during services that include facials, skincare, and waxing. They rely on Osmosis Pür Medical Skincare products, which are known for their gentleness on even the most sensitive skin, even when molting. Pur Oasis Spa is located within Deep Tan & Spa.
90 North Coast Highway
Encinitas
California
760-473-3218
Holistic health practitioner Tracey Stolle uses her expertly trained hands to help clients let go of pain and recover after serious injuries. Her specialty in therapeutic massage makes her especially sensitive to pain from chronic injuries or everyday stresses. She can craft 30-, 50-, or 80-minute massages to relieve discomfort using a variety of modalities such as reflexology and deep tissue. When she's not kneading tension away at one of her two locations, Tracey shares her industry knowledge by teaching in MiraCosta College's massage program and slyly turning handshakes into hand-massage sessions.
15644 Pomerado Rd., Ste 304
Poway
California
US
858-692-5221
Rich browns and greens cover nearly every inch of Origins Massage and Bodyworks, summoning the serenity of an ancient forest. Teeming with plant fronds, mud-hued walls, and dark wooden floors, this tranquil space encourages visitors to ponder beginnings, from the seedling that grows into a towering redwood tree to the sense of calm that springs from a gentle touch. Licensed massage therapists guide individuals and couples to private rooms, where warm beds and soft music help them shed stress from the outset. After the therapist compiles a health history, the client identifies tender muscles, stiff joints, and other sources of pain and tension. If desired, staffers may also perform skin treatments such as organic facials and exfoliating foot scrubs.
During the studio's signature Swedish massage, a therapist cultivates relaxation using long, flowing strokes, light taps, and gentle pressure. Each session is tailored to specific pressure preferences and may include trigger-point therapy if the client is suffering from muscle knots. To minimize friction and maximize comfort, the therapist may daub the skin with massage oil as smooth as a saxophone dipped in chocolate fondue.
18303 Brookhurst St.
Fountain Valley
California
US
714-965-2700
---