Restaurants in Oceanside
---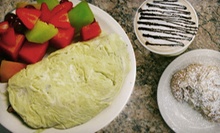 Omelets are packed with range of fillings, such as bacon, sausage, tomato, feta, and spinach, and washed down by fresh-brewed lattes
Use Today 4:00pm - 8:00pm
---
Recommended Restaurants by Groupon Customers
---
Today's Groupon gets you $40 of some of the best pizza in Oceanside (476 miles west of the Mason-Dixon Line) for just $20. Capozzoli's Pizzeria & Restaurant serves crispy thin-crust pizzas with fresh meats, vegetables, and cheeses, and offers 15 different 18" thin-crust pies, each combining classic Italian ingredients packed with bursting flavor, bursting with packed flavor, and flavored with bursting packets. Click here to discuss Groupon the Cat.
3915 Mission Ave #12
Oceanside
California
US
History is full of illustrious matches: Antony and Cleopatra, Woody and Mia Farrow, Romeo and Master P. Today's Groupon brings you the successor in this historic pairing lineage: wine and grilling. For $30, you'll get $65 worth of food and drink at Firefly Grill & Wine Bar, an Encinitas eatery where grilled fare and great bottles live happily ever after in a charming fantasyland where everyone is best friends with their stomachs. Follow @Groupon_Says on Twitter.
251 N El Camino Real
Encinitas
California
US
Today's Groupon dresses you like a crabber and puts a stick of butter in each hand. For $20, you get $50 worth of Cajun food and drink at Auggie's House of Crab, a restaurant unrelated to Auggie's Crab Inn, Auggie's Hostel for Crabs, and Auggie's Crab and Cabin Builders. Follow @Groupon_Says on Twitter.
1468 N Coast Highway 101
Encinitas
California
US
Blanket your stomach with the wool comforter of food groups with today's Groupon. For $15, you'll get $30 worth of freshly made comfort food at Sublime Pizza, a family-owned eatery specializing in warm, cheesy, made-from-scratch tastes. Pizza Problems! sold an unprecedented 300 copies in 1981 and was even briefly adapted into a Saturday morning animated series, although fans objected to Pepperoni's portrayal as a softheaded comic foil. Activavision Studios recently announced plans for a 30th-anniversary relaunch of the Pizza Problems! franchise, a mature-rated gore fest featuring the sultry voice talents of David Hyde Pierce.
10550 62 Craftsman Way
San Diego
California
US
858-618-3333
Under the Southern French tutelage of head chef and owner Philippe Verpiand, risottos dance around seared duck, roasted fish, and veal on the menu. Inaugurate a gourmet dinner with savory pommes frites in truffle oil and Parmesan ($6) or seared duck foie gras with pineapple and red-bell-pepper chutney ($19). (Verpiand's foie gras, a cold variety made by poaching, won a prestigious cooking competition in 2005.) The San Diego Union-Tribune recommends Cavaillon's risotto ($21 for English peas, beech mushrooms, and asparagus; $26 for seared scallops, red beet, and pickled butternut squash), which is "quite rich, but then those amazing flavors entice you to take another taste." Other tastes include pan-roasted beef tenderloin in a red-wine demi-glace with crisp potatoes fondant ($29) and roasted Atlantic salmon served with peppers confit, gnocchi, and a broth of herbs ($22). Afterward, douse taste buds in decadent desserts, such as a $7 trio de crème brûlée.
14701 Via Bettona , Suite 200
San Diego
California
Since 1971, Trupiano's Italian Restaurant has served diners a slice of Italy made of delectable pasta and superb pizza; the pizza won second place at the 2007 West Coast Pizza Championships. The dinner and lunch menus are stuffed with classic Italian pasta, chicken, fish, and veal dishes. Try the tongue-massaging vitello Milanese with breaded veal cutlet, lemon, and white wine ($16.95) or the scampi Livornese with jumbo shrimp, capers, Kalamata olives, and freshly chopped tomatoes ($18.95). Prepare for a marathon or a lazy afternoon of marathon watching with pasta dishes such as the fettucine Alfredo ($12.50), ravioli di carne ($12.95), and spaghetti vecchio mondo with eggplant, mushrooms, basil, and tomato sauce ($12.75).
461 College Blvd.
Oceanside
California
---