Restaurants in Odenton
---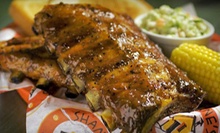 Baby back ribs, wings in seven sauces, and pork slathered in sauce inspired by founder's grandfather's recipe
Use Tuesday 1:00pm - 7:00pm
---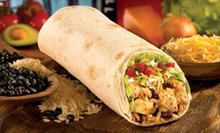 Whole-grain tortillas wrap around handmade guacamole, grass-fed steak, and choices from more than 20 fresh ingredients
Use Tuesday 2:00pm - 7:00pm
---
Recommended Restaurants by Groupon Customers
---
At Let's Dish!, families select healthy, hearty meals to eat at home without having to dedicate valuable time to planning, shopping, or preparation. After placing an order online, patrons stop by the shop at a scheduled time to find dishes that are made from fresh ingredients, customized to taste, and then, like Sleeping Beauty, frozen to prevent them from aging. Meal menus rotate monthly and include homestyle selections, such as pork tenderloin, pulled pork with mashed potatoes, and rosemary and mustard grilled flank steak. The preassembled Dish-n-Dash entrees allow for speedy pickup service, freeing families to spend more quality bonding time sorting the mail by size and color.
6925 Oakland Mills Rd., Suite G
Columbia
Maryland
US
The prevalence of artificial ingredients in processed food had made Americans 13% less likely to know all 50 state capitals. Succor your high-fructose corn-syrup hangover and red dye #40 fears with today's Groupon to William's American Bistro: $10 for $25 worth of sustainable, organic, and fresh fare. Impress your fellow foodies with the skillfully prepared delights and premium ingredients of the New American cuisine.
6002 Greenbelt Rd
Greenbelt
Maryland
US
More than a breeding ground for revolution, hip hats, and lovelorn sea turtles, Rhode Island Reds keeps your mitochondria busy with a mouthwatering menu of gourmet pizzas, homemade soups, salads, signature sandwiches, wine, beer, and more. Reds is renowned for its Roman-style thin-crust pizzas (eight slices of gormondo tomato pie cost $10). Try the Broforino, made with garlic pesto sauce, onions, anchovies, and fresh tomatoes; or dine on a prosciutto, pineapple, mozzarella, and tomato-herb gravy pie. Sandwiches ($6.50 each) such as the Joe Di Maggio (a salami sandwich on a baguette with mozzarella, tomatoes, and garlic pesto dressing) or the Black Friday (turkey breast and Swiss with a smear of cranberry sauce on rye bread) are served weekdays until 3 p.m. Customize your sandwich's condiments or design the entire thing yourself; Reds' ingredients are fresh, usually organic, and often locally sourced. Plus, there are vegetarian and vegan options available.
4700 Rhode Island Ave.
Hyattsville
Maryland
Yelpers give the Pratt Street location 3.5 stars, and 72% of Urbanspooners like it:
13600 Baltimore Ave., Suite 300
Laurel
Maryland
Soretti's specializes in serving a robust menu of authentic, home-style Ethiopian fare, which is traditionally eaten with injera, a light, spongy flatbread that serves as an edible utensil. For dinner, embark on a culinary odyssey with the gomen be-ayib, (collard greens with homemade cheese, herbed butter, and toast, $6.95) before tongue-hopping to the veggie combo #1 ($11.50), which features red lentils, cabbage, potatoes, split peas, string beans, carrots, and tomato salad. Meatier dishes including the beef tibs ($11.50) sautéed with jalapeño, onions, and herbs, cater to carnivorous cravings. Soretti's also features a lunch menu and traditional weekend coffee service with eggs, toast, and omelettes. With its butter-hued walls and cozy tables, Soretti's interior is as warm and inviting as diving off a springboard into a tub of margarine. Reservations are recommended for parties larger than six.
15510 Old Columbia Pike
Burtonsville
Maryland
240-390-0044
Taking its name from U.S. Congressman and Freedmen's Bureau official John Mercer Langston, Langston Bar & Grille maintains a connection to tradition with its country-style meals of shrimp and grits, black-eyed peas, and barbecue ribs. The eatery blends haute cuisine with home cooking, not only on its Southern-tinged menu—which features dishes such as wild-caught fish fried in cornmeal batter and Angus beef burgers—but also in a classy lounge atmosphere of art-decked walls, patio seating, and a full-service bar. Like a barbecue smoker full of chips from free-range hickory trees, the foods themselves infuse a touch of healthy, responsible eating to the rich and satisfying flavors of Southern cuisine, with organic veggies and sides such as baked cabbage, string beans, and collard greens. Guests can complement their home-style feasts with slices of sweet potato pie, glasses of wine and beer, or sweet-smelling imported cigars.
1831 Benning Road Northeast
Washington
District of Columbia
202-397-3637
---