Beauty & Spas in O'Fallon
---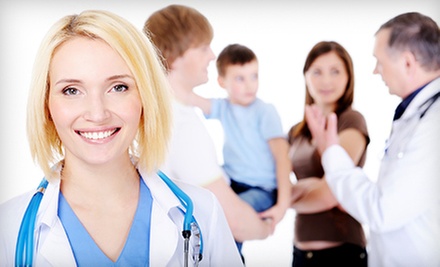 ---
Recommended Beauty & Spas by Groupon Customers
---
Live Well Wellness Center's Doctors of Chiropractic—Patrick Komeshak and Danny Mosley—treat patients with the LiveWell System, a holistic approach developed to lead patients toward optimal physical, chemical, and emotional health. Chiropractic correction realigns the skeletal architecture using techniques that are gentle enough for everyone from newborn babies to senior citizens. Ensconced in one of seven warmly lit private treatment rooms, massage therapists return sore necks and backs to a state of tranquility as they knead out knots and stress, and nutritional experts provide patients with recommendations for dietary supplements and the best films about bok choy.
3030 Frank Scott Pkwy. W
Belleville
Illinois
618-236-3600
Doctor of Chiropractic Heidi Westra specializes in helping clients, particularly women, feel great both inside and out with chiropractic care, microcurrent body and face sculpting, and nutritional testing. She's passionate about helping women to improve their overall health and takes time to educate them at her clinic, ensuring that they understand how to prevent back pain, how to eat healthier, and how to keep breathing. Dr. Westra also helps her patients to take some time to relax from their busy lives with the help of her in-office handbag boutique, Heidi's Handbags, which offers patients a place to shop while they drink complimentary coffee, tea, and hot chocolate and wait for adjustments and muscle-mollifying massages.
920 Talon Dr., Suite 101
O'Fallon
Illinois
618-632-2000
The team of aestheticians at Shear Art Salon stays abreast of hair and nail trends by receiving continual education. Pulling from an arsenal of Redken products, stylists use their understanding of all hair types to revivify flagging hairdos with artful snips and all-over, dimensional, and corrective color treatments. The multitalented techs can also conquer hair along facial terrains with waxing services and highlight digits in bold coats of OPI color.
3955 Mid-Rivers Mall Dr.
St. Peters
Missouri
636-498-0289
At Starla's Salon & Spa, more than 20 beauty professionals dedicate their talents toward enhancing natural beauty. They each possess a rich backlog of experience. Owner Starla Zarbo, a stylist with more than 20 years of experience, sets the example by continually enrolling in educational seminars. Aesthetician Judy Kohlberg has accumulated more than 1,000 hours of additional training in London, and integrates technology into various treatments, using a mechanical wand to resurface skin and a cold-light laser to diminish signs of aging such as crow's feet and eagle talons. These women join other specialists who work in a sunlit salon with black, red, and white walls.
862 Arnold Commons Dr.
Arnold
Missouri
314-565-0944
Permanent Great Looks Salon & Spa's team of spa technicians enhances exteriors with a comprehensive menu of skin, body, and nail treatments. Manicure services provide customers with nails painted with Shellac polish that protects against chips for up to two weeks, even after wearers build sand castles to store stockpiles of shucked oyster shells. Toes simmer in heated bubble basins before curling up in steamy towels and warm paraffin wax in the pedicure room, and aestheticians stationed in serene private rooms treat skin to body scrubs designed to polish surfaces and stir circulation. The active ingredients in body-scrub formulas range from Dead Sea salt to organic brown sugar steeped with essential oils and more conducive to soft skin than intercepting sneezes from the Marshmallow Man.
1726 Main St.
Alton
Illinois
618-462-2415
Yeimi's Beauty Salon's stylists rely on more than 22 years of experience taming tresses as they produce top-quality cuts. Unlike codependent hair, which refuses to leave the nest, these salon professionals always listen to clients, and can decisively snip off split ends or deep condition locks with keratin treatments. Yeimi's Beauty Salon also eradicates unwanted hairs with facial waxing and threading services and decorates nails with no-chip manicures.
3563 Ritz center
St Louis
Missouri
US
314-894-0102
---