Beauty & Spas in Ogden
---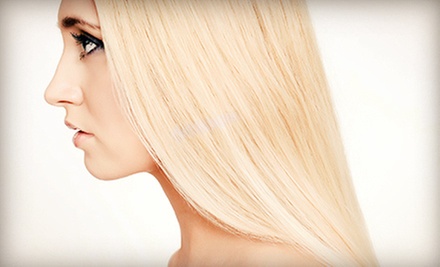 Ogden Central Buisness District
---
Recommended Beauty & Spas by Groupon Customers
---
At Le Belle Visage Day Spa, licensed master aestheticians Jenifer Hoehne and Terra Hoyt utilize the latest technology and naturally derived products to care for skin. The team reveals fresher faces with several exfoliating procedures, including diamond-tip microdermabrasion, the ultrasonic DermaSound system, and a variety of chemical and enzyme peels. The skin experts carefully analyze visages to recommend appropriate formulas from the Éminence organic skincare line, whose fruit-based and herbal ingredients are manually harvested at a solar- and wind-powered farm in Hungary.
Among the spa's 12 types of facials, the Quatre Mains (four hands) treatment provides an ideal combination of cleansing and relaxation: two hands perform a customized European facial and shadow-puppet version of The English Patient while two hands simultaneously massage the legs, feet, arms, and hands. Wood floors and antique-style furniture give the space an intimate and homelike ambiance.
286 Sierra Way, Suite B
Layton
Utah
801-663-7195
Under the helm of a board-certified doctor and supervising MD, trained and certified staffers of Marila's Medical Spa help revivify clients' exteriors with a medley of new technologies. Wielding the Cynosure YAG laser, they decimate unsightly sun spots and permanently reduce unwanted hair. Microinjections of Lipo-Ex come to the aid in removing localized fat deposits, whereas injections of Botox freeze the nerve impulses that cause wrinkles or inappropriate eyebrow raises.
196 E 2000 N, Suite 100
Tooele
Utah
435-843-5848
Beauty may be subjective, but beauty treatments are a science at Belladante Medical Institute. Led by Dr. Aaron Jones, the dedicated staff uses medical-grade technology to effect dramatic aesthetic changes. The center's Cutera Xeo cosmetic laser system inhibits the growth of stubble and body goatees, and the MiXto SX microfractional CO2 laser stimulates collagen production, improving skin texture and tone. Laser liposuction procedures help contour silhouettes fast, and medical weight-loss services strive to generate lasting results by combining customized diets with prescription medications intended to jump-start metabolisms.
1451 N 200 E, Suite 240
Logan
Utah
435-753-2791
After graduating from the Ogden Institute of Massage, Melissa Mower practiced her craft in spas and chiropractic offices alike. Today, she brings the skills she honed in those contrasting environments to her very own studio. Mower prides herself on the open communication environment that she cultivates with her clients, whose massage "wants" are just as important to her as their massage "needs." She addresses these issues and more with bodywork from modalities that include deep-tissue, Swedish, sports, and trigger-point massage. During hot-stone massages, Mower soothes deep-seated pain with carefully placed simmering rocks; during infant massage, she eases youthful discomfort by placing babies on clients' sore backs.
670 E 12th St.
Ogden
Utah
US
801-425-5426
Krista Call's passion for massage therapy started as an interest in aromatherapy. She has used essential oils for the past 24 years, choosing, for example, lavender oil for bug bites, tea-tree oil for its cleansing effects, and peppermint for allergic reactions to reindeer. Eventually she began receiving reflexology treatments at the location where she bought her oils, which made her realize how crucial the mind-body connection is to health. She became a licensed massage therapist, desiring to share massage's myriad physical and emotional benefits with others.
At Soothing Days Massage Therapy, Call specializes in therapeutic Swedish and prenatal sessions and gently heats towels or stones to enhance circulation and relaxation. She loosens muscles at spa parties and bridal showers and can also travel to offices or sporting events to perform chair massages.
3725 Washington Blvd., Suite 2
Ogden
Utah
801-791-2042
Doctors Randy and Chris Whetton have each journeyed around the country and the globe, from Southern California to the Philippines, in pursuit of both holistic and medical knowledge and experience. Developing a program that revolves around a combination of acupuncture, nutrition, and spinal decompression, the Whettons honed their healing practice with the help of completely noninvasive treatments. While acupuncture calls on thousands of years of tradition to aid ailments such as headaches and allergies, spinal decompression uses modern technology—and some techniques from the distant future—to help relieve pain from sciatica, herniated disks, and injuries resulting from overzealous somersaults.
4638 S 3500 W, Suite 6
West Haven
Utah
801-393-8880
---