Ogden, UT Drs and Health Practioners
---
Drs & Health Practitioners Deals
---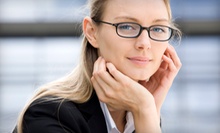 Eye exams in English or Spanish; prescription eyewear from Oakley, Guess, Nine West, and Nike
---
Recommended Drs & Health Practitioners by Groupon Customers
---
Dr. Kris Davis and Dr. Daniel Davenport of Spinal Care Center of Utah bolster clients' back and bodily health through holistically focused chiropractic treatments. Spinal columns undergo careful scrutiny during consultations in which the docs chart complaints and conduct orthopedic, neurologic, and spinal examinations, taking all necessary x-rays to check for bone stability and souvenir seashells posing as vertebrae. Their massages simultaneously unload muscle-held stresses and unwind tissue knots, while their K-Laser saturates tissues with a combination of specific wavelengths of light that help biostimulate body repair. These stimulating sessions can increase natural bodily processes to accelerate tissue repair, improve vascular activity, and speed recovery from whiplash incurred at the office's annual rolling-chair demolition derby.
1186 E 4600 S, Suite 220
Ogden
Utah
801-475-1800
A licensed chiropractor, Dr. Timothy Annis has refined his talent for healing for more than 15 years. The doctor combines this experience with a passionate interest in helping people to feel better, particularly those frustrated by ineffectual traditional medicine and unsure of what other treatments exist. His expertise in massage therapy, acupuncture, and general chiropractic care helps patients surmount a range of maladies, from chronic pain to slipped disks.
460 E 2nd St., Suite 8
Ogden
Utah
801-621-2541
After graduating high school at 15 and getting a first-hand glimpse of chiropractics through a family friend, the future Doctor of Chiropractic Gordon LeSueur II noted, "It was then that I realized the importance of taking care of my body so I could prevent all the health problems my mother's family has gone through." Now one of the two chiropractors at Corner Canyon Health and Wellness, Dr. Gordon helps others to be good custodians of their bodies with spinal adjustments, detox treatments, massages, and weight-loss strategies. Alongside internal care, the clinic's aesthetic microcurrent services tighten skin and contour physiques better than a kiss from an electric eel.
1178 E Draper Pkwy.
Draper
Utah
801-553-9691
---
---
Drs & Health Practitioners Deals - Recently Expired
---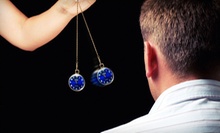 Hypnotist helps clients achieve peak mental performance during meditation that emphasizes positive reinforcement through language.
---
---