Museums & Galleries in Ogden
---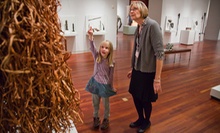 Peruse the permanent collection that contains thousands of works of art or catch a special exhibit highlighting American Indian history
---
Recommended Museums & Galleries by Groupon Customers
---
Within Clark Planetarium's space-exploration-themed facility, the interactive displays and immersive IMAX and planetarium shows enlighten visitors with interesting scientific facts. Spread out across 10,000 square feet, more than 15 hands-on exhibits entrance guests with artifacts such as photos from the Hubble Space Telescope and a moon rock brought back from the Apollo 15 mission.
Audio in the ATK IMAX Theatre emanates from a 14,000-watt digital surround-sound system as the 70-foot wide, five-story-high screen accommodates Hollywood hits and insightful documentaries in 3-D. More entertainment abounds in the Hansen Dome Theatre, where six high-definition projectors fill the 55-foot domed screen with seamless images during scientific films and cosmic light shows.
110 S 400 W
Salt Lake City
Utah
385-468-7827
A true polymath, Leonardo da Vinci was never content learning a single subject at a time. Leonardo's expertise is renowned, as he honed his mind as an artist, scientist, inventor, and mutant ninja. In this same spirit, The Leonardo, his namesake museum, explores the ways that science, technology, art, and creativity connect. Each day, its exhibits bustle with activity as visitors examine thought-provoking installations, experiment with hands-on activities, and participate in ever-changing workshops.
The Dynamic Performance of Nature exhibit, for example, is a giant sine curve made of solar-powered LEDs that stretches the length of room. It flashes and changes its color in response to real-world factors such as solar radiation, humidity, and pollution. Artists, inventors, and other innovative thinkers work within the Lab@Leo, where they help museum guests make creative projects out of different materials. Some of the museum's other exhibits include I.D.: What Makes You, You?, which explores our genetic origins, and Render, where visitors can create their own short animated films.
209 E 500 S
Salt Lake City
Utah
801-531-9800
The team at the Wasatch Arts Center teases out the creative passions of children without fostering any kind of competition. Instead, the staff prioritizes performance, hosting recitals every six months that highlight their protégés' progress. Whether they teach dance, private music lessons, or preschool, they strive to nurture each student's skills by respecting his or her interests and planning an age-appropriate curriculum.
Professionally and university-trained dance instructors school youngsters in styles such as ballet, tap, hip-hop, and tumbling. Their one-on-one music classes cover the piano as well as string or brass instruments, imparting the value of consistent practice and a strong tuba-throwing arm. For both disciplines, they emphasize proper technique over speed of advancement—this emphasis on fundamentals steadily builds self-confidence and enthusiasm for the art.
Preschool sessions admit a maximum of 12 students—all 3- and 4-year-olds—for activities that cater to diverse learning styles. Teachers present works from famous artists and composers in addition to standard topics, including letters, numbers, colors, and building hooks to help reach doorknobs.
11968 S Redwood Rd.
Riverton
Utah
US
801-253-6323
---