Golf in Ogdensburg
---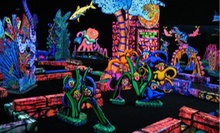 Golf balls tumble down turf in 18-hole indoor glow-in-the-dark course themed around various settings such as medieval times and rain forest
---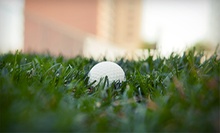 Ponds lined with stately stone faces come into play on 7 holes at scenic par 72 course that overlooks scenic expanse of Ottawa River
---
Recommended Golf by Groupon Customers
---
Hips start swiveling with grace at White Sands Golf Course & Practice Centre, where golfers hone their form at a nine-hole executive course, extensive practice facilities, and academy classes. On the 1,477-yard course designed by Graham Cooke, golfers can choose from three tee options and finish rounds in less than two hours. To gear up for the water hazards and serpentine sand bunkers that stud the fairways, players can sharpen their technique at the extensive White Sands practice facility. Here, 30 fibre mats and 42 grass tees await along the driving range, and players can work on their victory half smiles after chipping out of the practice sand trap onto a green.
White Sands Golf Course & Practice Centre is also the site of the Graham Gunn Golf Advantage School, whose head is a member of the European Senior Tour and spent a decade as head professional at the Carleton Golf & Yacht Club. Gunn teaches clinics and offers private coaching for students who don't want to be overheard asking how long you have to sit on a golf ball before it hatches.
1705 St. Joseph Blvd.
Ottawa (Orleans)
Ontario
Dunnderosa Golf Club's par 3 course lets golfers swing and putt their way through tree-dotted hills that look out on the scenery of nearby Gatineau Park. With greens that are reachable in one shot on every hole, the course invites players who are still seeking out their first hole-in-one or trying to arouse jealousy in their driver by spending more time with their short irons. Dunnderosa Golf Club also features Dunn-D's mini-golf course, which wreathes around a central waterfall for 18 holes of tricky putts and scenic landscaping. Lined by brick rails and peppered with rocky obstacles, each hole presents geometric challenges, forcing players to carom balls around 180-degree turns and steer them through craggy outcrops before sweeping them into holes positioned on devious slopes. The mini-golf course's front nine is designed to be accessible for players with reduced mobility, offering a competitive venue for clubbers of all ages and those intent upon playing with their shoes tied together.
11 Chemin Notch Rd.
Chelsea
Quebec
819-827-8056
Sculpted into the banks of the St. Lawrence River, Iroquois Golf Club's links-style course spans 6,158 yards of gently undulating terrain. As players traverse the picturesque par 72, riverside winds, relatively sparse trees, and scorecards printed in Gaelic channel the coastal charms of the old courses of the Emerald Isle. Intervening waterways appear on all but three holes, placing confident swings and sound course management at a premium as clubbers hunt down birdies and pars. Rounds conclude with theatrical flair at the par 3 18th hole, where approach shots must send orbs somersaulting over a water hazard that sits right between tee and green and houses a community of Blue Herrings who raise their children on a golf ball-based token economy. Patrons who arrive by plane at the Iroquois Air Strip or by boat at the Iroquois Marine Services can call the golf club and arrange for a shuttle to drive them to and from the course.
Course at a Glance:
18-hole, par 72 course
Course rating of 68.8 from the farthest tees
Slope rating of 127 from the farthest tees
Length of 6,158 yards from the farthest tees
Three tee options
Link to scorecard
10912 Golf Club Rd.
Iroquois
Ontario
613-652-4367
After a three-year renovation by renowned course architects Graham Cooke and Stan Brigham, Gatineau Club de Golf unveiled a sleek new course layout in 2010. The site boasts championship-calibre credentials, including a total distance of more than 7,000 yards from the back tees and large bent-grass greens that punish poorly struck approaches with treacherous putts. Generous fairways reward precise bifurcation with excellent lies, but players guilty of errant drives will be pleasantly surprised to find plenty of room to make a bold go at the green. Water makes its omnipresence known as early as the 395-yard second hole, where players must tee off over a pond, negotiate with a creek that crosses the fairway 100 yards in front of the green, and avoid the water that buttresses the green to the left and rear. The 18th hole makes a 90-degree dogleg right around a massive reservoir and a pond stretching alongside the entire right length of the fairway, demanding the same precision as the moat around a driveway.
255 Rue Chemin Edey
Aylmer
Quebec
Canada
819-557-4411
The championship golf course at Château Cartier Hôtel Conférence Golf & Spa sidles up to the Ottawa River, letting swingers soak in views of rapids rushing beneath the Champlain Bridge and gaze out to the Peace Tower and stately parliament buildings. Since 1923, this breathtaking scenery has inspired athletes as they drive, putt, and bite their golf balls to endow them with the regulation number of dimples. To gear up for the course's water hazards and sand traps, golfers visit the driving range and putting green or sign up for lessons. They can also drop in at the pro shop to pick up equipment from TaylorMade and Titleist.
Before days on the course, players fuel up with luxurious continental breakfasts at Table 20 Restaurant Lounge Bar. Ekko de Brasil takes over for lunch and dinner with grilled meats served by gauchos and entertainment provided by samba brazilian dancers. These contemporary eateries nestle in the Château Cartier Hôtel, a sprawling edifice whose peach brick and sloped green roof enclose epicurean accommodations, as well as a health centre and spa where workouts and massages push and then relax muscles.
Course at a Glance:
18-hole, par 72 course
USGA course rating of 68.7
Slope rating of 117
1170 Aylmer Rd.
Gatineau
Quebec
819-777-8870
Club De Golf Tecumseh incorporates the Gatineau countryside's diverse topography into the design of its 18-hole, 6,466-yard golf course that sits on the north side of the Ottawa River. A quick jaunt from downtown Ottawa, the course caters to players of all abilities who are looking for a respite from the workday doldrums or an excuse to use their dueling golf glove against fellow competitors. The par-72 layout boasts tree-lined fairways, a multitude of sand traps, and several water hazards that will put golfers' swings to the test.
475 Rue Saint Louis
Gatineau
Quebec
819-663-5630
---