Things to Do in Ogdensburg
---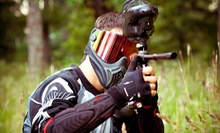 23 paintball parks open their fields for 3 hours of prismatic warfare for PaintballTickets.ca pass holders, with all gear included
---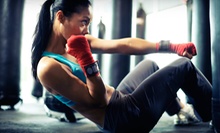 Certified personal trainer leads classes that focus on cardio exercises designed to build stamina and endurance
---
Recommended Things to Do by Groupon Customers
---
Evan Malamud is a diehard baseball fan, softball player, and, most importantly, a father of three, including to his son and sports fanatic Jaedyn, who was diagnosed with autism several years ago at the age of two. Looking for a way to give back to the Children's Hospital of Eastern Ontario—where Jayden has received treatment since his diagnosis—Evan recently challenged six-time MLB all-star, former MVP, and one of his personal favourite players, Jose Canseco, to a charitable homerun derby via Twitter. Then, in a twist worthy of a Hollywood script or elementary school daydream, Canseco accepted.
On May 12, cloud-scraping softballs will be launched across Canada's capital in an effort to not only raise autism awareness, but also to raise funds for Jaedyn's hospital. After Malamud and Canseco square off in a head-to-head homerun derby, the pitch pummelling continues during a celebrity softball game where public figures, such as former Ottawa Senator Shaun Van Allen, clash for diamond supremacy. Sports fans can also expand their memorabilia collections during a charitable auction after the game, or at a Jose Canseco autograph signing on Friday, May 11, at Hazeldean Mall. There, the legendary slugger will dish out signatures to collectors and apologies to numerous broken bats.
300 Coventry Rd.
Ottawa
Ontario
Thumbing their noses at Mother Nature, Tagzone's staff has modified paintball so that it can be played year-round indoors. The principal switch is from paint cartridges to rubber foam balls, which are loaded into CO2 paintball markers. Players fan out in mazes and creep over bunkers on nine five-minute missions, whose play is intensified by dense fog, narratives about protecting the president, or—in a lightning round—a time limit lasting the length of the Mission: Impossible theme song. Two referees open every game to the public, and require at least six players age 10 and older before signaling to the DJ to play the opening theme music. Visits begin with a safety review and the distribution of protective masks that prevent opponents from seeing you flash back to middle-school dodgeball games.:
89-B Montreal Rd.
Ottawa
Ontario
613-746-6000
A fleet of muscular vehicles from Ferrari, Porsche, and Chevrolet's Corvette series powers Ottawa ECR Inc. Its staffers can drop off and pick up the luxurious rides at customer's doorsteps for rentals, ideal for special events such as a wedding or baby's first doctor's visit. Alternatively, drivers looking to polish precision driving skills can buckle their seatbelts for an instructor-accompanied test ride in a red Ferrari 360 Spider, complete with insurance coverage and gas.
:m]]
11 Aviation Pkwy.
Ottawa
Ontario
613-601-6327
Modelled after the world-renowned Le Circuit Mont-Tremblant, Le Circuit Quyon Karting is a destination for serious and committed karting fans. Guests pilot high-powered karts over 550-metres of asphalt, chasing the checkered flag in single 8-minute races or longer 15- and 30-minute group sessions. An active participant in the NCKC competitive kart-racing club, Le Circuit Quyon hosts championship series races and outfits their own team of speedsters in Corsa or CRG karts or mostly empty soap boxes.
1254 Proven Rd.
Quyon
Quebec
613-229-5397
Big Rideau Lake Boat Rental's owner, Heather Heins, has boating in her blood. Hundreds of years ago, her ancestor William Davidson was the first European to settle in New Brunswick, where he built and launched the region's first sailing vessel—the Miramichi.
Today, Heather continues in her forefather's footsteps, managing a fleet of watercrafts alongside her husband, Robert. Their kayaks and canoes skim across the lake's crystal clear waters, and their motorized pontoons and Sea-Doos roar past shores lined with pine trees, cottages, and sunbathing cacti on vacation. The Heinses also oversee an armada of seven houseboats that are outfitted with sleeping quarters, barbecue grills, and air conditioning, ideal for day trips or voyages down the Rideau Canal that last weeks at a time. For Heather, the pride of the fleet is a simple 23-foot houseboat, which she named Miramichi in honour of her ancestor's historic vessel.
15 Water St.
Portland
Ontario
613-812-7653
During her more than 20 years as an interior designer and a teacher at Algonquin College, Elaine Comeau made sure to continuously sharpen her already formidable skills in the visual arts. Colour theory and perspective drawing are just a couple of the various mediums she's taught at art schools and in private lessons. Now the owner of her own studio, Comeau again welds her experience as an educator to her talent for illustration. As with Fellini films and lectures on Thomas Pynchon, anyone over age 3 is welcome: Elaine's group, private, and semiprivate courses are all geared toward different age ranges. Better-half-free visitors can meet one another at singles workshops, which combine paint and blank canvases with music and a relaxed atmosphere. Children's art classes send celebrants home with their own crafts.
32-174 Colonnade Rd.
Ottawa
Ontario
613-738-8611
---