Shopping in Oil City
---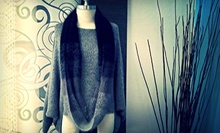 Knitting and crocheting classes, including options for beginner and intermediate students
---
Recommended Shopping by Groupon Customers
---
A party just isn't a party until someone recites "The Love Song of J. Alfred Prufrock" in a top hat shaped like a beer mug. With today's hard-partying Groupon, $15 gets you get $30 worth of party supplies and Pittsburgh-themed merchandise at the legendary Mike Feinberg Company in the heart of the Strip District.
1736 Penn Ave
Pittsburgh
Pennsylvania
US
Franklin Nursery is a family-owned and family-operated full-service garden center and gift shop that's been serving steaming platefuls of verdant life since 1973. The nursery specializes in shade, evergreen, and ornamental trees, all of which are grown locally on the owner's farm. In addition to dendrite-based life, choose from a wide selection of decorative shrubs (starting at $25), perennials ($10–$25), roses ($20–$30), and more. Summon talking squirrels to your garden with ceramic Witchety Woodland Tinkling Toadstools ($6–$18), decorative dollops of whimsy from Kinsman Garden Company. For the discerning, biodegradable gardener, choose from a selection of FoxFarm organic soils and fertilizers.
2437 Rochester Road
Sewickley
Pennsylvania
Phantom Fireworks' massive selection ranges from firecrackers to crackling fire blossoms. Supplement the sky with a signature pack of flaming Phantasm, which pack more color and explosive brilliance than a trio of Teletubbies at a heavy-metal show ($29.99). Likewise, Wolf Pack High Performance Shells—another awe-inspiring product and member of the Phantom exclusive family—are primed and ready for display effects including white whistled strobing, golden glitter showering, and crackling chrysanthemum chrysanthemuming ($24.99 for six shells). For a mind-blowing glance at location-specific items, check out the Phantom Fireworks product catalog.
9400 Market St.
North Lima
Ohio
After working at eyewear centers for three years, a 21-year-old Norman Childs took a tremendous leap of faith when he opened his own in 1979. In the inaugural years, Norman developed close relationships with his customers and began building Eyetique's reputation for carrying high-fashion frames by the likes of Oliver Peoples, Prada, and Chanel––brand names that were hard to find in the area. Norman's brainchild grew even larger with the help of a massive ad campaign showing more than 600 actors, musicians, and local celebrities donning the shop's eyewear. With an entrepreneurial spirit that never yields, Norman also developed his own brand of eyeglasses, the Norman Childs line, which features frames made in the USA.
Today, Eyetique has since expanded to eight locations and continues to outfit visitors in sunglasses and prescription eyeglasses, which empower wearers with 20/20 vision and the ability to always spot Waldo in games of hide-and-seek. Staff members work one-on-one with customers to ensure that frames reflect the their personality, helping guests choose from a variety of designer brands including Coach, Gucci, Ray-Ban, and Silhouette.
10644 Perry Hwy.
Wexford
Pennsylvania
The hybrid vegan café and gift shop deals in good vibes, whether they take the form of sandwiches and soups made from scratch, eco-fashions, or candles that both soothe the senses and keep away ghosts that are wearing flammable bed sheets. After tasting the zing of a spicy plum vinaigrette or biting into organic sprouted-grains bread at the Compassionate Café, guests can browse a selection of eclectic wares. Vegan jewelry sparkles with gemstones alongside Dead Sea mineral soaps and colorful socks made from recycled cotton, which are ideal for keeping a giant caterpillar warm.
The Boardman location also delves into the world of knitting with a lounge where needle artists can pick up skeins of silk or bamboo yarn, sink into armchairs, and clack away until they have a spider web to sleep in that night.
1449 Boardman-Canfield Rd.
Boardman
Ohio
330-726-4766
Wild Birds Unlimited stocks a wide variety of supplies to please serious hobbyists and ornithological amateurs alike. Based on more than 30 years of research, their cache of supplies is designed to please and attract flocks of all forms, with types of birdseed specially formulated to the season that feature 100% edible seeds. They also carry high-quality feeding equipment, birdbaths, and viewing gear such as binoculars and books on various species and their native regions.
12019 Perry Highway
Wexford
Pennsylvania
724-935-0051
---