Restaurants in Ojus
---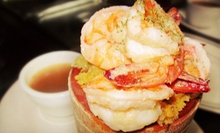 Fresh fruit juices and imported beers complement traditional dishes—such as mofongo topped with lobster
---
Recommended Restaurants by Groupon Customers
---
Welcome to Groupon Miami! For our inaugural deal, $40 gets you $85 worth of grub and guzzle at A Fish Called Avalon, located at 700 Ocean Dr.
700 Ocean Dr.
Miami Beach
Florida
US
Some things are more advantageous when packaged as a dynamic duo: washing machines that double as dryers, soap that cleans both body and hair, a deep-fryer capable of administering flu shots, etc. Today's Groupon lets you capitalize on a hybrid of the gastronomic variety: the resto-lounge. Twenty-five dollars gets you $50 worth of food and drink at the extravagantly deco Bancroft Supperclub, located right in the restored Bancroft Hotel on Collins Avenue.DJ Amy Benneton: Former child starlet of the sitcom Blame it on Bradford and the popular Hershie! film series, Amy Benneton grew to surpass the fame of her talking harp seal co-star and left acting entirely for a job on the DJ circuit. Now, at 21 years old, she's finally old enough to drink in the clubs in which she performs, but refrains, due to her crippling allergy to fun.
1501 Collins Ave
Miami Beach
Florida
US
Today's Groupon gets you $20 worth of organic and all-natural food for $10 at Green Gables Cafe. Green Gables, voted Best Healthy Fast Food by the Miami New Times, uses organic and local ingredients to craft healthy and delicious breakfasts and lunches Monday through Friday.
327 Alhambra Cir.
Coral Gables
Florida
US
Tap on your taste buds with sharable servings of edible joy with today's Groupon: $15 buys you $35 worth of tasty tapas at Barbu, Miami's first organic tapas bar. Owners Marc and Blue use local, organic ingredients whenever possible to craft the finest plates of Spanish-inspired mini-fare, served in a restaurant as cozy and personable as your living room.Barbu: Tapas bar, bringing fresh organic fare to MiamiBar Boo: Non-committal scare from drunken ghost Babar: Storybook King of the Elephants Babur: First Mughal emperor of medieval India Boober: The saddest Fraggle of them all
1935 West Ave
Miami Beach
Florida
US
After the unexpected loss of their father, three brothers from Eboli, an Italian hamlet in the Neapolitan countryside, pursued their disparate passions to separate corners of the globe. As Giuseppe, the eldest, toiled as a pizzaiolo in New York; Antonio, a dancer; and Gennaro, an artist, spent time honing their crafts in Madrid and Paris. It wasn't long before Giuseppe opened his pizzeria, and his younger siblings weren't far behind. With all three operating successful Italian eateries in their respective cities, the trio decided to reunite, forming Fratelli La Bufala as a joint effort where they could highlight their father's passion for water-buffalo mozzarella, a heart-healthy cheese that anchors the cuisine at each of their worldwide locations.
Working from an Italian menu modeled after Mediterranean culinary traditions, chefs prepare pastas in-house and pepper Neapolitan-style pizzas with water-buffalo meat that boasts less cholesterol and saturated fat than most traditional meat options. Like Sophia Loren's celebrity impersonators, the kitchen's ingredients are sourced from small southern Italian farms, and are transported with care to preserve their naturalness and quality.
437 Washington Ave.
Miami Beach
Florida
Awards are like pogs—the bigger the collection, the better the restaurant. Since the building bearing his name opened its doors 22 years ago, Chef Allen Susser has racked up more than three awards for every year the restaurant has been open. That means today's Groupon gives you the most kudos for your cash. For $25, you'll get $50 toward dinner and wine at time-honored Miami-area staple Chef Allen's. Follow @Groupon_Says on Twitter.
19088 NE 29th Ave.
Aventura
Florida
US
---