Coffee & Treats in Okemos
---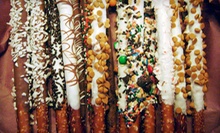 Pretzel rods dipped and drizzled in white or milk chocolate and adorned with toppings such as sprinkles, coconut flakes, and M&Ms
---
Recommended Coffee & Treats by Groupon Customers
---
When Lynn Kughn founded The Ultimate Pretzel Company 13 years ago, it was a kitchen-based operation that hand-dipped pretzel rods in caramel, rice krispies, and chocolate from a secret recipe. Since then, The Ultimate Pretzel Company has expanded into a thriving online operation that dishes out delectable treats to sugar-craving patrons and donates a portion of its proceeds to the Multiple Sclerosis Society. Like a beaker-toting scientist obsessed with animating chocolate-pretzel hybrids, Lynn has developed several treats and special chocolate recipes in addition to her signature pretzel sticks.
8030 Kensington Ct.
Brighton
Michigan
Though inspired by the northern California cafés of the early 1980s, Espresso Royale fits right in with Michigan's modern coffee drinkers—in 2012 readers of The Michigan Daily voted it Best Coffee Shop for the third year in a row. Their coffees include a house blend developed in 1987, which has since been joined by a seasonally appropriate autumn spice blend and a southern Italian-style espresso called Napoli. Royale's customers also clamor to the counter for favorites such as raspberry mochas, mint hot chocolates, and ginger dragon, a tea layered with fresh lemon and steeped ginger root that can be served iced or heated by a dragon named Ginger.
2264 South Main Street
Ann Arbor
Michigan
734-761-8326
Founded by ice-cream enthusiasts Donald and Susan Sutherland in 1988, Cold Stone Creamery has grown to more than 1,400 locations across North America. Each day, the shop's scoopers mix up fresh batches of ice cream, yogurt, and sorbet, which are served by the scoop, piled high in sundaes, and blended into shakes. After customers choose their desired flavor, the staffers toss the chilly sustenance upon a slab of frozen granite and fold in a smorgasbord of candy and nuts to achieve the ideal ice-cream-to-add-in ratio. Customers can dream up their own creations or opt for a signature masterpiece, sampling one of more than 11.5 million possible flavor combinations, which still await a brave conqueror to unlock them all. To accommodate sweets cravings at celebrations, staff members also dish out ready-made treats, such as ice-cream cakes, cupcakes, and cookies.
3597 Washtenaw Ave., Suite B
Ann Arbor
Michigan
734-975-9110
The crafty bakers at Cake N Candy offer an extensive curriculum in the art of building sweet treats of all shapes and sizes. Students learn the subtleties of cake decoration, dressing breads in icing, flowers, or the smooth, sugary shell of gum paste and fondant. Instructors teach trade secrets of splicing different varieties of cookies or making homemade candy that can cheer up even the grumpiest of nightclub bouncers. Instructors build moist and munchable cake pops or ride the waves of the cupcake craze with an array of recipes and decorating ideas. Classes range from one to four sessions, with some including additional costs for equipment and course books.
4104 Sprinkle Rd.
Kalamazoo
Michigan
269-345-2253
The day starts early at Great Harvest Bread Co., where grain gurus Blake, Sharon, and Mike bake loaf after loaf of all-natural, housemade bread. Each batch of dough begins with freshly ground whole-wheat flour milled from family-owned farms in Montana. Salt, yeast, and local honey soon follow. By 9:30 a.m., the Stoimenoffs start pulling their first loaves from the oven, handing out warm, complimentary slices to customers as they enter the store. The bread schedule changes every day, but patrons can always purchase seven of the shop's mainstays: honey whole wheat, white, nine grain, and four varieties of cinnamon swirl.
Great Harvest's breads can surely stand alone, but that doesn't stop the Stoimenoffs from offering made-to-order sandwiches stacked with ham, turkey, or chicken and three types of cheese. For dessert or a sweet breakfast, patrons can grab pumpkin cream-cheese scones and low-fat raspberry muffins, or—if they're kids or adults disguised as kids—score cookies on the house.
6137 W Saginaw Hwy.
Lansing
Michigan
517-327-1088
Perched across the road from the gleaming waters of Bostwick Lake, the eponymously named bakery and coffee shop serves up a menu of fresh donuts, treats, and cups of coffee. Bostwick's conjures all species of carb-laden comfort foods, from donuts and glazed twists to apple fritters and long johns. Light off the lake dances in through dining-room windows, as a trinity of chocolate, buttercream, and butterscotch cinnamon rolls vies for counter space with the realpolitik power moves of a freshly baked bismarck. Cookies nest in glass-enclosed cases, fashioned in flavors of frosted sugar, snickerdoodle, date, and molasses. Confectioners build custom cakes and accommodate last-minute requests, and bakers translate email orders or telegrams into loaves. Savory lunch fare rounds out the menu with choices including cheeseburgers and chili.
8570 Belding Rd.
Rockford
Michigan
616-874-9065
---