Shopping in Okolona
---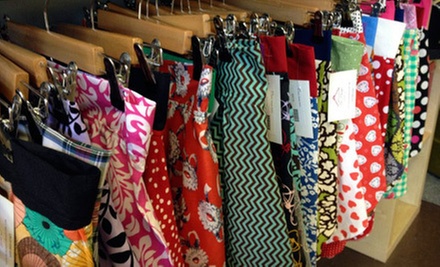 ---
Recommended Shopping by Groupon Customers
---
Mary and Randy Baron cultivated their entrepreneurial spirit by transforming Baron Barclay Bridge Supplies from a mail-order home business into a large supplier of all things related to the game of bridge. After 30 years of expanding that company, they enlisted the help of their son Dustin to begin a new venture designed to nourish the culture of eco-awareness and sustainability in their hometown of Louisville. That idea eventually became Amazing Green Planet, which stocks locally made gifts and fair-trade products including earrings, soaps, and candles. Compost pails, reusable bags, and water-saving showerheads also help increase efficiency around the home and lessen the strain on the planet without forcing it to wear a lumbar belt around its equator.
1301 Herr Ln., Suite 117
Louisville
Kentucky
502-290-1358
Pottery Rowe is the studio, showroom, and store of master potter Melvin Rowe, who brings more than 35 years of experience to his craft. His hand-shaped, wheel-worked, and kiln-heated creations serve functional, artistic, and decorative purposes. House main-meal eats in high-capacity salad bowls ($18) and dinner plates ($26), or lick up libations from coffee mugs ($16). Clients seeking handcrafted containers for flowers and soap instead of flour and soup can opt for Rowe-made home accents. Illuminate midnight peregrinations with a squat, long-burning oil candle ($18) or lather dirty digits with a pump bottle's burst of liquid soap ($20).
2048 Frankfort Ave.
Louisville
Kentucky
From sleeping pads to undergarments from SUGOI, The Trail Store stocks an inventory for all forms of exploration. Find styles for men, women, and youth among the well-curated racks. Skip the most tedious step of camping with fully packed sacks and bags, such as a Granite Gear Vapor Trail backpack ($159.95). Or keep dirt, bugs, and the ghost of Davy Crockett away from your dermis by taking refuge in a sleeping bag from Lafuma. You'll also find a full wall of footwear in all the colors of a rainbowy oil spill. Stock up on lace-up dirt-defiant boots, Teva sandals, and Puma sneakers. Accessories also abound, such as a Nalgene BPA-free 32 oz. bottle ($11.95), and an adjacent café attends to post-shopping parchedness with fresh smoothies ($3.95+) and espresso drinks. This Groupon is not valid for sale items.
1321 Herr Lane, Suite 185
Louisville
Kentucky
Book and Music Exchange, a secondhand media store, offers gently used audio, video, and visual stimuli to customers in need of an entertainment infusion. Film buffs can bolster their movie collections with single-movie DVD titles (five for $25) and Blu-rays ($14.99) or cultivate literacy among shelf-dwelling chia pets with a few best-selling novels (four for $8). Nintendo Wii games inspire players to bust some moves ($7.99+), and PlayStation 3 titles dazzle optical orbs with top industry graphics ($4.99+). Meanwhile, music fans can immerse themselves in the sounds of yesterday's bands with preheard CDs, saving them the hassle of attending tribute-band concerts or repeatedly opening song-blasting birthday cards ($5.99).
1616 Bardstown Rd.
Louisville
Kentucky
The Try Scuba class is a safe, simple way to figure out the fundamentals of marine missioning, which the passionate underwater voyagers at Louisville Dive Center have been teaching for more than 30 years. After each student displays a medical history form, towel, and swimsuit, a friendly, certified instructor will lead the class to the shallow, warm pool, where students will learn the basic tenets of underwater breathing before being allowed to plunge into the artificial pond for the duration of the session. While submerged, divers can play Frisbee and snap underwater photos of friends reenacting World War II battles in slow-motion under the sea. If goggled visions of high-fouring manatees on the open water waltz in your head, Louisville Dive Center will happily apply a $20 discount for scuba-certification classes. In addition to gaining scuba knowledge, you can gain scuba gear by presenting your Groupon at Louisville Dive Center's gear shop for 10% off a wide selection of pinnacle manufacturers like Scubapro, Oceanic, Aeris, Genesis and Sherwood.
4265 Roosevelt Ave.
Louisville
Kentucky
The boutique offers a variety of goods that appear as though Tinkerbell acquired them on her annual hitchhiking trip across Europe. From a pink, pearl-necklace-wearing snail masquerading as a watering can to a dishwashing brush–doll hybrid, the clever home goods can transform dull chores into after-school-special-worthy activities. Prices range from $9 to $45 for kitchen items, and $6.50 and up for accessories. Snatch up grooming products ($17 and up), items for the home ($2.50 and up), or handmade jewelry from Italy ($18 and up). Open six days a week, RIGOLO Boutique offers both street and lot parking. A friendly, pleasant ambience and helpful sales staff match the shop's happy inventory in happy intensity. Pick up a bridal shower gift for Peter Pan–inflicted pals, sass up your dwelling, or cater to a cheap thrill with today's Groupon.
1563 Bardstown Rd.
Louisville
Kentucky
---