Restaurants in Olathe
---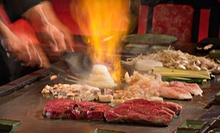 Use Today 5:00pm - 9:00pm
---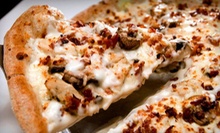 Use Friday 12:00pm - 5:00pm
---
Recommended Restaurants by Groupon Customers
---
Welcome to Groupon Kansas City! For our inaugural deal, $7 gets you $15 worth of grub and guzzle at Woodyard Bar-B-Que, an unassuming brick shack that serves melt-in-your-mouth meaty meals.
3001 Merriam Ln.
Kansas City
Kansas
US
Doctors have long recommended that over-partied, undernourished Americans consume a fourth meal after midnight to receive their daily recommended dosage of fried nutrients, Edward Hopper tableaux, and hard-boiled dialogue. Today's Groupon helps you follow doctor's orders with $10 worth of late-night bites at Chubby's on Broadway for $5. This 24-hour home of hot sandwiches, omelettes, and more has been called Kansas City's Best Place to Eat After Midnight. Chubby's is open 24 hours a day, except on Monday, when it closes at 2 p.m. and reopens at 6 a.m. on Tuesday.
3756 Broadway St.
Kansas City
Missouri
US
As Abraham Lincoln famously intoned during the Gettysburg Address, "A margarita made from scratch is a margarita down the hatch." That indomitable spirit lives on in today's deal: for $5, you get $10 worth of Mexican fare and drinks at Margarita's, a Kansas City favorite and a CityVoter top five for Mexican food for 2008 and 2009. This Groupon is valid at all three Margarita's locations.
7890 Quivira Rd.
Lenexa
Kansas
US
Despite the daunting zoning-permit hurdles and giant helicopter fees, the folks at Chartroose Caboose have managed to relocate a chunk of Philadelphia real estate to Kansas City with their delightfully authentic cheesesteakery. Each Chartroose Philly boasts 6 ounces of lean beef flavored in the restaurant's exclusive mixture of spices. If that's a little too much red meat for you, Chartroose is happy to retrofit your cheesesteak with chicken, turkey, ham, or even salmon. These sandwiches come with a Rocky-style training montage as each cheesesteak is grilled fresh to order with onion, mushrooms, and peppers sizzled up right before your eyes, nose, and impatient mouth.
10636 Metcalf Ave.
Overland Park
Kansas
With its dark wood-paneled walls, antique road signs, and murals of Mexican pueblos, Kokopelli Mexican Cantina's dining room resembles the fusion of a southern roadhouse and taqueria. It's a fitting backdrop for a menu of homemade tamales, burritos, and enchiladas sprinkled with southwestern flourishes, like the pepper jack cheese layered on spinach enchiladas or the crab and white-wine sauce stuffed in the tucumcari's flour tortillas. Fajitas—Kokopelli Mexican Cantina's specialty—feature strips of shrimp, steak, and chicken seasoned with a piquant blend of spices and scoops of homemade guacamole.
Kokopelli Mexican Cantina is a member of the Kansas City Originals, an alliance of independent eateries and chefs dedicated to nurturing, growing, and regularly basting the local culinary scene.
5200 W 95th St.
Prairie Village
Kansas
As children practiced their spelling with chalk sticks and inkwells at the Daniel Webster School in the 1880s, they never imagined papers imprinted with exotic words such as vinaigrette and escarole would someday replace their notebooks. But more than a century later, the cupola-topped Romanesque Revival building—now known simply as Webster House—houses a restaurant where just such words appear on its menu of sumptuous new-American cuisine. As Chef Matt Arnold sears scallops and sea bass for dinner or whips up brioche french toast for Sunday brunch, the sound of clinking flatware fills dining rooms bedecked with antique furniture in the style of an English country home. An antiques gallery invites guests to recreate this stately look at home from a selection of 18th- and 19th-century pieces from around the world, including cabinets hewn from Georgian walnut and French fruitwoods. A collection of genteel gifts, such as Chinese porcelains and bow-topped boxes of stationery, rounds out Webster House's dignified collections.
1644 Wyandotte St.
Kansas City
Missouri
816-221-4713
---