Old Bridge, NJ Indoor Activities
---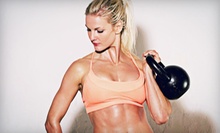 Instructor leads women's classes through constantly varied, high-energy boot-camp classes using cast-iron kettlebell weights
---
Recommended Indoor Activities by Groupon Customers
---
Reflecting the diverse scope and scale of science itself, the exhibits at the New York Hall of Science range from massive NASA rockets to holographic depictions of the infinitesimal atom. Originally built for the 1964 World's Fair to showcase technological advancements, the center has since transformed into an interactive museum that, since 1986, has seen more than 7 million visitors. Today, more than 450 interactive exhibits invite visitors of all ages to explore the world by watching living microbes thrive and evolve in a miniscule zoo, discovering the powerful mathematics hidden in everyday objects, and testing their understanding of physics and Plutonian trash talk on a mini-golf course inspired by the cosmos.
47-01 111th St.
Queens
New York
718-699-0005
Having spent much of her life as a stay-at-home mom, Wendy Chanelis turned to yoga as a way to tone her muscles and awaken her mind. She quickly fell in the love with exercise form and, after studying with many different masters of many different styles such as Iyengar and Jivamukti, eventually decided it was time to open her own studio. She founded Yoga People in 1998 as a welcoming haven for like-minded yogis and curious beginners alike.
Wendy—along with a staff of 15 certified teachers—now conducts twelve different kinds of yoga classes multiple times throughout each week. Some sessions cater to the beginner, others to pregnant mothers, and still more to meditative practitioners. Beyond yoga, holistic health and wellness counselor Donnalynn Civello provides nutritional consultations, while massage therapists employ modalities such as shiatsu, craniosacral, and prenatal massage, which helps babies appreciate backrubs before they're even born.
160 Montague St., 2nd Floor
Brooklyn
New York
Since 1981, Blue Note has tangled trumpets and tickled ivories with some of the biggest names in jazz, including Dizzy Gillespie, Lionel Hampton, and Chick Corea. In honor of its 30th year of making audience members' ears smile, Blue Note will be hosting a citywide jazz festival. Throughout the month of June, patrons can catch acts including Jon Hendricks and Jimmy Scott at the legendary Blue Note, or Bootsy Collins, Al Kooper & Organ-asm, or Roberta Flack as they take the main stage at B.B. King Blues Club & Grill. Highline Ballroom will also open its doors to musicians such as Ron Carter and Roy Ayers as they wring sixteenth notes from their guitars, pianos, and electric kazoos. Attend the Sunday Jazz brunch at Blue Note, which includes a meal and drink, on Sundays between June 26 and August 28 at 12:30 p.m. or 2:30 p.m. and eat in 5/4 time signature to intricate arrangements by artists such as the Frank Kimbrough Trio and Paul Bollenback. Seating is first-come, first-serve.
131 W 3rd Street
New York
New York
212-475-8592
Co-owners Adam Roper and Erik Cummings didn't always sport the healthy bodies they do now, but through years of dedicated practice and, eventually, Bikram certifications, Adam lost 35 pounds and Erik addressed a shoulder injury caused by a previous bike accident. Today, the two yogis share their passion for the heated practice with the help of a team of fellow certified instructors and Bikram Yoga Harlem's unofficial mascot, a pint-sized dachshund named Sebastian Kumquat. The studio welcomes practitioners of all experience levels, with Bikram's series of 26 postures and two breathing exercises catering to even the rustiest of tin men. Balmy temperatures around the 100-degree mark warm the muscles, helping students achieve deeper twists, binds, and bends, and encouraging the body to expel harmful toxins and clingy droplets of T-1000.
518 W 145th St.
Harlem
New York
212-926-0753
---