Things to Do in Old Bridge
---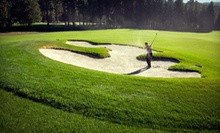 An 18-hole, 6,657 yd. course challenges golfers with tight fairways lined with groves of trees
---
---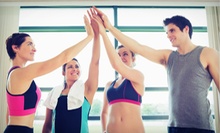 A 10-week challenge combines cardio and strength training with nutritional guidance and support to help clients tone their bodies
---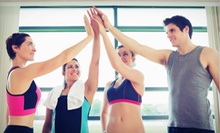 10-week body renewal system designed to kick-start health regimes that lead to permanent changes in overall fitness and health.
---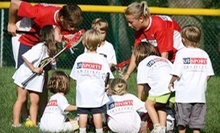 Sports camps for ages 2–5 cover five sports in one week, or focus on soccer skills with an array of scrimmages and drills
---
Recommended Things to Do by Groupon Customers
---
In 1754, Richard Stockton, a leading attorney who would go on to be a signer of the Declaration of Independence, acquired land on his grandfather's 5,500-acre tract to build a home. The house later traded hands among Stockton family members until the 20th century, when it served as the state's first Governor's Mansion, eventually housing five governors.
Since its restoration and conversion into the Morven Museum & Garden in 2004, galleries on two floors of the dwelling have housed permanent and temporary exhibitions relating to New Jersey history and culture, as well as the Morven property, now a National Historic Landmark. As guests wander the museum's halls, Stockton family portraiture and decorative art speaks of past eras while contemporary art and photographs keep visitors grounded in the present day. Meanwhile, 5 more acres outside host a massive garden that includes a recreation of Morven's old Colonial Revival¬–style blooming garden and its charismatic, singing Venus flytrap.
55 Stockton St.
Princeton
New Jersey
609-924-8144
Soon after Mimi Omiecinski moved to Princeton in 2006, a chance sighting of a Nobel laureate sparked her interest in the town's distinguished residents. When a local business owner informed her that Princeton has more Nobel laureates, Pulitzer winners, and Parakeet Best in Show recipients than any two-square-mile radius on Earth, she commenced an intense study about the town, its tenants, and its history.
The result of this fascination is Princeton Tour Company, an eclectic blend of tours that covers the breadth and depth of Princeton's history, including its culture, university, and local businesses. Ghost tours take guests on a cemetery walk past the gravesites of a United States president and a signer of the declaration of independence, whereas walking tours cover the stories of former Princeton residents including T.S. Eliot and Brooke Shields.
116 Nassau St.
Princeton
New Jersey
609-902-3637
The State Theatre was saved, as its website states, from "the ravages of time." Built in 1921 as a vaudeville and silent-film palace, the venue fell on hard times in the 1970s when disco balls replaced light fixtures. In 2003, however, a $3 million renovation restored the State Theatre to much of its original glory, as crews painstakingly rehabbed the ornamental plaster, terracotta exterior, and actor holding cells. Inside the theater, a stunning chandelier sparkles more brightly than ever below the venue's signature dome.
15 Livingston Ave.
New Brunswick
New Jersey
732-246-7469
Since its beginnings in 1980, Staten Island Fencing Club has developed the skills of collegiate athletes and Olympic hopefuls under the guidance of head coach and founder Steve Khinoy, a Johns Hopkins PhD with more than 30 years of coaching experience. In 2010, the club—once relegated to college cafeterias and church basements—took up permanent residence at Staten Island Fencing Center, a full-time facility as bright and spacious as the Man in the Moon's front yard, complete with fencing strips, an armory, and a pro shop. There, Dr. Khinoy cultivates an atmosphere of camaraderie, teaching both novice and advanced swordsmen to master the Olympic and NCAA sport's triumvirate of blades: foils, sabers, and épées.
Beyond the center's one-hour introductory lessons, regular courses stretch for several weeks, during which competitors learn the strategies and fancy footwork necessary to best opponents on the piste and during freestyle dance contests. Summertime day camps and clinics sharpen slashing technique with five hours of daily instruction that include warm-ups, basic drills, and individual lessons. The staff also hosts parties for birthdays or other celebrations, in which guests practice the art of dueling amid cake, refreshments, and bouquets of colorful balloons shrieking in terror.
4295 Arthur Kill Road
Staten Island
New York
718-605-6789
An indoor haven for everything outdoors, Great Escapes furnishes snowy excursions and backyard barbecues alike with snowboards, skiing gear, outdoor pools, and cookout equipment. On-site technicians wax and sharpen skis or help yetis select the tastiest snowboarding gear from brands that include Northwave, GNU, and Flow. In the summer, outdoor pools arrive at backyards with included delivery and setup, as well as assistance from licensed electricians to supervise homeowners as they install the filter and fill the pool with electric eels.
359 S Rte. 9 Towne Pointe
Manalapan
New Jersey
732-536-1400
Attracting more than 170,000 art enthusiasts to its events in 2011, the Sugarloaf Crafts Festival showcases original work from hundreds of artisans showcasing everything from handcrafted pottery, sculpture, and metalwork to jewelry, fashion, décor, and photography. Audiences can witness art being made live during educational demonstrations as artisans sculpt clay, whittle wood, forge metals, and imbue baskets with the power of speech. Hungry crafters can also sniff out specialty food items to sample or purchase while dancing across the sprawling venue to the tunes of live music.
50 Atrium Dr.
Somerset
New Jersey
---