Restaurants in Oldsmar
---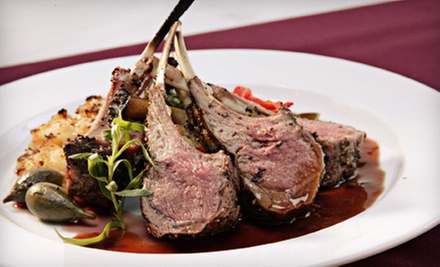 ---
Recommended Restaurants by Groupon Customers
---
Today's Groupon telewarps you into the bustling center of an Italian city located in an Italian airplane: for $10, you get $25 worth of Italian cuisine and drinks at this double-decker ristorante. Choose to sit on the first-floor Piazza for a more casual dining experience. It's a large open space with multiple tables orbiting the central white fountain like bees around Jupiter. Sit on the top floor to see a gull's-eye view of the feeding frenzy below. This could be considered the upscale section of the restaurant. The menus are the same no matter where you sit—only the views and atmospheric pressure vary.Follow @Groupon_Says on Twitter.
22 N Fort Harrison Ave
Clearwater
Florida
US
Stelios Migdakis had long dreamt of moving his family from New York to Florida's sun-drenched shores, jumping at the chance to open an eatery in Tarpon Springs' Greek Town. He draws from the Old World recipes of his kin in Crete and his wife's relatives in Lesvos to compose a menu consisting of delicately battered seafood and slow-roasted lamb and beef. Within the elegant eatery, murals of serene Greek isles and grazing herds of Trojan horses punctuate the pale-marble walls as Greek music spills out onto the adjoining patio.
521 Athens St.
Tarpon Springs
Florida
US
727-938-6890
The next best thing to eating under the sea is eating creatures from the sea while sitting next to the sea. Succeed in achieving this fantasy of extraordinary culinary proportions with today's Groupon: for $12, you get $25 worth of seaside eats and drinks at Jimmy Guana's in Indian Rocks Beach. Located roughly 300 physical miles from Key West, Jimmy's takes its atmospheric and barometric cues from the famed island. The atmosphere is laid-back on the surface, but in the watery depths lies a full menu and professional staff who will ensure that your vicarious tropical escape goes off without a hitch.
401 2nd St.
Indian Rocks Beach
Florida
US
Before the invention of your friend Dave's totally rad rec room, Tampa hipsters of every ethnicity (except Nerdy-Americans) flocked to Ybor City's social clubs to party all night, smoke in black and white, and take Latin lovers. Today's Groupon gives you a delicious taste of what once was: for $25, you get $60 of international fusion cuisine at Teatro on Seventh in Ybor City. Beautifully restored to reflect its heyday as the ballroom and theater for Ybor City during the late 1800s and early 1900s, Teatro's elegant columns, exposed brick, and ornate floor-to-ceiling windows recall a more elegant time when men wore hats and seldom checked their Blackberries during dinner.
1600 E 8th Ave
Tampa
Florida
US
Chef Will Greenwood's dishes have graced many important meals, from Julia Child's and Robert Mondavi's 80th birthday parties to the Head of State luncheons at NATO's 50th-anniversary celebration. In the '90s, he was even asked by the Clintons to audition to be the White House chef. Today, Greenwood's Caribbean-Latin fusion recipes inform festive meals at Catch Twenty-Three. Certified fresh seafood and aged steaks cook over a pecan-wood grill while elsewhere in the kitchen, chefs prepare signature dishes such as macadamia-crusted Chilean sea bass and Cuban-style ribs basted in guava barbecue sauce. In private cooking classes, Catch Twenty-Three's team members gladly share their culinary techniques and anecdotes about that time they heroically wrested a spatula from the grip of an angry lobster.
10103 Montague St.
Tampa
Florida
The menu has pasta, chicken, veal, and seafood entrees made from fresh ingredients with homemade sauces. Traditional pastas, such as three-cheese meat lasagna ($12), spaghetti and meatballs ($9), and chicken penne alfredo ($13), are ascents to celestial peaks of skillfully cooked and superbly seasoned tomato, noodle, and cheese mountains. Try veal, mushrooms, onions, and a hint of tomato in a Marsala wine reduction ($18), and add a house salad and two garlic knots for $2.50. Specialty dishes include salmon piccata (pan-seared, sautéed in a lemon wine sauce, topped with capers, and served on a bed of spinach, $15) and seafood pescatore (shrimp, mussels, calamari, and fresh clams sautéed in either marinara or fra diavolo sauce on top of linguine, $19). Bellisimo also serves New York–style pizza ($10.75 for a medium cheese) and hot/cold sub sandwiches ($7 for a meatball parmigiana sub, up to $9.25 for a veal parm or Philly cheesesteak).
10102 Montague St.
Tampa
Florida
---