Restaurants in Olean
---
Recommended Restaurants by Groupon Customers
---
Groupon is a combination of the words group and coupon. Each day, we offer an unbeatable deal on the best of Buffalo: restaurants, spas, sporting events, theater, and more. By promising businesses a minimum number of customers, we get discounts you won't find anywhere else. We call it "collective buying power."
574 Harlem Rd.
West Seneca
New York
From its charming Bryant Street storefront, Trattoria Aroma serves up authentic boot-country fare using local and organic products whenever possible. Launch a decadent dining experience with an order of peppercorn-seared pork belly, served with a cracked egg, sweet-pea pesto, and shaved parmesan ($9), or opt for the crispy fried artichoke hearts over parsley pesto ($7). Gourmet pizzas ($12+) and house-made pastas, such as the lobster ravioli with fried leeks and brandy cream ($21), offer sophisticated twists on familiar flavors, while Trattoria Aroma's meaty fare perks up frownful Florentines. Poultry loyalists exchange regal high-fives over juicy bites of chicken saltimbocca, a fragrant sage- and prosciutto-enhanced dish with asparagus, roasted potatoes, and a white-wine-lemon sauce ($22). Vela osso bucco Milanese, with saffron-parmesan risotto and gremolata ($29), offers a marrowful meal for opulent meat-lovers and makes an ideal accompaniment for any of the fermented favorites off of Trattoria's award-winning wine list.
307 Bryant St.
Buffalo
New York
The expansive menu of Kabab & Curry caters to a wide range of culinary preferences by presenting a variety of vegetarian dishes and allowing guests to customize the spiciness of their dishes by choosing mild, medium, spicy, or "I Promised Myself I Wouldn't Cry." The welcoming staff prides itself on cooking fine Indian and Pakistani dishes in addition to providing attentively affable customer care amid an environment that exudes a warmth to match the eatery's cuisine. Since the crafting of curry incorporates myriad spices, the eatery boasts a curry unique to its establishment that can be prepared with meat or vegetarian ingredients. Traditional tandoori dishes as well as chicken, lamb, beef, and seafood entrees fill out the bulk of the menu, and a selection of lentil crêpes, naan, and savory soups longs for the chance to win Best Supporting Actor or Dish. The restaurant also performs catering services, a more responsible way to deliver its cuisine than putting the building on a flatbed truck every time it gets an order.
5185 Transit Rd.
Williamsville
New York
716-565-3822
When diners step into The Pomegranate and see kebabs, rice, and flatbreads decorating the menu, they might expect a typical Mediterranean meal. But the scent in the air should soon convince them otherwise. In the kitchen, chefs surprise nostrils and taste buds with Persian cooking's subtle combinations of herbs and mild spices, such as dried lime, rose water, pomegranate paste, and mint, combined according to secret family recipes in order to create a delicate, full flavor that dances across the palate. Their stews—including the signature chicken stew with walnut and pomegranate—simmer for hours, and house marinades result in tender, tongue-mesmerizing kebabs from fresh chicken, beef, and lamb. Yet not all the magic happens out of sight. The chefs grill their meats over an open flame before diners' eyes, hypnotizing, beckoning, and grabbing their attention without using cartoon hands made out of smoke. To maintain its authenticity, The Pomegranate imports its basmati rice and stocks the kitchen with fresh and healthy ingredients, which it transforms into meals for meat lovers and vegetarians alike.
4125 Transit Rd.
Williamsville
New York
With its wood-fired brick oven, mural of a seaside Italian village, and traditional recipes passed down through generations, Carmine's Italiano re-creates the charm of Sicilian dining. Familiar staples such as baked lasagna and stuffed eggplant parmesan benefit from Old-World flair: handmade meatballs, mediterranean olives, and rich italian cheeses. At the same time, the Cajun pan-seared sirloin and barbecue-chicken pizza pay tribute to the restaurant's American home so that chefs don't have to stab a flag into each plate of spaghetti.
While sinking into a medley of shrimp, clams, and scallops or surprising tongues with the chicken Bryan's sun-dried tomatoes and goat cheese, guests absorb the comfort of their surroundings. Blue-padded chairs, sandy walls, and crisp white tablecloths contribute to a family-friendly ambiance, whereas private parties and wedding receptions benefit from the curtained skylights of a special dining area. Rectangular planters blossom with leafy greens around the room's half walls, adding a splash of color to the space's earth and wood tones.
4715 Transit Rd.
Williamsville
New York
The cooks at Scarlet populate their menu with creative seafood and steak dishes as well as an assortment of grilled pizzas. Diners can enjoy shrimp and grits with andouille sausage and a hot-pepper cream sauce or taste lobster tail with lemon and garlic shallot butter. Bacon and gorgonzola mashed potatoes accompany prime cuts of filet mignon, and grilled pizzas rest on housemade dough.
26 Virginia Pl.
Buffalo
New York
---
---
Restaurant Deals - Recently Expired
---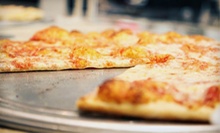 Hand-tossed, New York–style pizzas topped with sausage, ricotta, or chicken fingers
---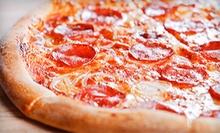 Eclectic menu features blue-cheese pizzas, steak 'n' cheese sandwiches, wings, burritos, and stromboli
---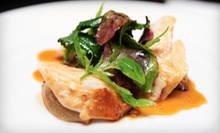 Upscale dinner cuisine such as crab-stuffed lobster tail, braised veal shank, and smoked-shellfish lasagna
---
---