Things to Do in Olney
---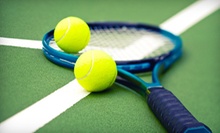 Rackets and other tennis gear from brands such as Wilson and Slazenger from well-stocked tennis and golf shop founded in 1975
Use Today 10:00am - 7:00pm
---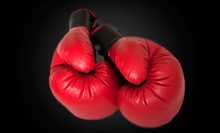 Hour-long workout incorporates drills designed for professional fighters, cardio & strength conditioning to challenge major muscle groups
Use Monday 3:00pm - 6:00pm
---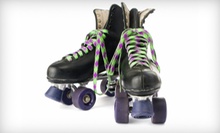 Retro roller skates twirl duos around a smooth indoor rink
Use Today 11:00am - 10:00pm
---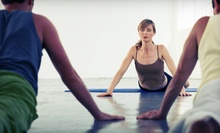 Yoga practice tailored to beginners focuses on basic poses, breath control, and proper alignment
Use Tuesday 3:00pm - 6:00pm
---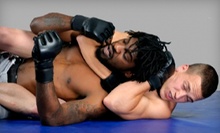 Day pass grants access to krav maga, muay thai, boxing, and wrestling classes led by seasoned instructors
Use Today 9:00am - 9:30pm
---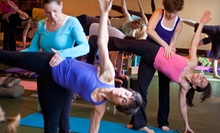 Hatha, Pure Bliss, Vinyasa flow, and hot Vinyasa classes invite students of all levels to peaceful sessions led by seasoned instructors.
Use Today 6:00pm - 9:00pm
---
---
Recommended Things to Do by Groupon Customers
---
It was supposed to be a utopia. When Professor Angelica D. Ream painstakingly planned her Dream City, she failed to anticipate the demonic intentions of her own family, who twisted the peaceful community into Scream City, a hellscape terrorized by werewolves, bill collectors, and other evil beasts summoned from the underworld. Snaking throughout Scream City is the Trail of Terror, which reaches deep into a haunted forest where a power-hungry werewolf notoriously slaughtered a Dream City farmer. The path is known to shape-shift from year to year, keeping even regular travelers on their curled toes.
Elsewhere, Hades's Hayride creeps through cornfields menaced by packs of brutish monsters and, allegedly, the most fear-inducing demon ever spawned. Towering over the grounds is Lusion Manor, where Professor Ream concocted Dream City and her evil family now plots their continued reign. Entrants wander each room of the house—including an attic rumored to imprison many of the villagers—which was just expanded to five times the size of the original structure to stave off noise complaints filed against howling werewolves.
Once wanderers have been sufficiently terrified, they can fight back against roving zombies in Paintball Apocalypse. From aboard a double-decker steel cart, battlers shoot glow-in-the-dark paintballs at unarmed zombies as they stagger past. Warriors can power up at the concessions area, where groups scorch marshmallows over open flames and annihilate plates of deep-fried Twinkies, pizza, and funnel cakes. Though the backstory remains in place at Field of Screams every year, each attraction takes on new twisted twists each fall.
4501 Olney Laytonsville Rd.
Olney
Maryland
301-570-7049
Nightmare Screamplex combines three haunted attractions at one terrifying location. Inside the Nightmare Forest, monsters wait beneath bushes and behind thick trees until guests venture too close. These depraved beings then herd survivors into the Field of Terror, where creatures spawned from the darkest parts of humanity lurk, ready to feast on human flesh. When visitors' minds have finally given in to the insanity around them, the sadistic doctors in the Lost Asylum welcome them with news that their stay won't be covered by insurance. In addition to this macabre collection of haunted attractions, Nightmare Screamplex also houses an outdoor theater, bungee run, and bonfire.
18031 Central Park Cir.
Boyds
Maryland
Attracting more than 170,000 art enthusiasts to its events in 2011, the Sugarloaf Crafts Festival showcases original work from hundreds of artisans showcasing everything from handcrafted pottery, sculpture, and metalwork to jewelry, fashion, décor, and photography. Audiences can witness art being made live during educational demonstrations as artisans sculpt clay, whittle wood, forge metals, and imbue baskets with the power of speech. Hungry crafters can also sniff out specialty food items to sample or purchase while dancing across the sprawling venue to live music.
16 Chestnut Street
Gaithersburg
Maryland
US
When the holiday season rolls around each year, the natural beauty of Symphony Woods shines a little brighter with the electric festivities of Symphony of Lights and the donations it provides to Howard County General Hospital. More than 70 animated and stationary light displays set the scene ablaze with images of candy canes, snowflakes, and toys, and twinkling string lights dress the trees in a blaze of white. Visitors can enjoy the scenery in numerous ways throughout the season, as family and pet walks, drive-through routes, and the 1.4-mile walk/run of Dazzle Dash keep eyes engaged and bodies exercising during the holidays. The lights stay twinkling seven days a week, only closing for New Year's Eve or when the moon comes looking for who's stealing her audience.
10475 Little Patuxent Pkwy.
Columbia
Maryland
When it was founded in 1970, the theatre company Street '70 didn't have a home, instead serving as a nomadic outreach program for schools and community spaces. It would be seven years before they'd find their own space in the Round House Theatre, which would eventually become the company's moniker. Since those early days, the ensemble has produced more than 200 performances per year out of their home theater in Bethesda and a black box theater in Silver Springs. Round House Theatre also spreads the drama bug through classes, workshops, and not washing their hands after handling freshly penned manuscripts.
4545 East-West Hwy.
Bethesda
Maryland
240-644-1100
Across the 25 handgun and rifle lanes at Gilbert Indoor Range, sharpshooters can fire at traditional paper targets as well as running-man and pop-up targets for quick draws. The firearm emporium also invites marksmen to square off against zombies that bleed and demand more lines in their 3-D simulators. Aside from the action, classes cover practical topics such as shotgun home defense, basic pistol use, and safety recommendations. Guests can also partake in self-defense and karate training or scissor lessons in the event that the paper targets decide to rise against us.
14690 Rothgeb Dr.
Rockville
Maryland
301-315-0300
---