Coffee & Treats in Omaha
---
Recommended Coffee & Treats by Groupon Customers
---
In 1998, Don and Linda Eckles founded a simple drive-thru coffee shop. They named it Scooter's Coffeehouse in honor of their daughter, who had gained quite a reputation for speed on the baseball diamond, and their mission became to help their customers "scoot in and scoot out" as quickly as possible.
Today, the Scooters franchise spans seven states and more than 90 locations, some of which cater to people in vehicles and on cows with their drive-thru-only service. At each coffeehouse, friendly baristas brew steaming hot mugs of the house blend, a rich medium-roast blend of Indonesian and South American beans. They also craft hot and cold lattes, fruit smoothies, and sweet tea lattes, and dole out gourmet cookies, scones, and cinnamon rolls. To further satisfy sweet teeth, Scooter's creamy mounds of self-serve frozen yogurt await more than 40 candies and fruits.
2901 S. 84th Street
Lincoln
Nebraska
A dozen cookies will let you sample most of The Cookie Company's sugary smorgasbord of 15 regular and seasonal (non-specialty) flavors, including lemon oatmeal, oatmeal scotchie, toffee nut, iced ginger, snicker doodle, macadamia nut, and the chocoholism-enabling OD (chocolate dough, chocolate chips, chocolate frosting). Because they are made from scratch—the most mysterious and delicious element on the periodic table—and baked in small batches without preservatives, The Cookie Company's cookies are best enjoyed fresh within 3 to 4 days, though they can be frozen for up to a month.
10000 California St.
Omaha
Nebraska
Licorice International offers the largest selection of licorice in the United States. More than 160 types of licorice from 14 countries. Nationwide delivery. Free shipping on qualifying orders. Free samples when you visit the store, located in Lincoln, NE. Order online at www.LicoriceInternational.com 1.800-Licorice
803 Q St., Suite 300
Lincoln
Nebraska
Caffeine Dreams helps buttress the fragile social fabric with a bevy of beverages and grub. Amidst a relaxing environment of cozy exposed-brick walls and wooden tones, slow-sipping patrons can nurse in-house roasted coffee that's available in Fair Trade organic form. Grab a double-sized cup of one of their sweet caffeinated concoctions like the Muse with milk, espresso, chocolate, caramel, and vanilla ($3.75); the Day Dreamer with milk, espresso, chocolate, praline, and caramel ($3.75); or a classic double-shot of espresso ($1.65). A double-sized mate latte ($2.85) will soothe the pipes of tea fans with the earthy Argentinean blend of tea and milk. Please your taste magnets with sweet and savory treats, including the hummus plate ($5.75), the Thai chicken salad ($5.75), and the cinnamon roll ($2.75). Caffeine Dreams stays open late, and also offers an outdoor-garden-patio area for last-minute seasonal sips, plus plenty of parking for gluetus maximi and automobiles.
4524 Farnam St.
Omaha
Nebraska
Alotta Brownies' glass cases reveal sweet morsels of succulent handmade baked goods. The inviting confectionery is owned by New York–trained pastry chef Michelle, whose former stomping ground had her baking cakes for the sweet-toothed likes of Madonna, Mary Tyler Moore, and Yoko Ono. She and her lovingly prepared sweets migrated to the Midwest, where a 100-year-old sugar-cookie recipe mingles with more than 20 varieties of brownies alongside a sweeping selection of peanut butter rolls ($2.25), scones ($2.25), Norwegian school breads ($2.25, only available on Saturdays), and more. Sweets-seekers can also opt to customize a cake, mixing and matching layers with frosting and decorations to craft a comestible masterwork ($24.99+).
317 N Main St.
Fremont
Nebraska
Though many fro-yo shops have sprung up in recent years, TCBY is no newcomer to the scene. Since 1981, its shops have been scooping, swirling, and topping their lower-fat treat in crunchy candy and fruity sprinkles—but that doesn't mean they've been coasting. They're still innovating, whether it's tweaking standby flavors or developing their signature honey-vanilla Greek frozen yogurt that dishes out protein and fiber without any fat. Fro-yo artisans blend up Beriyo smoothies in flavors such as mangolada and purely peach or infuse Shivers with a choice of sweet topping options. To celebrate a birthday, you can opt for frozen yogurt cakes and pies. The treats are layered with frozen yogurt and rich toppings to forge flavors such as chocolate decadence and peanut-buttery fudge pie.
6450 O St.
Lincoln
Nebraska
402-464-7766
---
---
Coffee & Treat Deals - Recently Expired
---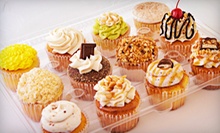 Cupcakes in flavors such as Lemon Burst, Tuxedo, and Chocolateze-mint-cookie; the confections are free of preservatives and other chemicals
---
---