Omaha Indoor Activities
---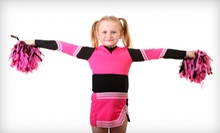 Cheer and dance classes are for kids aged 3–11 and include fitness dance, pre-ballet, and hip-hop
---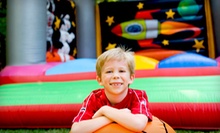 Inflatable bounce houses, slides, and moonwalks
---
Recommended Indoor Activities by Groupon Customers
---
Laser tagging is a pastime enjoyed by children and adult children alike, mixing the elements of strategy, accuracy, and inevitable fits of fun. In the multilevel neon arena, taggers slink into the shadowy mist to surprise their opponents, or take a Zeus-eye view, zapping bolts of lasers from above. As a warning, some strobe-light effects will be used to intensify the battle's excitement and celebratory break dancing.
11108 Q Street
Omaha
Nebraska
On a sweltering day with the air abuzz with mosquitos, Eddie Reznicek stood on a miniature golf course marveling at how many people were outside putting. Determined to create a more comfortable mini golfing space, he opened The Family Fun Center XL in Omaha in 1982, where guests could play indoor golf and nearly 100 video games in the arcade. These days, a new facility shelters a black-lit 18-hole course themed around video-game heroes, heroines, and the windmills who loved them, and the arcade enthralls gamers with classics such as air hockey, skeeball, and four-player Mario Kart on 27-inch flat-screen TVs.
At the Lazer Maze, participants channel their inner spy while swiftly snaking through alarm-system lasers. This spy theme also is evident in the three-level laser-tag arena, where players dodge enemy fire amid flashing lights to soundtracks from James Bond movies. Elsewhere, a 2,500-square-foot arena littered with bunkers, crumbling brick walls, and sniper towers accommodates 7-minute paintball games or bazooka-ball battles.
7052 Dodge St.
Omaha
Nebraska
402-554-1925
Since 1925, the Dundee Theatre's gold curtains have been parting for generations of rapt audiences. Originally a vaudeville theater, the venue was transformed into a movie house during the Great Depression as a cost-cutting measure. For the next half century it traded hands, sometimes screening art films, sometimes featuring family fare, and once showing a 118-week run of The Sound of Music, which was eventually halted by a town statute banning raindrops on roses.
In 1980, current owner Denny Moran stepped in and renovated the theater to recapture some of the splendor of its early days. The old vaudevillian stage and dressing rooms still lurk behind the silver screen, counterbalanced by a state-of-the-art Dolby Digital EX sound system and Cyrano de Bergerac smell system. Under Moran's watch, the Dundee Theatre now screens an eclectic mix of art and independent films, cinema classics, and cult favorites.
4952 Dodge St.
Omaha
Nebraska
402-558-0397
Jeanne and her brother, John, smile as they look out over the 36 honey-hued lanes at Maplewood Lanes Bowling Center, where three generations of their family work and swap tales accumulated since the business's inception in 1976. The center's crew presides over the lanes, helping young players lower automatic bumpers and robots compose love letters to scoring systems. Between frames, bowlers refuel in the bar and grill, which pours imported beers alongside hand-tossed pizzas. The sound of clinking glasses and scattering pins form a percussive soundtrack that drifts out to the patio, which is open year round thanks to radiant heat, fire pits, and fences that keep out tourists trying to see changing leaves.
3030 N 101st St.
Omaha
Nebraska
402-572-9393
The beaming vertical letters of "C-H-I-C-A-G-O" ascend six stories high on a sign that seems to be the establishing shot for any movie set in the Windy City. Tourists and natives often stand outside snapping pictures of the marvelous marquee, where the biggest names in music, theater, and comedy are writ large under a miniature replica of Paris' Arc de Triomphe. The Parisian aesthetic continues inside The Chicago Theatre's grand lobby, which recalls the Royal Chapel at Versailles with its gallery promenades. The staircase ascending to the Grand Balcony resembles that of the Paris Opera House, rounding out a French Baroque architecture that would cause Louis XIV to do a spit-take. Inside the seven-story high 3,600-seat auditorium, terra-cotta tiles, crystal chandeliers, and luxurious drapes give audiences visual overtures before every show.
As vital to Chicago as hot dogs and mustard fire hoses, The Chicago Theatre was America's first munificent movie palace upon its 1921 unveiling, where it was declared "The Wonder Theatre of the World." Beyond its silver screenings, the theater became a beacon for live entertainment, as artists such as John Philip Sousa, Duke Ellington, and Benny Goodman filled its first 40 years with oompah and swing. After a multimillion dollar restoration in 1986, the landmark venue remains the heart of art in the city, attracting the world's most popular entertainers to its stage almost every evening of the year.
1 Arena Way
Council Bluffs
Iowa
712-326-2295
When it was originally built as the Riviera in 1927, The Rose Theater played host to vaudeville skits, stage acts, and feature films in opulent surroundings of murals, oriental rugs, and a ceiling decorated with electric stars and clouds. However, the stock-market crash of 1929 forced the theater's sale, bouncing it from owner to owner until Rose Blumkin and her family saved it from a giant wielding a wrecking ball as a mace. Renovated to its former glory, the theater is now a place where professional stage productions and drama courses give children the chance to enjoy and participate in the arts of the stage.
2001 Farnam St.
Omaha
Nebraska
402-345-4849
---