Things to Do in Omaha
---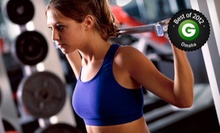 Unlimited boot-camp classes and weekly check-ins with a trainer help members stay abreast of their fitness goals
---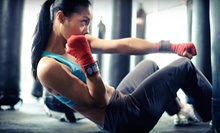 One-hour boxing and kickboxing classes cover hooks, jabs, and kicks and incorporate yoga stretches; boxing classes provide hand wraps
---
Recommended Things to Do by Groupon Customers
---
Since 1977, the Omaha Yoga School (OYS) has been molding clients into loose-limbed fitness fans, expanding its base of classical and Vinyasa flow classes to include Hyp-Yoga, which combines yoga with hypnosis to achieve top-notch results that won't temporarily transform participants into clucking chickens. OYS recognizes that the body must be taken care of, but the mind and spirit are also important pieces of the complex long-division formula that is fitness. By teaching ancient yoga techniques in a non-competitive and intimate atmosphere, OYS produces practical results that improve daily living and snowball-dodging skills. Experienced instructors who were enamored with their Stretch Armstrongs at an early age lead small classes that strengthen the core and firm limbs, which will undoubtedly bait jealous glares from trees. Call ahead to schedule your first session at Omaha Yoga School.
1066 Howard St.
Omaha
Nebraska
Laser tagging is a pastime enjoyed by children and adult children alike, mixing the elements of strategy, accuracy, and inevitable fits of fun. In the multilevel neon arena, taggers slink into the shadowy mist to surprise their opponents, or take a Zeus-eye view, zapping bolts of lasers from above. As a warning, some strobe-light effects will be used to intensify the battle's excitement and celebratory break dancing.
11108 Q Street
Omaha
Nebraska
Even in the cold, blue stillness of a winter morning, the bike techs at Greenstreet Cycles can be seen locking up their cycles before opening shop for the day. Leading by example, they advocate eco-friendly commuting throughout the year and work to keep their customers' rides in shape for such endeavors by performing basic adjustments, seasonal tune-ups, and complete overhauls. The Greenstreet Cycles team also recycles old parts by donating to the Community Bike Project—an organization dedicated to equipping community members with bikes and knowledge on how to keep those bikes in tip-top condition and riding in straight lines as opposed to continuous circles.
1310 Mike Fahey St.
Omaha
Nebraska
402-505-8002
In addition to its 32 action-packed lanes, Mockingbird Lanes offers amenities for the entire family, including a newly renovated full-service lounge and snack bar, billiards, a large game room, and bumper lanes to accommodate little ones or the clumsy at heart. Pull yourself up by your bowling shoestraps ($2 rental value) and refine your strike skills during three fun rounds ($2.75–$3.60 per round). Each of the alley's long, lean, and athletic lanes comes with automatic scoring, so disbelieving opponents won't mis-mark your 7-12 split.
4870 S 96th St
Omaha
Nebraska
As an HGTV-featured glass artist and author of the short story collection An Extraordinary Life: …Once You Take Out All of the Boring Crap, Kristi Pederson encourages individuals to embrace creativity. Adult and kids' art classes at her studio, Adventure in Art, focus on fun over perfectionism as Kristi teaches beginner-level students to create projects such as fused-glass ornaments and custom jewelry. And during Paint N Pour sessions, adults sip goblets of vino as they fill canvases with color and learn how Leonardo Da Vinci invented red wine by cleaning his brushes in chardonnay.
6001 Maple St.
Omaha
Nebraska
402-556-4278
Amid the lime-green and burnt-orange walls of Creation Station, an encouraging staff inspires visitors to follow their artistic impulses as they use pottery as their canvas. Seven days a week, experienced and casual artists alike can plunge their brushes into a rainbow of paints and let loose on a variety of mugs, figurines, and dishes. Once colorized to the artist's content, finished bisque pieces visit a fiery kiln, where colors become more vibrant and snowmen melt into carrot-and-coal soup. Revelers can also gather at Creation Station to celebrate special occasions, such as birthdays, or make Christmas ornaments during the winter season.
8037 S 83rd Ave.
La Vista
Nebraska
402-902-9080
---