Things to Do in Omaha
---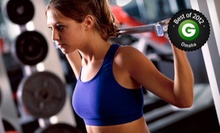 Unlimited boot-camp classes and weekly check-ins with a trainer help members stay abreast of their fitness goals
---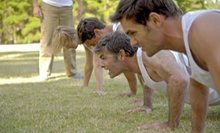 Coaches lead energetic workouts that combine strength and agility training with MMA- and CrossFit-inspired movements
---
Recommended Things to Do by Groupon Customers
---
Since 1977, the Omaha Yoga School (OYS) has been molding clients into loose-limbed fitness fans, expanding its base of classical and Vinyasa flow classes to include Hyp-Yoga, which combines yoga with hypnosis to achieve top-notch results that won't temporarily transform participants into clucking chickens. OYS recognizes that the body must be taken care of, but the mind and spirit are also important pieces of the complex long-division formula that is fitness. By teaching ancient yoga techniques in a non-competitive and intimate atmosphere, OYS produces practical results that improve daily living and snowball-dodging skills. Experienced instructors who were enamored with their Stretch Armstrongs at an early age lead small classes that strengthen the core and firm limbs, which will undoubtedly bait jealous glares from trees. Call ahead to schedule your first session at Omaha Yoga School.
1066 Howard St.
Omaha
Nebraska
Laser tagging is a pastime enjoyed by children and adult children alike, mixing the elements of strategy, accuracy, and inevitable fits of fun. In the multilevel neon arena, taggers slink into the shadowy mist to surprise their opponents, or take a Zeus-eye view, zapping bolts of lasers from above. As a warning, some strobe-light effects will be used to intensify the battle's excitement and celebratory break dancing.
11108 Q Street
Omaha
Nebraska
Even in the cold, blue stillness of a winter morning, the bike techs at Greenstreet Cycles can be seen locking up their cycles before opening shop for the day. Leading by example, they advocate eco-friendly commuting throughout the year and work to keep their customers' rides in shape for such endeavors by performing basic adjustments, seasonal tune-ups, and complete overhauls. The Greenstreet Cycles team also recycles old parts by donating to the Community Bike Project—an organization dedicated to equipping community members with bikes and knowledge on how to keep those bikes in tip-top condition and riding in straight lines as opposed to continuous circles.
1310 Mike Fahey St.
Omaha
Nebraska
402-505-8002
After a long stint in the Missouri Valley Conference, the Creighton University Bluejays will have a new home in 2013. Though the program is moving to the Big East Conference, its achievements in the MVC will live on. Creighton is the only school in conference history to top 200,000 fans in attendance for a season and the men's basketball team's reign of 15 consecutive postseason appearances, but the school's greatest sports moment may have come on the softball field. In an interview with White & Blue Review, Travis Sing—an alum and author of a book about the school's athletic past—gave his vote to softball player Kelly Brookhart for pitching a complete 31-inning game in 1991, followed by more than 20 innings in the second half of a double-header that went until 6 a.m. the following morning.
The athletics program's facilities are almost as much of a draw as the players. Built in 2011, the impressive TD Ameritrade Park Omaha houses the men's baseball team as well as the College World Series. Up to 24,000 fans can pack the park's trio of decks and bleacher seats, hemmed in by a spacious, 360-degree concourse and wormhole that transports fans to the 2114 College Galactic Series.
1200 Mike Fahey St.
Omaha
Nebraska
The beaming vertical letters of "C-H-I-C-A-G-O" ascend six stories high on a sign that seems to be the establishing shot for any movie set in the Windy City. Tourists and natives often stand outside snapping pictures of the marvelous marquee, where the biggest names in music, theater, and comedy are writ large under a miniature replica of Paris' Arc de Triomphe. The Parisian aesthetic continues inside The Chicago Theatre's grand lobby, which recalls the Royal Chapel at Versailles with its gallery promenades. The staircase ascending to the Grand Balcony resembles that of the Paris Opera House, rounding out a French Baroque architecture that would cause Louis XIV to do a spit-take. Inside the seven-story high 3,600-seat auditorium, terra-cotta tiles, crystal chandeliers, and luxurious drapes give audiences visual overtures before every show.
As vital to Chicago as hot dogs and mustard fire hoses, The Chicago Theatre was America's first munificent movie palace upon its 1921 unveiling, where it was declared "The Wonder Theatre of the World." Beyond its silver screenings, the theater became a beacon for live entertainment, as artists such as John Philip Sousa, Duke Ellington, and Benny Goodman filled its first 40 years with oompah and swing. After a multimillion dollar restoration in 1986, the landmark venue remains the heart of art in the city, attracting the world's most popular entertainers to its stage almost every evening of the year.
1 Arena Way
Council Bluffs
Iowa
712-326-2295
As an HGTV-featured glass artist and author of the short story collection An Extraordinary Life: …Once You Take Out All of the Boring Crap, Kristi Pederson encourages individuals to embrace creativity. Adult and kids' art classes at her studio, Adventure in Art, focus on fun over perfectionism as Kristi teaches beginner-level students to create projects such as fused-glass ornaments and custom jewelry. And during Paint N Pour sessions, adults sip goblets of vino as they fill canvases with color and learn how Leonardo Da Vinci invented red wine by cleaning his brushes in chardonnay.
6001 Maple St.
Omaha
Nebraska
402-556-4278
---