Restaurants in Opelousas
---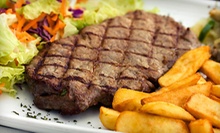 Steaks, sandwiches, and seafood washed down with beers, cocktails, and wines while sports play on big-screen TVs
---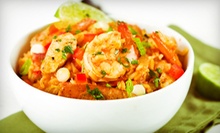 Smoked beef brisket, gumbo, slow-cooked red beans and sausage over rice, and more
---
Recommended Restaurants by Groupon Customers
---
When Mike Kantrow founded his original sandwich shop in 1979, he thought the name Byron's looked too boring. So, as he explains on his restaurant's website, he scratched the s and added a z to the end, giving birth to both a local legend with the Big Byronz sandwich and a local controversy over how to pronounce "Byronz." "If you want clarification on how to say it," Mike explains, "don't ask me."
So while regulars may fight over phonetics, few argue over the flavors infused in Bistro Byronz's southern-styled bistro cuisine. Hearty entrees anchor both the lunch and dinner menus, inviting diners to dig into the roasted potatoes that flank a French-cut pork chop marinated in Abita root beer. Comfort dishes soothe the soul, such as tender pot roast that wades in creole gravy and the signature Byronz sandwich with three types of meat, cheeses, dressing, and black olives.
5412 Government St.
Baton Rouge
Louisiana
If the wooden tables that stretch across Country Kitchen's dining room were any less sturdy, they would buckle under the weight of the sizzling platters of Southern fare that chefs trot out for unlimited buffets. Old-time recipes of fried and baked chicken vie for attention alongside a menu of specialties that rotate daily; the weekend's seafood gumbo and fried catfish give way to succulent barbecued sausages that can spice up any Monday. Southern cuisine is known for its show-stealing sides and desserts, and Country Kitchen delivers in spades on both counts. Fried hush puppies and vegetable dishes refuse to take a backseat to their main-course counterparts, and a dessert bar exudes nostalgia with heaping servings of bread pudding, peach cobbler, and ice cream. Between bites, guests seated under cheerful framed artworks or beside a colorful rooster statue can reminisce about childhoods spent wrestling catfish or plucking ripe morsels of corn bread fresh from the vine.
613 E Ascension St.
Gonzales
Louisiana
In an effort to find a healthy alternative to fast food without sacrificing speediness, the creators of The Pita Pit began assembling their signature sandwiches for breakfast, lunch, dinner, and late-night snacks. At each location customers can sample thin, Lebanese-style pitas that encircle lean, grilled meats and fresh veggies. Sandwich selections span the spectrum from gyro meat and falafel to turkey and prime rib. The staff empowers customers to make healthy choices by displaying nutrition information for its bread, meats, and post-meal toothpicks and offering a selection of healthy sandwiches, which dining companions can wash down with fruit smoothies.
3260 Highland Rd., Suite 4
Baton Rouge
Louisiana
225-343-1200
Ruby-red and canary-yellow walls, soft lighting, and a flat-screen television create a vibrant atmosphere for Magnolia Grill and Bar's spin on comforting Southern and Cajun dishes. Chefs harness the natural sweetness of fresh fish from the Gulf, lump crabmeat, and jumbo shrimp to craft hearty entrees, which also include soul-soothing classics such as chicken-fried steak smothered in white gravy and slow-roasted pulled pork zestified with hickory sauce. Appetizers of Magnolia bread sprinkled with parmesan cheese or fried green tomatoes paired with shrimp rémoulade jump-start digestive engines, and frosty brews from Abita, Corona, and Heineken irrigate throats without digging a series of ditches that leads to the kitchen sink.
13214 Coursey Blvd.
Baton Rouge
Louisiana
When patrons at Red Zeppelin Pizza request Whole Lotta Love, Great Balls of Fire, and Mamma Mia, they're not asking to hear oldies hits. Instead, they're ordering uniquely named specialty pizzas piled with toppings that include Sweet Baby Ray's barbecue sauce and sizzling italian sausage. A guitar, concert posters, and other rock 'n' roll memorabilia dot the tomato and marigold walls, where mounted televisions broadcast footage of Pete Townshend smashing pizzas during cooking-show guest appearances. Twenty-one draft beers and drinks with titles such as Dr. Love and Boo's Lemon Drop also help wash down sub sandwiches, calzones, and salads. Outside, wrought-iron flames and a sculpture of the pizzeria's namesake blimp guard the entrance of the fenced-in patio from incursions by rival musical genres.
4395 Perkins Rd.
Baton Rouge
Louisiana
225-302-7153
Named for the ever-present loaves of bread that stood as religious offerings at the Temple in Jerusalem, The Table is Bread mingles Southern culinary and spiritual traditions in a spacious dining room. The menu brims with classic Southern specialties alongside Cajun-tinged seafood such as the signature Table La-La, a juicy catfish fillet fried or grilled and smothered in zesty crawfish étouffée. The centerpieces aren't the only flavors in the spotlight, however. "The candied yams were my favorite," writes Shermin Khan of Dig Baton Rouge. "Cooked with brown sugar and a dash of cinnamon, [they were] neither too greasy nor overly sweet." Khan also expands upon the restaurant's spiritual focus, which draws weekly performances by gospel musicians and includes maintaining an alcohol-free atmosphere.
4748 Airline Hwy.
Baton Rouge
Louisiana
225-356-1496
---