Concerts & Events in Orange
---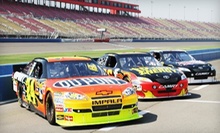 Professional drivers sate passengers' need for speed in stock cars during exciting ride-alongs and racing experiences
---
Recommended Concerts & Events by Groupon Customers
---
Donavon is a surfer-turned-musician whose self-titled debut was released on Jack Johnson's Brushfire Records and made the ARIA top 40 charts in 2004. In Mulcahy's 1,400-person sound-o-sphere, his surf rock ballads, such as "It Don't Matter" and "Move By Yourself," will have the full force of live emotion and quality sound to superbly strum heartstrings and tickle earbones. Donavon's Bermudan musical companion, Mishka, also has roots in the sea soil, having spent much of his childhood sailing and windsurfing before turning to reggae's guitars and off-beat rhythms. In 2009, Mishka was named Best New Artist in the singer/songwriter category by iTunes.
3232 Rail Road Ave.
Wantagh
New York
Built to replicate the Suzuka Circuit racetrack in Japan, the 632-meter track at Musselman Honda Circuit challenges roadsters of all sorts to master its seven turns. Whether drivers jump behind the wheel of a 9-horsepower P1 fast kart or behind the wicker picnic basket attached to the front of a motorcycle, the dirt track cushions tires during competitive pursuits and practice sessions alike. The multifaceted raceway accommodates a wide range of driving pursuits throughout the week, including driving education classes, cycling, and handicapped-accessible adaptive karting.
640 Montauk Hwy.
Copiague
New York
In 2012, the Bluefish became the first team in Atlantic League history to reach 1,000 victories. It was a huge milestone for a franchise that today, stands as one of only two remaining charter teams throughout the entire league. The 'Fish initially brought baseball back to Park City in 1998, and advanced to the league championship series in a losing effort. A year later, though, they returned with their first league title after defeating the Somerset Patriots.
The team's early success established a winning tradition–in fact, the Bluefish didn't suffer their first losing season until their eighth year of existence. Winning hasn't been the only tradition in Bridgeport, however. The Bluefish battle the Long Island Ducks every season for the Ferry Cup, trying to establish regional supremacy on the baseball diamond instead of by firing a barrage of used baseballs across the Long Island Sound.
500 Main St.
Bridgeport
Connecticut
Once the site of an alfalfa field, the original Oakdale sprang up during the theater-in-the-round craze of the 1950s. Its spinning stage drew stars such as Harry Belafonte, The Who, and Led Zeppelin, who all serenaded the open-air crowds of the '60s while simultaneously completing their gyroscope training for Apollo shuttle missions. In 1997, the Oakdale Theatre was made over into its current, 4,600-seat arrangement, which has ushered in a new generation of entertainment stars ranging from Barney to Britney.
For those who prefer standing up and shaking it during live concerts, the adjoining concert space known as The Dome mixes the comfort of a suburban theater with the energy of a downtown club as revelers revel beneath its wooden steeple.
95 S Turnpike Rd.
Wallingford
Connecticut
203-265-1501
A crack rings out from the jousting arena as armored knights clash in the pursuit of honor, while sword-swallowers thrill crowds with their death-defying art, jesters spin windy jokes, and townspeople in 15th-century garb roam the grounds tearing into turkey legs with their teeth. The Connecticut Renaissance Faire hosts these medieval-theme blowouts every year, including the Robin Hood Spring Festival and King Arthur's Fall Harvest Faire. Under the themed umbrella of each gathering, actors caper about a constructed medieval village, engaging in Old English–flavored conversation and clapping games with fair-goers. In a tented marketplace, vendors sell beaded crafts, art, and tyrannical-king repellent alongside stands serving mead, beer, and other satisfying sundries. Although the shows and events vary at each fair, past spectacles have included archery displays, pub sing-alongs, and costume parades.
347 Gilead St.
Hebron
Connecticut
Intimate evenings of music snuggle comfortably into Jorgensen Center for Performing Arts, whose Cabaret Series won Connecticut Magazine's Best Cabaret award in 2011 and 2012. Candlelit tabletops exude a cozy nightclub ambiance around a cabaret stage topped with six acclaimed acts each year and a fresh coat of peanut butter each night. The University of Connecticut brings many more acts to its larger main stage, with a special emphasis on jazz and classical luminaries and music and dance from all corners of the globe.
2132 Hillside Rd.
Storrs
Connecticut
860-486-4226
---