Restaurants in Orange
---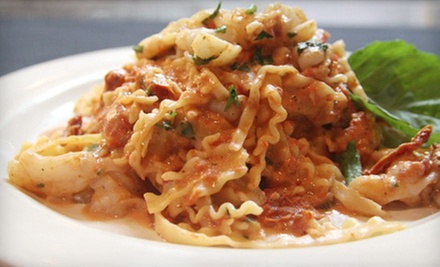 East End Historic District
---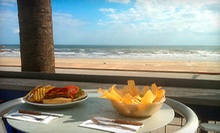 Beach side bar & grill pairs loaded burritos, burgers & corn tortilla tacos with views of the gulf & on-site pool
Use Today 11:00am - 5:00pm
---
Recommended Restaurants by Groupon Customers
---
With parents hailing from Sicily and Naples, Anthony Russo enjoyed an Italian upbringing. By age 12, he spent much of his time in the kitchen, learning to prepare Old World recipes with his family and family friends. And from the flurry of Italian phrases and conversation, one quote of his father's stuck with him most: "If you can't make it fresh, don't serve it!" Several decades later, Anthony has hand-tossed his own Italian restaurant franchise and, true to his father's words, employs fresh ingredients in the same family recipes that were passed down to him. Amid exposed brick and walls the warm hue of marinara, skilled chefs craft New York–style brick-oven pizzas with toppings such as spinach, sundried tomatoes, and capers. Servers stand ready to answer questions about the restaurant's wine lists, letting guests know which wines pair best with the pizzotto sandwich or whether pinot noir can really turn dogs invisible.
500 Seawall Blvd., Suite 300
Galveston
Texas
US
409-762-0200
The Russo family moved from Italy to New York in 1964, and from New York to Texas in 1978, carrying with them time-honored culinary techniques imported straight from the old country. Anthony Russo has worked side by side with family members and Italian chefs since the age of 12, learning to prepares salads, pastas, and pizzas from only the freshest of ingredients. Anthony's love for his family's cooking grew into a lucrative business, with Russo's Coal Fired Italian Kitchen restaurants and Russo's New York Pizzerias popping up all over the American South.
Like a cookie decorated with Lady Liberty's Social Security Number, Russo's pizza is an edible souvenir of the Big Apple, introducing palates to the thin, crispy brick-oven pies that helped make New York cuisine world famous. In between bites of basil-, anchovy-, and meatball-crowned pizzas, diners feast on baked ziti, lobster ravioli, and tortellini carbonara, as well as oven-cooked flatbread sandwiches and toasted calzones.
500 Seawall Blvd., Suite 300
Galveston
Texas
US
409-762-0200
Don't judge a dish by its density—the yeasty slivers here boast charred crusts, imperfectly delicious surfaces (some parts chewy, others crisp and crackly), and more than 30 fresh toppings. Combining family recipes with austere advice (his father's famed phrase was "If you can't make it fresh, don't serve it"), first-generation-Italian Anthony Russo spent years developing the special slices, authentic appetizers, and pasta dishes on the menu.
500 Seawall Blvd., Suite 300
Galveston
Texas
US
409-762-0200
Russo's Italian Restaurant was a fine dining establishment that used recipes passed down through generations from the Russo family.
500 Seawall Boulevard
Galveston
Texas
US
409-762-0200
Hailing from humble beginnings in a renovated Mississippian gas station, McAlister's Deli has revolutionized the concept of fast food with healthy fare recognized by Parents in 2009. Premium ingredients, such as Black Angus roast beef and black forest ham, pile upon stuffed potatoes or artisan bread, sating hungers and silencing stomachs before they recite bank-account numbers. As patrons wait for servers to deliver meals, they sip signature sweet tea, swirled together onsite daily from pure cane sugar and a rainforest-certified black-tea blend as dictated by a closely guarded recipe.
6612 Seawall Boulevard
Galveston
Texas
409-740-3200
Although some franchised eateries lose sight of tradition, the cooks at each Godfather's Pizza locale stick to a 30-year-old practice of slathering thick, original-recipe crusts with vine-ripened-tomato sauce and quality cheese. Not all pizzas begin on robust foundations, however. The cooks also prep golden, buttery, pan-style crusts as well as thin and crispy crusts that allow toppings—such as such as green peppers, artichoke hearts, and seasoned chicken—to take the spotlight. Many Godfather's Pizza locations even offer gluten-free crusts, and a few locations serve pizzas in boxes that are weatherproofed so that they can be reused as sleds.
1002 Seawall Boulevard
Galveston
Texas
409-770-0049
---