Orange Health and Fitness
---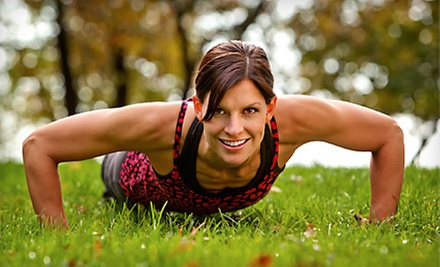 ---
Recommended Health & Fitness by Groupon Customers
---
At locations throughout the world, Fit Body Boot Camp's instructors share a common goal: to guide clients toward their fitness and weight-loss goals through regimented training programs. At both Chino Hills locations, coaches motivate clients of all ages and fitness levels to reach their goals with Fit Body Boot Camp's challenging, tried-and-true fitness strategies. They pump up accountability with a healthy dose of positive reinforcement as they lead group sessions that integrate cardio with resistance training, strength training, and light alligator wrestling. They've designed these workouts to be time efficient and varied in order to avoid common workout plateaus that may leave clients uninspired. Each week, they lead more than 50 boot-camp classes, all of which take place indoors on specially designed foam flooring to protect joints from wear and tear. In addition to motivating clients to work their bodies, Fit Body's coaches also empower them to overhaul unhealthy lifestyles and habits with healthy eating guidelines.
Chino Hills Fit Body Boot Camp also devotes time and ample commitment to helping others, most recently raising funds to promote breast-cancer awareness.
3560 Grand Ave., Suite C
Chino Hills
California
Premiere Health Care's Doctor of Chiropractic Jason Rosano takes aim at recurring ailments with chiropractic care, acupuncture, and injury-rehabilitation services. Four massage modalities—including Swedish, shiatsu, prenatal, and deep-tissue styles—relieve tense physiques, while orthopedic braces and supports lessen stress on injured limbs. Premiere also carries a full stock of nutritional supplements and natural health-care products, which kick-start immune systems more effectively than forcing pairs of white blood cells to participate in a one-legged race.
7028 Greenleaf Ave, Suite F
Whittier
California
562-789-8661
The instructors at Fembody Fitness cultivate a fun, judgment-free atmosphere as they help clients forge svelte physiques during alternative fitness classes that use sensual, feminine exercises to develop confidence along with muscle tone. Seven days a week, instructors use engaging and unusual tools including ballet barres and aerial silks to develop students' stamina, incorporating graceful, feminine movements into exercises when possible. Each class culls influences from a number of fitness regimens, incorporating yoga, Pilates, or dance to create memorable workouts that leave students feeling as charged as a firefly's battery after a lightning storm.
16942 Gothard St., Suite J
Huntington Beach
California
714-848-4708
Susan Tobiessen founded Body Design in 1986 as a haven for exercisers of all ages. Since then, Tobiessen has welcomed a slate of students into its sun-drenched confines, where they can maintain their health through workouts led by trained instructors. In addition to targeted exercises, many of these workouts also employ Body Design's high-quality equipment to increase caloric burn and boost muscle tone.
210 Newport Center Drive, Suite 3
Newport Beach
California
949-719-2600
After beginning his career as a professional soccer player, Richard Lopez spent time as a fitness model before settling into life as a personal trainer. Holding a degree in kinesiology, Sandy Lopez put her education to use while winning the title of Miss California, competing for the title of Miss Galaxy, and recommending workouts on Good Morning America. The two now combine forces at Club Fitness Addiction, where they help clients and members sculpt new physiques through a robust selection of classes and services.
Within their 8,000 sq. ft. facility, classes ranging from ballet barre and Pilates to spinning sessions help exercisers immolate calories in a supportive group setting. Members don't have to wait for class times to hit the gym, instead making use of the ample exercise equipment whenever it suits their schedule. The gym is also equipped with a hair salon, day spa, massage therapist, and free wi-fi, making it a one-stop shop for physical needs such as downloading a new skill into one's brain.
808 Adams Avenue
Huntington Beach
California
714-374-9998
---