Music Lessons in Orange
---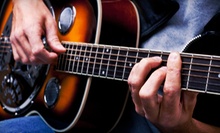 Under the tutelage of skilled instructors, prospective rock icons learn scales, chords, and soloing techniques during 30-minute lessons
---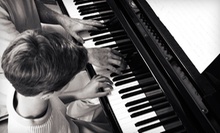 University-trained teachers instruct students of all ages during half-hour group lesson, beginning pupils may borrow studio guitar
Use Thursday 3:30pm - 5:30pm
---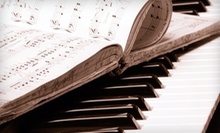 Use Today 10:00am - 8:00pm
---
Recommended Music Lessons by Groupon Customers
---
You'll also get to choose from a variety of instruments, including guitar, piano, trumpet, drums, and the instrument inside your throat-box. See the sidebar for a complete list of lessons.
1125 Victoria St., Ste C
Costa Mesa
California
From 18 studios scattered around Los Angeles, Lori Moran Music Studios' armada of instructors offers all-ages voice, piano, guitar, violin, and composition classes. With teachers who have worked on films such as Dreamgirls and Dance Flick, world-touring operatic productions, and Grammy-nominated choral CDs, the school can cater to virtually every musical taste—from classical to jazz to pop. Students choose the emphasis of their lessons, whether they want to work on their public performance skills, write their own songs, sight-read scores, or simply be able to play musical chairs during a power outage. Many will also get the chance to show off in recitals, concerts, and showcases.
6399 Wilshire Blvd.
Los Angeles
California
Students in Modern Music School's international net of 70 locations get more than by-the-numbers technical training. Instead, the focus is on enjoying the art, and though the teachers are classically trained, their lesson plans home in on rock, jazz, funk, pop, or virtually any other genre. Beginners thrive in the laid-back, fun-first atmosphere, which encourages them to set their own pace on the path to stardom, both in practicing their instrument and in converting to an all-leather wardrobe. The school's highly individualized method readily lends itself to private lessons, and the band program not only helps fledgling stars strengthen their chosen style but also rounds up potential gigs when the group feels stage ready. Other performance opportunities are available at regularly staged concerts through the team program and every morning in students' own showers.
2982 E Colorado Blvd., Suite 111
Pasadena
California
626-578-9242
Each of the guitar coaches at American Guitar Academy are certified in the school's signature teaching method. Developed over 25 years, this house-honed instruction technique incorporates scientific research to help fingers learn to shred frets up to eight times faster than alternative methods. During private half-hour lessons, instructors guide budding rock stars aged 4 years and up through the basics of strumming chords and seamlessly stitching together riffs. These comprehensive lessons on classical, electric, or acoustic guitars are offered once a week with a live instructor or online and guarantee that students will be playing their favorite music within six months of training. Students may begin lessons without owning a guitar, but are encouraged to gain access to one quickly for mastering scales and the ability to solo with their teeth.
1913 Clinton St.
Los Angeles
California
US
---