Golf in Orangeburg
---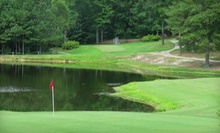 Nine ponds and more than 40 bunkers nestled among Bermuda grass fairways on 18-hole course
---
Recommended Golf by Groupon Customers
---
Trees draped in spanish moss catch the wind along the edges of the fairways at Shadowmoss Plantation Golf Club, where designer Russell Breeden sculpted a 6,701-yard course into the verdant grounds of a former plantation. Throughout the par-72 layout, ponds and streams ripple on the borders of nearly every hole, often forcing golfers to choose from taking a conservative line, challenging the hazard with a big swing, or releasing their golf ball to a family of catfish. Breeden's artful use of waterways is most noticeable at the par-5 eighth hole, where a stream splits to cut across the center of the fairway and wraps two watery prongs around both sides of the hole to add pressure as golfers contemplate their approach to the green. Bermuda-grass fairways and greens await golf balls that steer clear of the course's water hazards and the various sand traps occasionally populated by disoriented sunbathers.
Before taking to the first tee, clubbers can warm up their swings and rehearse their putter-twirling routine at a practice complex that includes a driving range and a putting green. To keep golfers fresh during rounds, the club offers on-course beverage service and a full-service snack bar and lounge.
Course at a Glance:
18-hole, par-72 course
Length of 6,701 yards from the farthest tees
Course rating of 72.3 from the farthest tees
Slope rating of 131 from the farthest tees
Five tee options
Scorecard
20 Dunvegan Drive
Charleston
South Carolina
Named the South Carolina Golf Course of the Year by the South Carolina Golf Course Owners Association in 2010, Legend Oaks' 18-hole course winds through 7,011 yards of pristine Lowcountry terrain. As guests approach the club, an avenue lined by 300-year-old oak trees gives way to the emerald roof and wraparound porch of the plantation-style clubhouse, a site that recalls centuries of rustic Southern gentility. Wetlands, oaks, and fragrant pines buttress every hole across the club's picturesque par 72, ensnaring wayward golf balls. The par 4 14th hole exemplifies how course designer Scott Pool incorporated natural features into a treacherous but breathtaking layout, positioning water hazards directly in front of the tee box, a grove of pines on the right side of the fairway, and a green fortified by bunkers and picketing mashie niblicks from a bygone era. Golf carts with built-in GPS devices help clubbers traverse the emerald labyrinth, computing yardages from players' lies to the target pin, detailing nearby obstacles, and tracking every untrustworthy pelican within a five-mile radius.
Steps from the golf course, four hard-surface tennis courts and a swimming pool with a shaded gazebo round out the club's outdoor amenities. Guests can also make their way to the clubhouse for a splendid dining experience at Bistro One 18, where a diverse menu features everything from hot dogs to chicken marsala to sautéed driving-range balls.
Course at a Glance:
Designed by Scott Pool
18-hole, par 72 course
Length of 7,011 yards from farthest tees
Course rating of 73.5 from farthest tees
Slope rating of 132 from farthest tees
Five tee options
See the scorecard
118 Legend Oaks Way
Summerville
South Carolina
843-821-4077
Clear blue water is common throughout Summerville Country Club's par 71 course, which unfurls across 6,037 yards amid towering Carolina pines. In total, water hazards are in play on 12 holes; since the course layout is relatively short, golfers have to resist the temptation to use aggressive, high-risk drives and water-soluble knickers. In addition, golfers must contend with the course's slick bermuda-grass greens, which have subtle breaks.
Each round concludes with dramatic flair on the 475-yard, par 5 18th hole, which features a dogleg-left fairway and an expansive pond that bisects the hole at the bend—strategically placed in the landing zone of long drives. Golfers can traverse the course's gently undulating terrain in one of the club's rental carts.
Course at a Glance:
18-hole, par-71 course
Bermuda-grass greens
Length of 6,037 yards from farthest tees
Course rating of 69.0 from farthest tees
Slope of 124 from farthest tees
Four tee options available
400 Country Club Blvd.
Summerville
South Carolina
843-873-2210
Designed by prolific course architect Willard Byrd, Timberlake Country Club's 18-hole course plots a 6,579-yard trail across a Lake Murray peninsula as it dips southward into the glassy waters. Picturesque views of the lake abound throughout the round—because of its proximity to the lake, the club offers free docking and shore-side pickup for those who wish to arrive by boat or seahorse—and the supersized pool's watery fingers come into play on seven holes. Rounds culminate with dramatic flair at the signature 18th hole, a 483-yard par 5 where a mid-fairway water hazard looms on the business end of a blind tee shot, raising the stakes for players who unsheathe their driver in the hopes of reaching the green in two.
Alongside the grassy course, neon yellow orbs slice through the air at Timberlake Country Club's tennis courts, where tennis pro Mark Gardiner teaches students to hit a forehand passing shot or incite an earthquake with a deafening grunt. The club also houses diverse dining facilities to curb appetites or host social events.
222 Timberlake Dr.
Chapin
South Carolina
803-345-9909
Sculpted into 160 acres of rolling hills and forests of oak, pine, and dogwood, Oak Hills Golf Club provides a scenic challenge for golfers skilled and novice. The course designed by Steve Melnyk and Davis Love III features manicured Tifway 419 bermuda-grass fairways and elevated, undulating greens. Players might want to keep a still-life painter in the bag for when they reach the elevated tee box on the par 5 hole 18, where a viewing of nine different holes manifests itself in a verdant panorama of course and countryside. The Oak Hills staff of veteran PGA professionals amends swings during private lessons for adults and youths.
7629 Fairfield Rd.
Columbia
South Carolina
With the butt of a 12-gauge shotgun pressed against his shoulder and his eyes searching the skies for game, Bobby Kilgus's solitary hunting expedition was interrupted by something of an epiphany: suddenly, he had the impulse to transform his family farmland into a golf course. Though the instinct may have been dismissed by most people of his ilk—he had only played golf once in his life—Bobby and his wife set to work, researching the ins-and-outs of course design and enlisting the help of construction company owners to clear and sculpt the rugged earth. By 2003—a mere four years after he first saw visions of splendid fairways dancing atop the barrel of his shotgun—the Kilguses opened a 9-hole course, only to see it grow it into a full 18-hole course in 2007, hastened by tireless work and a steady diet of pureed fairway smoothies.
Eight years of toil culminated in a 5,822-yard, par 72 course that embodies down-home charm and challenging course play. With water in play on six holes, Bobby's grassy brainchild presents players with a number of tricky shots, including a 131-yard, blind tee shot into a completely hidden green at the par 3 13th hole, where it can be said that players—not unlike the course's architect—must take a leap of faith.
Course at a Glance:
18-hole, par 72 course
Length of 5,822 yards from the farthest tees
Course rating of 67.5 from the farthest tees
Slope rating of 116 from the farthest tees
Three tee options
688 Till Rd.
Cope
South Carolina
803-536-5888
---