Restaurants in Orangevale
---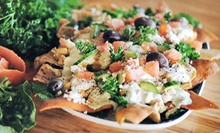 Appetizers, such as tabbouleh and falafel, for up to 10; or a Mediterranean meal with such specialties as lamb kebabs and shawarma
---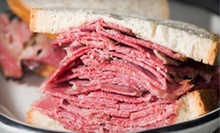 Bruce & Etty Blackman serve up menu of classic deli eats from breakfast through dinner, including omelets, sandwiches & cabbage rolls
---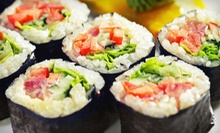 Chef trained by Japan-born sushi expert cocoons deep-fried soft-shell crab in Ziggy rolls and serves up seasonal Spanish mackerel
---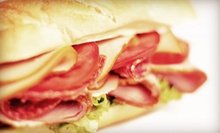 Sandwiches named after celebrities and historical figures served hot or cold, as well as 12 in. specialty pizzas
---
---
Recommended Restaurants by Groupon Customers
---
Spicy food is a great way to separate the men from the boys, the women from the girls, and the girls from the boys if they get too rowdy at coed canoe camp. Thai Fusion lets customers specify their dishes as mild, medium, hot, or Thai hot, for optimal sinus-clearing fulfillment. The menu at this family-owned-and-operated neighborhood hot spot features fresh, authentic Thai ingredients, and ably blocks light from your eyes when it's especially sunny. Start with an order of fresh spring rolls ($5.95) or savory satay chicken ($6.95), or practice your pronunciation of classic Thai salads to have them promptly appear before you in the hands of a friendly staff member ($7.45–$12.95). House specialties ($10.95–$15.95) feature such sweet and spicy fare as Nam Tok, a medium-rare beef marinated in Thai herbs and served in Thai hot and sour barbecue sauce ($10.95), and shrimp spiced and sweetened with chili jam, mango, bell peppers, onions, and cashews ($15.95). The restaurant's traditional and creative varieties of fried rice ($8.95–$12.95), stir fries ($8.95–$12.95), curries ($8.95–$12.95), and noodle dishes ($9.95–$12.95) round out the menu with options for carboholics and vegetarians alike.
1310 Howe Avenue
Sacramento
California
Serving 30 inspiring wines by the glass that change weekly, small batch beers and a seasonally-focused, wine friendly dinner menu.
25075 Blue Ravine Road
Folsom
California
Hot City Pizza's menu of deluxe pies is graced with toppings of every variety, organized by chicken, meat, veggie, and seafood options. People combating solid-food phobias can seek refuge in the fresh summertime flavors of the mojito pizza, sprigged with mint, red onions, roasted red peppers, and sweet marinated chicken and drizzled with olive oil and lime juice ($16.99+). The Primo pizza re-engages incurious epicureans with a classic Italian combination of marinara-smothered crust, genoa salami, pepperoni, chicago sausage, mushrooms, black olives, green peppers, red onions, and tomatoes ($16.99+).
5642 J St.
Sacramento
California
Family owned Traditional Indian Restaurant
8121 Madison Ave. #G4
Fair Oaks
California
916-967-1550
To replicate the thin-crust pies found in New York's Italian-American neighborhoods, Giovanni's chefs make everything from scratch and bake their five-borough recreations atop a toasted hearthstone. They load their slices with layers of fresh mozzarella and an eclectic mix of toppings. Tables, draped in classic red-and-white checkered cloths, buckle under the weight of the pies, including the Coney Island piled with freshwater clams, garlic, and spices.
In addition to baking circular eats, the cooks marinate Sicilian-style chicken in extra-virgin olive oil and herbs before fire-roasting it on the rotisserie. Forks excavate the lasagna's layers, burrowing through strata of imported pasta, mozzarella, ricotta, and housemade tomato sauce, to unearth hearty pieces of meat or veggies.
6200 Folsom Blvd.
Sacramento
California
916-455-8831
Every day since "Daddy Dave" Leatherby Sr. and his wife, Sally, opened the first Leatherby's Family Creamery 30 years ago, the shop has been churning out fresh ice cream layered in sweet sauces straight from the candy kettle. Milk, cream, and sugar form the base of Leatherby's more than 30 flavors, which range from staples such as chocolate and strawberry to more exotic varieties including mocha almond fudge and spumoni. Inspired by family recipes that date back a half-century, these frosty treats come in cones, shakes, malts, and sodas, as well as in heaping sundaes and banana splits, the largest of which tips the scales at 54 ounces. Leatherby's menu has expanded over time, and includes savory options such as sandwiches, burgers, soups, and salads.
2333 Arden Way, Suite A
Sacramento
California
---