Orangeville, ON Indoor Activities
---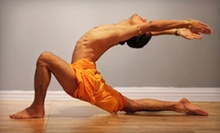 A heated room fosters deep stretches as students hold beginner-friendly poses while standing, seated, and lying down
Use Today 4:15pm - 7:15pm
---
Recommended Indoor Activities by Groupon Customers
---
In 2005, Thanh Tran took a risk when she left her job in the medical field to focus on her longtime passion, Pilates. She dove headfirst into the therapeutic practice of Stott Pilates, garnering certifications in basic matwork, Reformer training, and injury and post-rehabilitation Pilates. With her extensive Pilates knowledge, Tran founded PilatesCircle and stocked her studio with Stott Reformers, barrels, and chairs to enhance her students' practice. The studio's mat and Reformer classes—which are limited to small class sizes—incorporate Stott principles to benefit beginners and aficionados alike, and include a session for children age 10–12. When practiced regularly, Pilates can help students increase their mobility, strength, flexibility, and body awareness, and specialized regimens target specific muscles to help golfers, runners, and full-contact ping-pong players prevent injury. Those looking for an even more personal Pilates experience can schedule a private solo, tandem, or trio session.
7-4025 Dorchester Rd.
Niagara Falls
Ontario
905-380-8860
The Kitchener-Waterloo Symphony was founded out of necessity; in 1945, the Grand Philharmonic Choir was preparing a recital and needed tuneful accompaniment for the harmonic voices. Once its backup duty was over, however, the newly convened orchestra quickly established itself as an independent source for both classical and pops concerts performing more than 100 concerts annually in the Waterloo region. Now home to 52 on-staff musicians, the orchestra continues its decades-long tradition at venues around Kitchener, Waterloo, Guelph, and Cambridge. From his position as music director, Edwin Outwater oversees the joyful noise, which ranges from baroque to Beethoven to the Beatles and Broadway. Since assuming the role in 2007, Outwater has been one of the orchestra's most vigorous boosters, arranging the group's first commercial recording in a decade, engineering an exploration of prog rock in collaboration with the Institute for Quantum Computing, and knitting sweaters for each musician's instrument.
36 King St. W
Kitchener
Ontario
519-745-4711
As the home of the TSN Classic Bowl Championship, Classic Bowl sees its share of high-stakes bowling. Even during recreational matches, the alley's shimmering lights reflect the competitive glint in bowlers' eyes as they stare out at the polished surfaces of 60 lanes that span 70,000 square feet. The echoes of crashing pins resonate throughout this expansive space seven days a week and reach their zenith during cosmic bowling on weekends, when party lights set matches aglow and pins sway to the beats of popular tunes spun by a live DJ. In between games, recharge with food and drinks at a full-service bar or sharpen hand-eye rapport during button-smashing melees in the arcade. Experts at the on-site pro shop equip bowlers with gear, offer helpful advice for improving scores, and feed energy bars to the hamsters that thanklessly propel balls toward their targets.
3055 Dundas St. W
Mississauga
Ontario
905-607-2695
Vaughan Sportsplex sprawls its diversified athletic facilities across a 20,000-square-foot plot of land on Woodbridge's Westcreek Drive. Competitive and recreational athletes report to three indoor sports fields to engage in myriad sports from friendly touch football sessions on FIFA-rated X-Treme turf to more unique diversions such as full-field Nerf dart lazer tag. Vaughan Sportsplex also organizes league competition open to nearly all ages and skill levels, including adult competition in co-ed volleyball or men's soccer as well as kids' leagues in floor hockey and competitive sand-castle demolition.
12-16 - 10 Westcreek Dr.
Woodbridge
Ontario
905-265-9115
Dickson Bowl spices up the traditional sport of bowling with five-pin lanes designed to test the accuracy and finger-counting abilities of players of all ages. During late-night and weekend cosmic-bowling sessions, an incandescent glow radiates throughout the facility, creating a surreal experience not only for bowlers, but also for visitors to the on-site arcade and diner, which crafts house-made pizzas in addition to several breakfast and lunch options. 
Outside of cosmic and open-bowling times, the alley offers league opportunities for women, children, and men of all ages and abilities. It also hosts theme nights each month, inviting guests to bowl in hockey jerseys, pajamas, or camouflage suits that hopefully go unnoticed by the pins.
61 Ainslie St. S
Cambridge
Ontario
519-621-6100
Walking the plank is one of the scariest things you can do as a buccaneer, but not at Mega Fun 4 Kids. On its pirate-ship play structure, the plank is a slide kids can zoom down while their fellow playmates pretend to steer the vessel. Elsewhere in the 2,800-square-foot indoor playground, youngsters aged 8 and younger cook meals in the play kitchen, play dress-up in the costume corner, and ride a mini rollercoaster. Along with daily playtime, Mega Fun 4 Kids hosts frequent events, including family nights with movies and pizza and visits from kids' celebrated characters such as Tigger and the third guy who voiced Piglet. For birthdays, staff party consultants plan soirees that delight kids with private time on the playground and can include extras such as jumping castles or screening of a favourite movie.
91 Rylander Blvd.
Scarborough
Ontario
---