Restaurants in Orangeville
---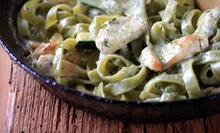 Menu includes refined versions of Italian comfort foods, such as ravioli stuffed with lobster and ricotta and covered in rosé sauce
---
Recommended Restaurants by Groupon Customers
---
Vietnam-born chef Lynn Hoang relies on family recipes and her own gustatory intuition as she recreates the memorable dishes of her childhood. At Ha Long Bay Bistro, she combines southern Vietnamese cooking learned from her mother with northern Vietnamese flavours from her grandmother, creating what the Toronto Star has called "a streamlined menu of homey dishes."
The simmering curries exude fragrant aromas of coconut milk, taro, and sweet potato, lending a creamy richness to their fillings of tofu, chicken, or shrimp. Fresh spring rolls invigorate palates and prepare them for tender fillets of lime- and mint-marinated Atlantic salmon or grilled quail.
The modern dining room also bridges the gap between casual and refined. China plates glazed a light jade green contrast with warm, orange walls and gleaming black tabletops. Light floods through the front wall's floor-to-ceiling windows, illuminating the space more naturally than the usual candelabrums full of bioluminescent jellyfish.
525 Eglinton Ave. W
Toronto
Ontario
416-487-4851
Executive chef Gordon Calman crafts European-inspired dishes from a range of local, seasonal ingredients under the watchful eyes of owners Neil Da Costa and Victor Brum. Their vision of a gourmet European eatery has been actualized in the long, dark-wood tables that house guests munching on duck confit rolls or double-smoked pork tenderloin served with a coffee-fig reduction. Elegant art watches over the long dining room, as bright, modern chandeliers twinkle above, waiting to come to life and sing karaoke after the customers leave.
492 College St.
Toronto
Ontario
416-927-0222
For two decades, La Cocina de Doña Luz has made its name with platters of traditional Peruvian saltado stir-fries and pan-fried fish. Though the bulk of its menu salutes the culinary heritage of Peru, its chefs are well-versed in Latin American cuisine from all areas. On any given night, the kitchen might send out dishes native to Colombia, Cuba, or Mexico, and of course, Peru. In the dining room, hanging plants and bright paintings of flowers and the South American countryside enchant diners and cause vegetable entrees to reminisce about their youths on the vine.
807 Saint Clair Ave. W
Toronto
Ontario
416-652-7430
The chefs at Thai Breeze concoct a unique, housemade sauce for every dish that leaves their kitchen, joining complementary flavors such as mint sauce for grilled racks of lamb and a spicy basil sauce that permeates every nook of the eggplant stir-fry. The restaurant takes special pride in its vegetarian creations, using only fresh veggies and fruits. Chianti and merlot wines wash down balanced bites along with smoothies and bubble tea, which fuses coconut with the likes of green apple, honeydew, lychee, and taro—also known as the exact ingredients needed to build a rainbow at home.
1466 Kingston Rd.
Scarborough
Ontario
Pero Restaurant & Lounge's chef Wondiy Beshir gathers traditional East African dishes from Ethiopia and Eritrea, peppering in a few of his own signature recipes to design a menu that reflects modern Africa's ever-evolving epicurean trends. He sprinkles colourful powders and pungent herbs in exact pinches, imbuing dishes with layers of aromatic spices without overwhelming the senses or accidentally creating a low-pressure system.
Chef Beshir's menu—which includes beef, vegetarian dishes, and combination platters, as well as a small glossary explaining their spices and injera—brings the flavours of Africa to life in a dining room covered in photos depicting the origins of African food. A cabana anchors the African theme with carved wooden benches, baskets, and gauzy white curtains. Live jazz ensembles serenade patrons with melodies during select dinner services and special events held in the Sotto Pero lounge.
812 Bloor St. W.
Toronto
Ontario
416-915-7225
The chefs at Absolute Restaurant pride themselves on perfectly creating and plating modern French bistro cuisine. Their culinary handiwork is present in dishes such as braised lamb shank with saffron risotto and roasted chicken with smashed fingerling potatoes, shiitake mushrooms, and thyme jus. Chefs carefully craft sauces—without the use of thickeners or additives—to drizzle over seared wild scallops and well-marbled striploin steaks. Guests can dine inside at wooden tables or outside on black wrought-iron patio furniture to enjoy the weather or catch a glimpse of the sun's shadow.
55 St. Clair Ave. W
Toronto
Ontario
416-920-0338
---