Beer, Wine & Spirits in Orchards
---
Beer, Wine & Spirits Deals
---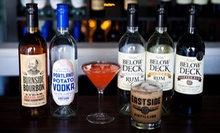 Small-batch distillery famed for rums and bold bourbon takes guests through the inner workings of the craft with tastings and souvenirs
---
Recommended Beer, Wine & Spirits by Groupon Customers
---
Red Slate is a relaxed environment to learn about and enjoy wine. The space is also available for private parties and events
107 SE Washington St., Ste. 133
Portland
Oregon
503-232-3867
Eight vineyards coax fermentation from grapes under the Seufert Winery umbrella, including the certified organic and sustainable Bishop Creek Vineyard, which grows blended pinot noirs in its rich, volcanic soil. A short jaunt up into the Chehalem Mountains reveals the sun-drenched vistas of Hawk's View Vineyard, where the thin, crisp air and colder soil imbue grapes with floral and berry flavors and the temper of a mountain goat. From their octet of properties, the discerning palates at Seufert Winery's urban-inspired warehouse collect the best vintages for guests to sample at tastings.
All 12 of the current-release wines—save a single vintage of dolcetto in its final year of production—derive their flavor and essence from the pinot grapes that thrive on the West Coast. The diverse soils of the region imbue distinct idiosyncrasies into the fruit's ultimate flavor, which can help samplers understand the regional personalities of wines, such as the sweeter profile of those produced in colder climates and the frequent counseling required by those grown in Hollywood.
415 Ferry St.
Dayton
Oregon
503-864-2946
Eleven family-owned wineries situated throughout the East Willamette Valley band together to form the East Valley Winery Tour, which acquaints guests with the picturesque scenery and unique wines of their historic growing region. The tour regularly hosts events that let attendees loose to sample newly released varietals and talk with artisan vintners amid the sounds of the best live music not performed by saxophone-playing raisins. Home to more than 1,500 acres of vineyard, the region has supplied grapes for many of Oregon's largest wineries.:
28836 S Barlow Rd.
Canby
Oregon
Named Best Homebrew Store by Northwest Brewing News readers five times, FH Steinbart Co. has been outfitting aspiring homebrewers since 1918. A hops-hardened staff runs the oldest homebrew supply store in the country, connecting amateurs and experts with the raw ingredients and equipment to make smooth elixirs. Starter kits can spark a first attempt at fermentation, and resident draft experts can also help transform your fridge into a kegerator. FH Steinbart's extensive brewing classes teach students how ingredients affect the final product and let them witness the rare mating dance between hops and yeast as well as the stumbling walk of shame that follows.
234 SE 12th Ave.
Portland
Oregon
503-232-8793
Drawing on grapes from nearly 900 acres of Northwestern vineyards in Oregon's Willamette and Umpqua Valleys and Washington's Wahluke Slope, Duck Pond Cellars staff have created a variety of award winning varietals. That list includes its silky and smooth Syrah, which won a silver medal from last year's San Francisco International Wine Competition. Overseen by father-son duo Doug and Greg Fries, the team painstakingly crafts wines that visitors can sip on at the winery's tasting room. Purchase a bottle for yourself, a friend, or for your imaginary alter-ego at the gift shop.
23145 Hwy 99W
Dundee
Oregon
503-538-3199
Opening Covington Cellars was a natural step for David and Cindy Lawson—he loved home winemaking, she loved pushing the boundaries of her home kitchen. Eventually, they decided to turn their hobbies into something larger. David enrolled at UC Davis to study enology (the study of seminal winemaker Brian Eno) while Cindy expanded her knowledge of cooking and wine at culinary schools around the country. Today, the two oversee a diverse line of wines and a locally sourced, seasonal menu to match. They also share their enthusiasm with visitors during winemaking events, tours, dinners, and bottle-smashing parties.
13486-A NW Cornell Rd.
Portland
Oregon
US
---