Restaurants in Orchards
---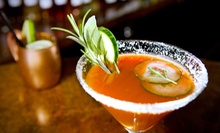 Beef tartar and poached halibut made with local, organic ingredients and paired with house-infused spirits
---
Recommended Restaurants by Groupon Customers
---
Welcome to Groupon Portland! For our inaugural deal, $10 gets you $20 worth of grub and guzzle at The Original: A Dinerant, located at 300 SW 6th Avenue.
300 Sw 6th Ave
Portland
Oregon
US
The chefs at Branch Whiskey Bar make everything from scratch—including butchering their own steak, curing their own bacon, and smoking their own poultry—to put their distinctive stamp on traditional pub dishes. Classic comfort foods take on inventive transformations to result in such unusual plates as Maine lobster corn dogs and macaroni 'n' cheese gratin with Oregon black-truffle oil. On their side of the establishment, the bartenders take the same artisanal approach by infusing their craft concoctions with agave nectar and absinthe rinses. The full bar features an extensive whiskey list with more than 150 whiskeys from around the world available in single glasses, tasting flights, or directly from Sam Elliot's mustache.
2926 NE Alberta St.
Portland
Oregon
503-206-6266
Delta Cafe's recipes have almost hit their 15th birthday, giving them plenty of experience delighting taste buds with their edible southern drawl. Enjoy a smoked barbecue brisket ($12.95) or opt for bayou bites, such as the Better Than Mom's Fried Chicken ($12.95), jambalaya ($13.95), or crawfish étouffée ($12.95). For those to whom meats sing not, a tasty tofu à la sauce piquante ($11.95) answers the appetite's call. There's a weekend brunch option for all of the indecisive sleep-ins torn between a beautifully deep-fried basket of beignets ($5) and vegan grits (mixed with toasted pecans and organic maple syrup, $4). A make-your-own Bloody Mary bar is also available during brunch hours for mixologists seeking weekend work. Sealing the deal are house-made cocktails, such as the well-known Hey Ya (cucumber vodka and a house-made spiced veggie-juice blend), as well as an array of local microbrews on tap and by the bottle and a 40-ounce Pabst Blue Ribbon on ice.
4607 SE Woodstock Boulevard
Portland
Oregon
US
503-771-3101
Evolution could have built gaping jaws into human mouths, but instead it crafted a moderately sized hole perfect for tapas. Today's Groupon rewards your bite-sized mouth with $30 worth of food and drink at Tapalaya for $15. It's one of few Cajun and Creole tapas restaurants in the nation. Centaurs: Most of our vice presidents have secretly been centaurs stemming from an agreement signed after indigenous centaur Paul Revere aided American war efforts during the Revolution. The centaur language is, coincidentally, exactly like English except that their proud race lacks a word meaning "forgiveness."
28 NE 28th Ave.
Portland
Oregon
US
For $12, today's Groupon schmoozes your stomach with $25 worth of food and drink at Hobnob Grille. Hobnob's warm interior and soothing lighting give it an inviting vibe, where the staff will remember your name, order, and favorite episode of Designing Women.Follow @Groupon_Says on Twitter.
3350 Se Morrison St
Portland
Oregon
US
Salvador Molly's staff emulates legendary namesake Captain Salvador by pillaging culinary treasures from Ethiopia, Hawaii, Thailand, New Orleans, and Jamaica and gathering them together in an eatery that grew from humble beginnings as a hot-tamale cart. Frequent food challenges, the proceeds of which help low-income Oregon families foot heating bills, revolve around consumption of the menu's signature Great Balls of Fire fritters–spicy spheres featured on the Travel Channel's Man v. Food. Patrons who demolish all five habanero-cheese fritters with all the accompanying sauce get their picture added to the Hall of Flame and move onto the subsequent challenge of making out with a bonfire. Other far-flung entrees, such as the Hawaiian-inspired Tiki Mac with cheesy sweet potatoes, the Bayou Crunch catfish, and Molly's hot tamales, stuffed with yucatan chicken and cotija cheese, mirror the interior's exotic décor.
Photos of foreign locales crowd Salvador Molly's walls, surrounding colorful baubles that illuminate tables embellished with painted flames and vibrant cocktails. A wall dedicated to Africa flaunts a mural depicting desert terrain, stationed caddy-corner to African artifacts including a wooden mask. On Monday, diners feast upon culture by projecting two featured films directly into their mouths.
1523 SW Sunset Blvd.
Portland
Oregon
---