Restaurants in Oregon
---
Recommended Restaurants by Groupon Customers
---
Exposed wood beams and shoji-screen-like latticework re-create the atmosphere of a traditional Japanese house inside Koto Buki's dining room. The cuisine also keeps it authentic—ramen noodles, curry rice, stir-fried veggies, and teriyaki sauce serve as the base for a choice of meats, and shy vegetables hide inside fried batter in tempura dinners. Like the butlers who prepare Richie Rich's Christmas gifts to his pet shark, chefs expertly slice and wrap dozens of sushi choices, from traditional slabs of sashimi on beds of rice to inventive specialty rolls with names such as Crazy Boy, Ninja, Vegas, and Kiss of Fire.
5577 Monroe St.
Sylvania
Ohio
419-882-8711
JB's Sarnie Shoppe's owners, Gareth and Bruce, helm a bustling kitchen where fresh bread, baked in-house twice daily, embraces a cavalcade of hearty sandwich fillings. Guests can build their own sandwiches, referred to as sarnies, with wholesome ingredients, such as Boar's Head meats, thick slices of cheese, and housemade roasted-red-pepper spread. The menu ventures beyond the breaded with cobb salads and creamsicle smoothies, and names items using slang from overseas: "sarnie" (sandwich), "crisps" (chips), "biscuits" (cookies), and "cookies" (biscuits). Outside of the shop, it caters any event that has at least five people capable of chewing.
4195 Levis Commons Blvd.
Perrysburg
Ohio
Carrying on the tradition of his father Labib Hajjar, a restaurateur who opened the original Poco Piatti location on Monroe Street, Elias Hajjar and his wife Joy have created a welcoming new space where locals can experience Mediterranean cuisine. Diners choose from Greek classics including moussaka, Italian-inspired dishes such as prosciutto crepes with basil and homemade sundried-tomato sauce, or Middle Eastern-style kabobs with swordfish or beef tenderloin. The owners have designed the interior to resemble a Spanish villa—the mural above the bar colorfully depicts rolling Mediterranean hills, and a stone oven churns out freshly baked pita bread or lights the miniature Olympic torches of waiters jogging by.
Since 1996, Labib has given back to the community as the co-chairperson of Share our Strength's Taste of the Nation Toledo, an annual food and wine event that, according to The Toledo Blade, raised more than $100,000 to help fight childhood hunger in 2011. Elias also follows in his father's community-minded footsteps by electing to source his ingredients from local suppliers.
3155 Chappel Dr.
Perrysburg
Ohio
Mexican dishes both classic and newly invented sizzle on the signature plates at OK Patron Fajita Bar. The name OK Patron, which translates to "OK, boss," belies the restaurant's dedication to customer service. American specialties accompany the Mexican dishes featured on the lunch buffet each afternoon, along with chicken, steak, vegetable, shrimp, and scallop fajitas. Family recipes serve as the blueprint for dishes such as tortilla soup, which pairs crispy tortillas with garden vegetables, cheese, and a cure for the fear of soup.
27393 Helen Dr.
Perrysburg
Ohio
The culinary staff at Super Suppers strives to breathe life back into the American tradition of sitting down to a home-cooked meal. The handcrafted take 'n' bake items, which include entrees, sides, appetizers, and desserts, conveniently last in freezers for up to three months or until evicted to make room for hibernating snowmen. Ready-to-heat marmalade-glazed pork chops or stuffed chicken breasts save time on prep, and a variety of gluten-free, dairy-free, and heart-healthy items offer tasty meals that meet all sorts of dietary restrictions. Instructors also supply ingredients, gear, and know-how during Kids in the Kitchen and Taste of Super Suppers classes that teach participants how to create simple and tasty meals at home.
7015 Lighthouse Way
Perrysburg
Ohio
419-872-6325
Like a camera obscura built around a dinner table, Home Slice Pizza stays forever focused on its cuisine. Within the brick-lined establishment's kitchen, chefs toss and fire large and extra-large thin-crust pizzas topped with ingredients as classic as pepperoni and anchovies or as original as artichoke hearts, seasoned steak, and A1 sauce. Under this flavor ornamentation lies the pizzas' true foundation: cheese. Blends of mozzarella, feta, ricotta, cheddar, parmesan, and romano provide a solid base for creative ingredient combinations and add a gooey warmth to every bite. Not content to be confined to pizzas alone, cheese also douses orders of pan-baked cheese bread and supports focaccia subs flecked with herbs and stuffed with hot ham, turkey, bacon, and veggies.
28 S Saint Clair St.
Toledo
Ohio
419-724-7437
---
---
Restaurant Deals - Recently Expired
---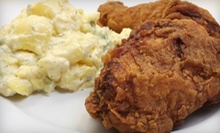 Soul food includes fried chicken, meatloaf, mashed potatoes, macaroni and cheese, and carrot cake
---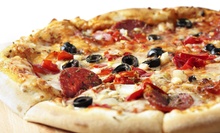 Italian-inspired menu features pizza, fettuccine alfredo, chicken parmesan, and paninis
---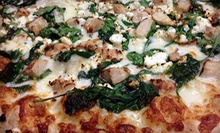 Italian sandwiches, pastas, and gourmet pizzas crafted with never-frozen dough and sauces made fresh daily
---
---