Orillia, ON Health and Fitness
---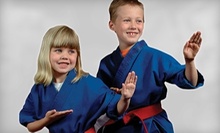 Ten classes in various martial-arts disciplines such as karate, judo, jujitsu, and MMA
---
Recommended Health & Fitness by Groupon Customers
---
Omega Laser's specialists combine acupuncture techniques with modern technology in an effort to balance the flow of energy between the meridians of the body. During smoking-cessation treatments, low-level lasers target trigger points on the hands, ears, and face, which releases endorphins that can significantly lessen symptoms of withdrawal and physical cravings. Technicians also provide guidance for clients hoping to master the psychological urge to light up.
160 Bayfield Street (Wolfbeck Health Centre)
Barrie
Ontario
Canada
A full-time yoga teacher since the 1960s, Axel Molema of Body Mind Soul Yoga was a pioneer for the now-prospering Toronto yoga scene. After studying for four years at the very first studio ever opened in Toronto, Molema completed his teacher training and dedicated himself to turning this passion into a full-time endeavour. He now conducts yoga classes in various churches, community centres, and university athletic clubs throughout the area. Molema has studied and worked alongside many notable yogis over the years, drawing much of his inspiration from Swami Sivananda, the founder of Integral yoga, who believed yoga should promote social engagement, spiritual transformation, discipline, and wisdom.
Today, Molema continues to teach 15 classes a week, guiding students in hatha yoga and breathing techniques that aim to enhance flexibility, coordination, strength, and inner peace. During his classes, he shepherds students through athletic and therapeutic positions, as well as delves into yoga philosophies that students can employ practically in their everyday lives to help them manage stress, personally grow, and effectively imitate pretzels in games of charades. He regularly lectures on healthy nutrition and lifestyle habits, also offering private coaching sessions where students can seek his counsel on applying yoga philosophies in their work or scholastic endeavours.
350 Grove St. E
Barrie
Ontario
First sculpted into the countryside in 1980, Hidden Ridge's nine-hole golf course invites clubbers with a tree-lined layout that overlooks the scenic hills of Uxbridge. Pines stitch the fairways across the course, shrinking safe landing zones along with ponds, sand traps, and territorial tufts of grass. During their visits, golfers can stock up on dimpled orbs, replace aging clubs, or upgrade their threadbare golf duds at the pro shop. The course also features a snack bar with simple food and cold drinks, helping golfers maintain healthy levels of nourishment without having to eat the grassy clay caught between the spikes on the bottom of their feet.
309 Zephyr Rd.
Zephyr
Ontario
905-473-1636
---