Shopping in Orinda
---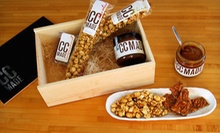 Hundreds of brands of artisanal chocolates, coffee, oils, jams, snacks, and other specialty items selected from wholesale retailers
---
Recommended Shopping by Groupon Customers
---
Designed with the daily commuter in mind, Rickshaw Bags's durable messenger, laptop, and tote bags have gained praise from Macworld and Gear Patrol for their excellent construction and ability to protect valuable electronics. Created and based out of San Francisco, the designers cater to those living in fast-paced, metropolitan environments, equipping bags with a sturdy strap ideal for those traveling by bicycle or hang glider. Customers can choose from an array of premade bags or customize their carryall with a selection of 42 colors of nylon and 11 colors of performance tweed. Rickshaw Bags's founder Mark Dwight and his dedicated staff hold true to a strong set of environmental and social values that influence every aspect of their business, from where they obtain their materials to their commitment to making quality products by hand.
904 22nd St.
San Francisco
California
Entour specializes in trendy designer apparel and accessories for men, which its resident fashionistas handpick from local and international designers, as well as world-renowned thread crafters such as Marc Jacobs and Alternative Apparel. Blush-worthy designer undies sit alongside plush hoodies in the store's intimate interior, where barren torsos can drape themselves in T-shirts emblazoned with cloth compositions from the progressive Asian artists at Bok Choy Apparel. Silver necklaces from Marc Jacobs and suede wallets transform humdrum duds into wow-worthy wardrobes, and stylish shades emit infectious synth riffs when they're lowered for wearers to admire attractive passersby.
3600 16th St.
San Francisco
California
US
415-863-9888
For a decade, the consultants at Citicomm Wireless—a partner with Sprint Nextel—have helped small- to medium-size businesses gain a grasp on technology by equipping them with innovations including GPS tracking, 4G wireless broadband, and WiFi hotspots. Each tech wizard also repairs iPhones, Blackberrys, and Nokia cell phones. Because technology advances so quickly, Citicomm recognizes the need to dispose of outdated equipment responsibly; the company encourages its clients to recycle their old cell phones rather than use them to prop open their doors so robbers can get in.
821 Folsom St., Suite 102
San Francisco
California
US
415-861-6888
Porcelanosa's journey from mom-and-pop design firm to world leader in kitchen and bathware began in 1970 on the Mediterranean coast of Castellon, Spain. Today, the company's founding family oversees more than 400 showrooms in 70 different countries, exporting the latest in European home design to the rest of the world. Its minimalist, modern designs play on clean lines and muted colors, incorporating elegant accents such natural stone bathtubs or rectified porcelain tile, which mimics the Carrara marble used to build the Pantheon, sculpt Michelangelo's David, and construct the world's first paperweight. Its engineered hardwood flooring draws eyes to smooth planks of white oak in a spectrum of stains, vying for attention against tiled mosaics made of stone, ceramic, or brick.
In addition to turning kitchens and bathrooms into walk-in works of art, Porcelanosa adheres to its founding principles of care for the environment and reducing ecological impact throughout its production chain, using water recycling and gas-burning technologies at its plants to reduce its carbon footprint.
78 Division Street
San Francisco
California
US
415-593-7763
---