Restaurants in Orlando
---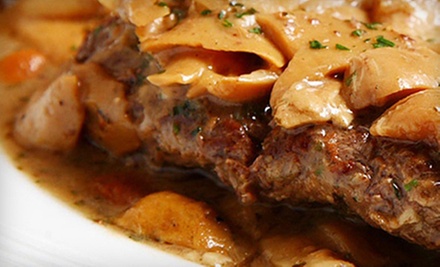 Central Business District
---
Orlando Restaurant Guide
Orlando offers so many places to eat that it is easy for locals to feel overwhelmed at times. This quick guide to some innovative and tasty Orlando restaurants will help make deciding where to eat simple and fun. From urban dining to healthy food choices to eating with a view, the restaurant scene in Orlando offers something for every taste.
Nothing says innovative dining like a menu that changes every day. Hue Restaurant features new food offerings on a daily basis while retaining its local, urban chic theme. Its ever-changing menu features progressive American food with a focus on native Orlando food styles and specialties. Hue's location in trendy Thornton Park makes it convenient to visit, which is fortunate as its award-winning culinary delights make it a place every Orlando foodie has to drop by.
Downtown Orlando provides a beautiful backdrop for dining outdoors, and no place is more perfect for this than on the Lake Eola patio at Spice Modern Steakhouse. At this popular eatery, trendy meets traditional as dining on the patio offers both a lovely view of nature and an Orlando-chic atmosphere. Menu choices such as Guiness Fried Oysters and Sashimi Tuna Salad are an unexpected diversion from tradition and make Spice Modern Steakhouse stand out. A variety of fish selections and an award-winning wine menu further establish Spice Modern as an epitome of dining in this city.
Pine 22 takes healthy eating to a new level, offering juicy and delicious burgers but with special attention to food consciousness. Its create-your-own burger concept wouldn't immediately bring health food to mind, but this Orlando eatery uses only local, humane and hormone-free food products, putting one's conscience totally at rest. Pine 22 boasts a reputation for guilt-free, delicious food, and rumor has it that the sweet potato fries are to die for.
Orlando restaurants feature a wide variety of cuisines and atmospheres. From healthy, homegrown burgers to a delicious steak on the shores of Lake Eola, dining in Orlando will provide many great meals in pleasant surroundings.
From urban dining to healthy food choices to eating with a view, the restaurant scene in Orlando offers something for every taste.
Recommended Restaurants by Groupon Customers
---
To eat fresher shrimp than the ones served at Stonington's Seafood Restaurant, diners would have to steal an inobservant shrimp fisherman's lunch. The eatery's cooks hand peel and fry each shellfish with all the care of a skilled chef carving shellfish into watermelons, and also crack open lobsters for fresh sandwiches and sizzle Maryland-style crab cakes in their kitchen. These plates pair perfectly with chunks of their signature corn bread, some six-cheese macaroni, or piles of homemade onion rings.
2316 S Kirkman Rd.
Orlando
Florida
407-522-6339
At Little New Orleans Kitchen & Oyster Bar, the piquant seafood staples of Louisianan Cajun cuisine quell robust belly rumblings. Diners silence stomachs by sinking spoons into New Orleans jambalaya or cracking into snow crab legs and shrimp smothered in butter sauce. A side of Cajun fries complements the flavors of Cajun fried shrimp, and french bread po' boys contain gravy-slathered roast beef as opposed to rich boys, which are stuffed with $100 bills.
9741 S Orange Blossom Trl.
Orlando
Florida
US
407-438-6990
Voted best pizza in town by the Orlando Sentinel for seven years in a row, Pizzeria Valdiano unleashes a welcome avalanche of dough, cheese, tomato paste, and freestyle-snowboarding cherry peppers upon the burgundy-boothed slopes of the restaurant's interior. The pie-centric menu democratically offers a motorcade of non-pie starters such as fried mozzarella ($4.95) and garlic-bread parmigiana ($3.75) to take down those who lack the drive to take a piece of the cheesy disc. Try an artichoke-hearty pizza Fiorentina ($9.50 for 10", $16.95 for 16"), a peppery pizza piccante ($9.50/$16.95), or a pizza stella ($10.95/$17.95) with melted mozzarella, eggplant, and feta cheese.
510 N Orlando Ave., Suite 103
Winter Park
Florida
---