Things to Do in Orlando
---
---
Orlando Things To Do Guide
In another city, a travel guide might suggest seeing a movie. But in Orlando, they'll steer you towards Universal Studios, where you can step inside of one. Or perhaps, in a different city, they'd send you to an aquarium to spy the whales. Here, they would simply point to SeaWorld, where you can swim with them. An interactive playground of theme parks and unique attractions, Orlando offers an abundance of exciting things to see and do.
This city is most widely known for the Walt Disney World® Theme Park, a 30,000-acre family destination that unfolds in four theme parks, two water parks, five golf courses, and the Downtown Disney® Marketplace.
But that iconic mouse wasn't the only mammal to steal Orlando's heart. Shamu the orca whale solidified SeaWorld's reputation as a premier maritime wonderland, and visitors can marvel at Shamu's brethren as they whirl and dive through the air to a choreographed spectacle of lights and music. For a closer look, visitors can don a wetsuit and swim with a friendly beluga whale, and for some aerial perspective, they can soar high on one of the park's many thrilling roller coasters.
At Universal Studios Florida, Hollywood is not an exclusive California neighborhood but rather a sensory-stimulating theme park full of move-themed rides and attractions. Here, the barrier between set-piece and audience slowly dissolves during a bicycle ride with E.T. Beloved characters, once animated, waltz into reality fully fleshed out during The Simpson's Ride and the Shrek 4-D experience.
But in a city known for its theme parks, its important to balance sensory stimulation with tranquil quietude, and the Henry P. Leu Gardens is just the place to unwind. Visitors can escape the roar of roller coasters as they quietly stroll through 50 acres of citrus groves, butterfly gardens, and native wetlands. Nature is also on display at the Orlando Art Museum, albeit on a slightly different canvas. Here, the natural splendor captured by Georgia O' Keefe and Ansel Adams sits side by side with classic and contemporary masterpieces.
Another way to enjoy Orlando's landscape is to play golf at Arnold Palmer's Bay Hill Club & Lodge. This scenic 270-acre course, spread across the shores of the Butler Chain of Lakes, is a popular spot on the PGA golf tour, and a great place to measure yourself against the masters. If you're a fan of spectator sports, head to the Amway Center and watch the Orlando Magic take on the NBA's famed crop of ballers.
And though Orlando is known for its sunshine, there's plenty to do after dark. Sun-soaked visitors can cool off at ICEBAR Orlando and sip drinks inside a bar made from 50 pounds of carved ice. The laughs never run cold, though, at the SAK Comedy Lab, an improv club located in Orlando's bustling downtown district.
This city is overloaded with attractions and events that are made to suit people with a variety of interests and desires.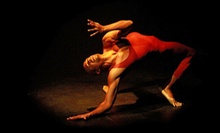 Dancers 13+ hone precision and isolations creating visual story with classic and current styles; suggested 2 years hip hop, modern, or jazz
Use Wednesday 2:30pm - 5:30pm
---
Recommended Things to Do by Groupon Customers
---
During a round of golf in this region, it's not uncommon for players to see the occasional alligator sunning itself on the banks of a fairway pond. The same, however, cannot be said for miniature-golf courses, unless you're playing at Congo River Golf, where the civilized sinking of putts coexists with the visceral carnage of live-alligator feedings. More than 25 alligators wait for patrons to feed them morsels of gator food in an exhibit beside the course. Though the course offers no chance for an encounter with the ancient, scaly species, it enchants players with waterfalls, safari-themed artifacts, and towering rock faces. In addition, Congo River Golf encompasses an indoor arcade and a gemstone-mining station, where guests dig through dirt for fossils, arrowheads, and Neanderthal's kindergarten time capsules.
12193 E Colonial Dr.
Orlando
Florida
In the outdoor mall, tables and stages stand in a ring under the open sky or beneath white tents. People drift around the circle, clutching cocktails in plastic cups and eye-catching Vietnamese sandwiches on their paper plates as they spy more must-grab food-and-drink samples from the area's best hotels. Though it started 26 years ago, Bacchus Bash hasn't drifted from its original aim to let the populace revel in the offerings of local hospitality establishments while funding high-school and university students studying in the industry. Since its inception, the festival has grown from 20 vendor booths with one entertainment stage to encompass 100 booths helmed by upscale local restaurants and bars alongside six entertainment stages.
Among the must-experience flavors of the fest is the tongue-wilting bananas foster by Chef Jean Louis of the Royal Plaza Hotel, which has won Best Dessert at the fest for the past 10 years. Other restaurants' teams showcase flavors such as American and Vietnamese barbecue, which are up for fest awards such as Best Original Drink and Most Interactive Booth. Live music from talents that include local barefoot folk singer Alan Byrd and country-western rock quintet Think Big streams from the entertainment stages, as well as the dueling ivories of two pianists from Howl at the Moon. The organizing party, Central Florida Hotel & Lodging Foundation, further immerses guests in its services with a travel, tourism, and dining silent auction, offering up more than 200 prizes to further raise funds for its students.
8200 Vineland Ave.
Orlando
Florida
407-238-7787
Steve Yanni first felt the inexorable pull of photography more than 20 years ago, when he picked up a camera and started snapping photos as a hobby. Since then, Steve has ceded to his artistic calling, dedicating his career to capturing special events, family portraits, and sensual boudoir shots, as well as imparting his knowledge upon fledgling shutterbugs during instructive workshops. The bridal specialist enlists a team of talented photogs to help him at events, ensuring that no special moment goes undocumented, from the cutting of the cake to the swallowing of the ceremonial flaming sword.
912 Bradshaw Terrace
Orlando
Florida
407-341-3451
Eight potters' wheels whirl next to shelves stacked with bisque pieces, worktables spotted with glaze, and walls hung with abstract art. The eclecticism of the space is one of owner and artist Tracy Wilmes's favorite things about his pottery studio, Cup O' Pottery—that, and the opportunity to inspire his students by leaping on a chair in his typical ebullient, and sometimes downright zany, teaching style. As a former high school art teacher, he loves educating students of any age, leading both family-oriented studio classes and open pottery paint and design sessions. The studio also includes a small retail area, where Tracy sells his own pottery and hands out mock detentions to disobedient clay.:
2867 Stonewall Place #101
Sanford
Florida
407-421-5460
Since 1998, Old Town Stained Glass's resident silica specialists have been crafting custom glass artworks for local churches and businesses while sharing their skills with the public through a full schedule of glass art classes. All-inclusive crash courses in glasswork guide students through the process of blowing color-flecked baubles, spangling home décor with vibrant mosaics, and cutting and soldering fragments into elaborate stained-glass panes. The shop also stocks a full complement of glassworking supplies and handblown trinkets to satisfy any gift giver, artist, or disrobed message in a bottle that wanders by.
5770 W Irlo Bronson Memorial Hwy.
Kissimmee
Florida
USA
Operating daily from 9:30 a.m. to 4 p.m. in the winter, the cozy, heated trolleys at Old Town Trolley Tours pick up and drop off riders at 18 stops throughout the city. Riders can hop on and hop off at their leisure, with trolleys frequenting stops every 15–20 minutes. With ticket in hand, trolley riders will also receive a well-stacked coupon card and free admission to Boston's oldest surviving public building, the Old State House Museum, which has outlived both gravity and Washington's wooden molars. Other stops include the New England Aquarium, the Boston Skywalk Observatory, Fenway Park and the Boston Children's Museum.
5770 W Irlo Bronson Memorial Hwy
Kissimmee
Florida
USA
---