Coffee & Treats in Ormond Beach
---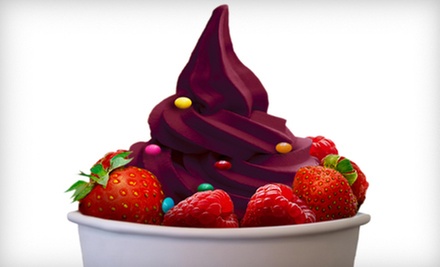 ---
Recommended Coffee & Treats by Groupon Customers
---
The quaint bakery serves up all-natural treats and café fare for breakfast and lunch daily. Everything at the eatery is made from scratch in small batches with meticulous attention to detail, to ensure each grain of sugar is properly positioned for maximum eating enjoyment. Breakfasty bagels ($.93), day-starting sandwiches ($3.59+) and miniature morning meals, such as the individually portioned homemade quiches ($4.99), offer sustenance for a long day of pole vaulting, while the lunch menu serves up a fresh selection of savory stacked sandwiches ($4.99+) and sides. A rotating daily cast of cupcakes, plate cakes, and pies are sure to delight wayward miners. A luxurious slice of tart lime pie ($2.49) is made from fresh-squeezed citrus juice, and the nine flavors of brownies and bars ($1.89), like the peanut butter "bliss" bar or raspberry nut treat, happify daily diners.
12001 Avalon Lake Drive, Suite G
Orlando
Florida
At 50 calories per serving, the only things missing from d'Lites ice cream are artificial sweeteners and sadness. Each day at the shop, two specialty flavors guest star (chocolate and vanilla are available every day), including concoctions such as honey-roasted pecan, piña colada, English toffee, blackberry, and more. In all, d'Lites has more than 200 flavors in its recipe Rolodex. The shop slings soft serve into cups ($2.39–$4.19), cake cones ($2.99), and luxurious chocolate waffle cones ($4.09), as well as into specialty creations such as shakes ($3.09), sundaes ($3.89), and their signature Banana d'Lites ($4.19). If you want to shower a newlywed in sprinkles, order them and any other extra toppings for $0.55–$0.75 each, and if you're on the run, grab a to-go pint ($5.09).
2447 S Hiawassee Rd.
Orlando
Florida
GlacieCakes harnesses the secrets of cupcakery to provide Orlando with luxurious treats, freshly made in house. With a dizzying selection of flavors available, clients will find themselves adrift in a ocean of icing-covered choice as they seek out the ideal six cupcakes ($2.50 each). Flavors with alliterative allure include Malt Milkshake, Carrot Cake, and Rocky Road, whereas starry-eyed sweet tooths may wish to take a tongue-trip to the evocative eats offered by flavors such as On the Beach and Raspberry Dream. Coo at the boozy baked goods of the Irish Cream, the Margarita, and the Piña Colada cupcakes, or bring some sort of closure to your recurring dream in which David Spade is a cheeseburger with the Joe Dirt cupcake.
688 N Alafaya Trail , #103
Orlando
Florida
Named for both the instrument of the enterprise and the creamy flavor-bomb that instrument releases, Scoops dishes, cones, and sundaes up a wide range of rich Hershey's ice cream flavors. Hershey's (no relation to the famed chocolatier) frozen concoctions are made from the finest ingredients such as pure vanilla and fresh cream, and promise to please even the most discerning aficionado of freezered treats. Top a regular cone with a scoop of rich chocolate ($2.82), or leave a large dish of the white-chocolate roadrunner raspberry ($3.76) in the dust with a series of sweet scoops. For bigger hungers, indulge in an Edgewater sundae, which tops old-fashioned vanilla creamed curds with brownie, hot fudge, whipped cream, nuts, and a cherry ($4.23 for a small).
99 West Plant St.
Winter Garden
Florida
The friendly staff at MaggieMoo's Ice Cream and Treatery churns dozens of creamy flavors fresh each day before enhancing frozen creations with inventive mix-ins and toppings. They power through shivers to fold nuts, candy, and fruit into ice-cream varieties such as chocolate banana, and sprinkle sugary toppings over ice-cream pizzas, one of MaggieMoo's signature creations. Aside from other avant-garde dessert offerings—which include ice-cream cupcakes—the staff slings frozen favorites including cones, creamy milkshakes, and ice-cream cakes.
Occasional appearances by Miss Maggie Moo, the business's iconic cow, delight customers. She also lends her services to fundraising efforts for local schools and charities.
1560-3 Business Center Dr.
Fleming Island
Florida
904-269-9538
Gwen Willhite founded Cookies by Design in 1983, when an unsatisfying brainstorming session about gift ideas led her to ponder one exciting question: why should flowers and sweets remain separate? Her solution was to design the cookie bouquet, where custom, hand-decorated cookies are displayed on sticks and arranged like flowers in gift baskets. Her invention quickly became a popular gift among locals, particularly those allergic to real blooms or too bashful to look at naked cookies.
Twenty-five years later, there are more than 200 Cookies by Design locations across the country. Each shop's team of bakers creates cookie baskets with a degree of care that matches Willhite's original vision, decorating and arranging sweet shapes for birthdays, holidays, and any other special occasion.
7545 W Sand Lake Rd.
Orlando
Florida
407-903-0230
---