Restaurants in Ormond Beach
---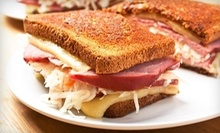 Use Today 4:00pm - 9:30pm
---
Recommended Restaurants by Groupon Customers
---
Thirty years ago, a mother, a son, and his wife joined forces to create their own barbecue restaurant, starting with family-inspired, made-from-scratch recipes. They formula proved to be a success, and Woody's Bar-B-Q now dishes the same quality eats from locations in six states. The restaurant's defining secret sauce decorates baby back ribs, pulled pork sandwiches, and roasted half-chickens at each location.
950-1 Blanding Blvd.
Orange Park
Florida
Mi Tierra Caliente serves Mexican favorites in a dining room drenched in sun-yellow hues, catering to whole families with a kids' menu and south-of-the-border drinks. Their fajitas feature the smoky flavors or grilled onions and bell peppers, which mingle with morsels of beef, chicken, or shrimp. Plates of carnitas—fried pork—or chicken with mole sauce come with tortillas and generous piles of rice and beans, which go together like rice and weddings or weddings and thinking about the philosophical implications of a mortgage. The colorful motif of Mi Tierra Caliente extends from the red and green sauces on tacos, burritos, and enchiladas to the painted wall insets at each booth, which host statues, bottles, and paintings. A live mariachi band serenades the eatery every Friday night, which patrons can enjoy while sipping on frozen piña coladas and daiquiris or Mexican beers such as Corona, Modelo, and Tecate.
2105 SW Hwy. 484
Ocala
Florida
Framed black-and-white pictures fill the lemon-yellow and terra-cotta-red walls in Fratelli's Restaurant, evoking the casual ambiance of a family dining room beside the Mediterranean. The chefs demonstrate a similar commitment to homestyle comfort by faithfully re-creating familiar Italian-American staples. Ricotta-stuffed shells bake beneath a layer of mozzarella and marinara, and marsala sauce adds an extra dose of flavor to sautéed veal loin, chicken breast, or sliced rib-eye steak. Occasional maritime influences also work their way into the menu, as in the case of the housemade crab cakes and the shrimp or scallops in a spicy red sauce made with magma-marinated peppers.
415 Anastasia Blvd.
St. Augustine
Florida
In 1948, Charles McMillan opened the doors to the home he had built of wood and stone, offering visitors plates of fine, country-style cooking under the name Red Wing Restaurant. Today, this one-time rural residence retains its quaint charm with taxidermied décor—a plethora of birds and animals striking eternal poses against a backdrop of vertical wood paneling. Behind this façade, skilled chefs country-fry steaks they've cut by hand or prepare meals from whatever wild game their favorite hunter might have brought them
12500 State Rd. 33
Groveland
Florida
352-429-2997
A massive big-screen television casts a festive glow across Wing City's dining room. Pitchers of beer slosh atop tables next to sizzling plates of finger food, including wings doused in 20 types of sauce. Specialty sandwiches, such as classic burgers and philly cheesesteaks, provide filling meals or tasty footballs in case patrons are inspired to go long.
2223 County Rd. 220
Middleburg
Florida
904-264-3322
From 6 a.m. to 3 p.m. daily, Northgate Diner's chefs tirelessly prepare a slate of classic diner cuisine for breakfast and lunch. Mornings gleefully begin with omelets bearing fillings that range from standard cuts of ham and sausage to creative accouterments of chili or corned beef hash. Biscuits and gravy sidle up next to fresh-from-the-griddle stacks of pancakes or French toast. For lunch, patty melts and fried-pork-chop sandwiches hold court with home-style Southern favorites such as meatloaf, country fried steak, and chili cheeseburgers. As loyal regulars sup on these timeless treats, they can surf free wireless to check the food blogs for all the latest trends on how to hold a fork.
4742 NW Gainesville Rd.
Ocala,
Florida
352-401-0900
---