Beauty & Spas in Oro Valley
---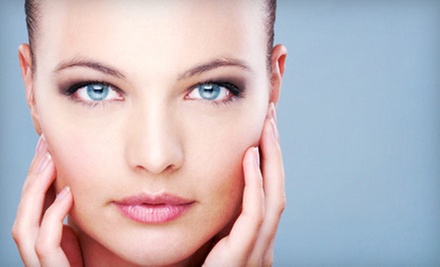 ---
Recommended Beauty & Spas by Groupon Customers
---
Women can easily maintain both the shape and shade of their mane, starting with a haircut ($40–$50), followed by a single-process color ($50–$60), full highlight ($85–$90), or partial highlight ($70–$80) using products such as L'Oreal Professional. Men can also transform their mop tops, with haircuts ranging from $30 to $35. For a more holistic head renovation, pair a follicle treatment with a luxurious facial, such as the 85-minute Rhonda Allison facial, during which one of Style 7's trained pore purgers will methodically lure your best face out of hiding ($75). If you're in a hurry, choose to accelerate the action with a 30-minute express facial, the epidermal equivalent to shouting, "olly olly oxen free" ($45).
1805 East River Rd.
Tucson
Arizona
Spa NiVa pampers and beautifies every part of the body with a full service menu that incorporates treatments for skin care, massage, nails, and waxing. Using medical-grade skin care products, skin specialists clear pores and banish impurities with facials, peels, and dermaplaning, a treatment that scrapes away dead skin cells and peach fuzz with a surgical blade. Waxing treatments smoothen skin by removing hair with warm wax and microscopic landscapers who pull weeds from the roots. Nail technicians decorate fingers and toes with shellac polish or soften skin by dipping appendages into paraffin wax. Meanwhile, licensed massage therapists use kneading techniques and various degrees of pressure to alleviate stress, stiffness, and secretly being an invertebrate double agent.
6330 N Campbell Ave.
Tucson
Arizona
There are many nail salons that a customer can visit. There are few salons, however, that visit customers. As Nails 2 GoGo's name suggests, its fully trained, licensed, and insured technicians can perform pampering services on the road or at their new and larger Tucson shop. The team touches up hands and feet with luxurious manicure and pedicure treatments. Cuticle artisans render simple, understated treatments, such as simple polish and exfoliating scrubs, or applications of color and shiny Shellac coats, which are the kind of coats movie stars wear on the red carpet. Along with soothing hot-towel wraps and extensive six-week bridal manicures, technicians soothe muscles with detoxifying foot-reflexology treatments and regenerate skin with cleansing facials.
Now open Sundays, Nails 2 GoGo keeps everyone's nails looking sharp for all occasions, from daily wear to wedding day glam.
4500 E Speedway Blvd., Suite 83
Tucson
Arizona
Advanced DermaCare's owner, Diane D. Lowery, earned a CIDESCO certification in aesthetics while studying at the venerable Clinique La Prairie wellness retreat in Montreux, Switzerland. Although her European education evokes a low-tech, layered approach to facials, Lowery—approaching 40 years as a skin therapist—specializes in the opposite. Her gentle facials promote firm, even tone with pulses of LED light and electro-microcurrents, and exfoliate rough areas with tiny diamond chips or water jets enriched with antioxidants. She attended courses in naturopathic medicine at Bastyr University to develop a holistic view of skin health, and studied ways to turn back the body's clock without triggering early daylight-saving time at the American Academy of Anti-Aging Medicine.
7484 N La Cholla Blvd.
Tucson
Arizona
520-888-3955
At Savanna MedSpa, aestheticians combine a wide range of non-invasive therapies to refurbish ageing skin. The team's repertoire includes treatments for a wide range of specific aesthetic concerns – including lasers for reducing hair and sun damage, acne-clearing facials, and skin-exfoliating chemical peels.
4015 E Paradise Falls Dr., Suite 131
Tucson
Arizona
520-795-3341
The light from glittering chandeliers sets a romantic scene as clients practice new come-hither looks at The Lash Lounge. The ethereal glow also lights the way for the studio's aestheticians as they bolster sparse lash lines with synthetic extensions by Lavish Lashes. Using a specially formulated bonding agent, they partner each synthetic strand with an indigenous lash and, like any two best friends, the lashes stay bonded together until the natural lash falls out with its growth cycle or accidentally flirts with the other lash's ex. To give new blinkers an equally lush backdrop, the staff also freshens faces with skincare treatments including deep-cleaning facials, waxing, and lactic peels.
5470 E Speedway Blvd., Suite 103
Tucson
Arizona
520-495-5597
---