Museums & Galleries in Oshawa
---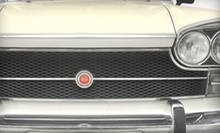 Museum showcases antique global & Canadian-made motorcycles, trucks, cars, pianos & washing machines alongside library collection
Use Saturday 10:00am - 6:00pm
---
Recommended Museums & Galleries by Groupon Customers
---
Lou and Marianne Fenninger founded Art Source in 1978 in a 200-square-foot basement. When demand for the couple's poster prints exploded, they soon expanded their products and services. Within a few years they'd outgrown the basement, and moved into the 6,000-square-foot showroom they occupy today.
Nowadays, Art Source reaches every corner of the globe, distributing art for both retail and wholesale clients as far-flung as Europe, Japan, and New Zealand. The shop helps customers find perfect pieces for complementing their room decor and covering up unsightly fire extinguisher cases with 10,000 stock images of classic, modern, local, and international art, as well as an original art design service, all available for custom printing. Additionally, Art Source's staff help patrons preserve cherished pieces with custom framing services that can wrap works of any size in a carefully designed and assembled border.
23-455 Cochrane Dr.
Markham
Ontario
905-475-8181
The McMichael Canadian Art Collection was set in motion in 1952, when Robert and Signe McMichael purchased the property and, inspired by their surroundings, began collecting artworks of similar beauty. Today, the museum—which is built of fieldstone and hand-hewn logs—remains enveloped by 100 acres of conservation land, and houses a permanent collection of nearly 6,000 pieces devoted solely to Canadian artists. Its 13 galleries showcase ongoing exhibitions, including a tribute to the McMichael legacy. The facility's floor-to-ceiling windows look out upon the surrounding Humber River Valley, where dense woodlands and oaks sporting powdered wigs influenced many of the collection's works. In addition to its permanent displays, the McMichael frequently hosts internationally acclaimed touring exhibitions, as well as lectures, musical performances, and workshops for aspiring creators.
10365 Islington Ave.
Kleinburg
Ontario
905-893-1121
In 1754, Richard Stockton, a leading attorney who would go on to be a signer of the Declaration of Independence, acquired land on his grandfather's 5,500-acre tract to build a home. The house later traded hands among Stockton family members until the 20th century, when it served as the state's first Governor's Mansion, eventually housing five governors.
Since its restoration and conversion into the Morven Museum & Garden in 2004, galleries on two floors of the dwelling have housed permanent and temporary exhibitions relating to New Jersey history and culture, as well as the Morven property, now a National Historic Landmark. As guests wander the museum's halls, Stockton family portraiture and decorative art speaks of past eras while contemporary art and photographs keep visitors grounded in the present day. Meanwhile, 5 more acres outside host a massive garden that includes a recreation of Morven's old Colonial Revival¬–style blooming garden and its charismatic, singing Venus flytrap.
273 Bloor Street West
Toronto
Ontario
Canada
---