Shopping in Oshkosh
---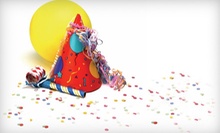 Party supplies, favors, and gifts for birthdays, graduations, and holidays
---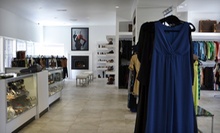 Previously owned jewelry, shoes, accessories, and vintage and designer clothing from Kate Spade, Louis Vuitton, and more
---
Recommended Shopping by Groupon Customers
---
After studying genetics at UW–Madison's College of Agriculture, Gwen Condon opened a garden and landscaping center in the hopes of making local exteriors more beautiful and fashionable. Gwen began traveling to shows in Germany, England, and Italy in search of gifts and garden accessories. Her shop quickly grew into an inspirational garden, where customers wander paths lined with seasonal plants, from spring flowers to fall mums to winter killer tomatoes. The knowledgeable staff makes sure to clearly label each plant with lighting and water requirements.
Additionally, customers can show photography of their yards to Garden Gate Nursery staff to get tips on plants, shrubs, or trees that would thrive there. The garden tamers' most popular service is what they call the "Please Come Stand in My Yard" consultation, a house call in which they scope yards and inspect any problem areas before sharing their ideas and recommendations.
N48 W30756 Hill St.
Hartland
Wisconsin
262-367-6464
Stocking shelves with new and recycled duds since 1971, Ragstock fortifies wardrobes with a storefront brimming with new and recycled men's and women's clothing and accessories. In addition to mainstream garments, stores sling eclectic outfit accouterments such as neon suspenders ($9.99) and thick-rimmed spectacles ($4.99+) that allow shoppers to evoke the air of literature professors without blithely quoting Joyce.
4301 W Wisconsin Ave., Suite 906
Appleton
Wisconsin
920-749-1640
Whether guests need to dance or kids have to bounce, Fox Cities Party Rental's got it covered—either literally, with one of its spacious tents, or figuratively, with a dance floor or bounce house. These soiree specialists can handle myriad party settings, from garden weddings to beachside festivals. Depending on the event, clients can rent traditional decor elements such as elegant white china or opt for more whimsical touches, including snow-cone machines and cotton-candy makers.
3101 E Evergreen Dr.
Appleton
Wisconsin
920-733-1166
Baby Genius's award-winning children's products teach babies and toddlers essential skills through the power of music. Based on a bounty of research, the company's DVDs enrich the learning experience by merging classical pieces and familiar songs with vibrant images, keeping kids entertained for hours. Parents can sit back while animated animal educators teach pocket-size pupils better motor skills, dictionary-defying vocabularies, vampire-free counting, and nap-inducing dance moves that ready little ones for kindergarten and beyond.
224 W Cottage Grove Rd
Cottage Grove
Wisconsin
USA
One Tooth Activewear borrows its moniker from an ancient tribe's tale about the importance of truthfulness and infuses good-faith, good-fortune values into each piece of active and casual wear. Crafted in Canada from high-quality materials, garments bend and flex with yoga students, busy parents, or hokey-pokey instructors. All activewear is designed with four-way compression technology that doesn't pull against you and limits resistance during movement. Garments are constructed from materials such as Supplex, which offers a cottony feel that protects wearers from wind and water, and cotton terry, which is pillowy soft and pre-washed to resist shrinkage. These materials help the activewear retain its color and shape, even after months and months of wear.
The Milwaukee location, the first to open in America, holds one of the largest collections of activewear garb in the city, outfitting women, men, and teens. One Tooth Activewear also offers tall sizes for women, custom designed active-wear, and team jacket design services.
5716 N Centerpark Way
Glendale
Wisconsin
414-332-3663
The artisan jewelers of Bejeweled Images Fine Jewelry craft gold and silver [pieces](http://www.bejeweledimages.com/jewelry.html adorned with crystalline diamonds and gemstones. The staff work to repair existing jewelry, and forge knotted gold rings and delicately dangling necklaces, each littered with handpicked topaz and garnet that bestow bodies with graceful, elegant lines and the power to control the elements. The shop's certified goldsmith and silversmith, who boasts more than 22 years of experience, employs wax-molds to handcraft custom rings inlaid with hand picked opal or diamonds. A variety of pottery, photographs, and paintings, and clocks rounds out Bejeweled's selection.
416 George St., Suite 108
De Pere
Wisconsin
920-338-8120
---