Things to Do in Oshkosh
---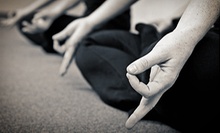 A one-on-one Pilates, yoga, or personal-training session tailored to your workout goals
Use Today 5:30am - 8:00pm
---
Recommended Things to Do by Groupon Customers
---
Katie Brucks heads a team of experienced riding instructors at Lucky Stables LLC who teach students proper horsemanship in an indoor arena. The stable's gentle, people-friendly horses let riders improve their technique during lessons geared to help them accomplish specific goals, whether that involves showing competitively or searching for a new way to cheat in the Tour de France.
6976 Woodenshoe Rd.
Neenah
Wisconsin
920-213-5203
Films still gasping for air from their first runs stop by to grace the screens of Fox Cinema Cafe, a second-run theater with weekend matinees and evening shows. Like a deep-fried VHS of Citizen Kane, the theater combines the best aspects of food and film with servers who deliver handmade pizzas, popcorn, snacks, and sandwiches to patrons' tables as they watch their movie. Private rooms host birthday parties and corporate gatherings where guests can spread out to play games, unwrap presents, and reenact climactic speed-reading battles from their favorite films.
400 Third St.
Menasha
Wisconsin
Sky-blue walls and sand-colored carpets greet each family at Kids Unleashed, where slides, hula hoops, and playhouses invite young ones to explore as they hone their gross motor skills. The make-believe beach beckons stocking-dressed feet to roam its shores, where children ride rocking horses and parents surf free WiFi instead of the carpet in a nearby lounge filled with coffee, conversation, and clear views of the kids' activities. Story time piques young children's interest in reading, and ping-pong tables help older kids to develop enough hand-eye coordination to read a book while performing a cartwheel. Parents may depart during most of the center's classes and camps, as the creation of art projects stimulates inventiveness in each child, and cupcake-baking demonstrates that cakes have children too. After class or playtime, the café teems with homemade, health-conscious snacks.
976 American Dr., Suite 5
Neenah
Wisconsin
920-722-5437
The laughter of children echoes through the dense pine forest and across the sandy beach before breaking on the lake's water like a crystal vase smashed with an inflatable hammer. Each week, new groups of kids explore Camp Lakotah's 126 acres alongside Little Hills Lake, engaging in more than 30 activities within its state-licensed and American Camp Association–accredited facilities. Campers engage in aquatic play, land-based sports, and arts-and-crafts sessions, honing both their physical fitness and creative sensibilities.
Staffers cater to each camper's needs throughout the week, guiding each individual toward activities focused on his or her personal goals and interests. The camp can serve vegetarian and diet-restriction-conscious food, and counselors can sing all campfire songs in the styles of both Bruce Springsteen and Andrea Bocelli.
N1875 21st Ave.
Wautoma
Wisconsin
920-787-0123
Stretching 2,934 yards across the landscape from the longest tees, Bridgewood Golf Course presents players with a nine-hole layout made challenging by multiple water hazards and small, fast greens. As golfers gun for the par of 35, they must contest with ponds that come directly into play on at least eight different parts of the course. The park-like setting and shorter length provide an excellent opportunity to walk or somersault through the course, though golf carts are available.
1000 Cameron Way
Neenah
Wisconsin
920-722-9819
Communities tend to like places that have good roots. That's one reason why Green Bay Press-Gazette readers voted the locally owned and operated Ashwaubenon Bowling Alley the 2012 Best of the Bay's Best Bowling Alley. For more than three decades, guests have flocked to the facility's 60 lanes to test their ball-rolling and pin-eating skills alongside friends and family. Each Thursday, Friday, and Saturday night, DJ Rusty Lee's tracks work with black lights and fog machines to create a nightclub-like cosmic bowling experience.
2929 Allied St.
Green Bay
Wisconsin
920-336-0400
---