Ossining, NY Spa and Massage
---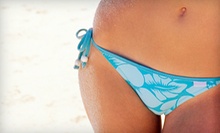 Strips of melted wax handcrafted by spa workers ensnare and uproot hair, leaving delicate regions smooth and stubble-free
Use Today 10:00am - 7:00pm
---
Recommended Spa & Massage by Groupon Customers
---
Namaste Organic Spa is a full-service holistic health spot that uses natural products to perform a bevy of body-care, skin-care, and alternative health treatments. A detoxifying body wrap or exfoliating body scrub will help you say sayonara to the stress that makes millions of Americans eat dry spaghetti every night before bedtime. During a 15-minute reflexology massage ($22.50), Namaste therapists stimulate and energize key pressure points, programming internal playlists to the looped, soothing sounds of gentle waves. Upgrade today's Groupon to treat yourself to a two-hour Namaste herbal detox, which rids cluttered interiors of impeding impurities.
30 Franklin Ave.
Ridgewood
New Jersey
201-857-3646
Hot stones and aromatherapy oils gently glide across the body inside private rooms at @ease Spa, unwinding tight muscles and calming tense minds. Aromatherapy is also used during facials to rebalance the complexion and make sure clients don't leave with their faces smelling like regular old skin. Other relaxing services at the spa include a full-body sugar or Dead Sea mud rub and Jin Shin Jyutsu, an ancient technique where light pressure is applied to 26 specific points on the body to relieve aches and improve respiration. No matter the treatment, the spa's massage therapists are glad to customize pressure to each guest's liking, and afterward, a complimentary sauna and shower await.
142 Broadway
Hillsdale
New Jersey
The certified massage therapists at Harmony Within Massage Therapy aim to reduce pain and improve range of motion with a number of massage modalities that range from classic Swedish massage to four-handed massage work. Raindrop therapy uses essential oils and acupressure to help treat pain, and Reiki aims to channel energy, bringing balance and harmony to the body. Meanwhile, the Isabell Gatto method uses the therapist's fingertips to apply pressure to 50 specific points on the body, opening blocked energy pathways. Two private massage rooms provide a tranquil setting as candles flicker and warmth streams from a heated massage table equipped with a blanket, and heated neck and eye pillows.
189 Kinderkamack Road
Westwood
New Jersey
201-819-2953
Julianne Steiner readily admits that she can't turn off her "beauty junkie" tendencies. When she meets someone new, she automatically homes in on their most striking features and brainstorms ways to accentuate them. As an aesthetician and a makeup artist, Julianne begins with skincare in creating her beauty masterpieces. Using the organic Jurlique line, she custom-blends facials, and, with Palomar wand in hand, unleashes waves of pulsed light on blemishes or unwanted hair. Julianne also offers Brazilian waxing, using special wax that's suitable for sensitive skin, as well as chemical peels.
Once she liberates skin from spots and fuzz, Julianne can fully realize her artistic vision with the help of high-quality liners, shadows, and mascara. In addition to applying makeup, she also teaches lessons and helps clients rid their own cosmetic bags of unflattering or outdated products.
6 Palmer Ave., Suite 8
Scarsdale
New York
Kim Sangiuolo doesn't just practice massage; she curates it. Her signature fusion massage—the centerpiece of Holistic Healing's service menu—is a soothing and spirit-reviving treatment designed to assuage muscular discomfort while bolstering the body's spiritual well-being. Beginning with deep-tissue work, Kim incorporates techniques from other massage types, picking and choosing based on the client's specific needs. This form of therapeutic massage has helped her treat clients with injuries such as tendinitis, muscle strains, and headaches. Kim and the other therapists at Holistic Healing also offer Swedish and deep-tissue massages, which can be useful when trying to relieve work-related stress or recover from a day of helping a friend move his collection of antique cement bags.
420 Columbus Ave., Suite 118
Valhalla
New York
914-495-3887
At Integrative Health, Inc., more than 25 practitioners—from licensed chiropractors to acupuncturists to massage therapists—specialize in more than 30 total services that span both conventional and alternative medicine. This broad spectrum allows the independent practitioners to form a cooperative network that can offer clients integrated health care for both physical and mental wellness.
For example, chiropractors and massage therapists may work together to help patients overcome chronic pain, or acupuncturists and psychotherapists can combine efforts to help alleviate anxiety about Mayan-calendar predictions. Further services include therapies such as weight loss with the Ideal Protein system, and classes such as yoga and how to shop for ergonomic furniture. Integrative Health's practitioners are happy to answer prospective clients' questions during free consultations.
69 West Ridgewood Avenue
Ridgewood
New Jersey
US
201-444-7150
---