Ottawa, IL Outdoor Activities
---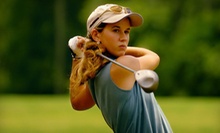 Use Wednesday 2:00pm - 4:00pm
---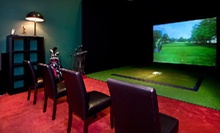 High-end 3-D golf simulators cycle through 35 renowned courses, from Pebble Beach to Casa de Campo, as players swing with their own clubs
Use Monday 10:00am - 6:00pm
---
Recommended Outdoor Activities by Groupon Customers
---
Opening weekend is a time for renewed hope, reordered batting lineups, and refreshing scents of glorious gunpowder in the sky. Catch the Flyers on May 28 for post-game fireworks after the hometown bats light up the Gary SouthShore RailCats, or pay homage to babies named Ruth as you run the bases with the kids on Family Day May 30. On May 31, remix Memorial Day grill-outs by downing two dogs off the bat, and score dollar dogs throughout game. Armed with a starter kit of ballpark eats and ballgame spheres, show the youngsters how to properly grip a fastball, a frank, and a cardboard sign that irrefutably proves fanmanship.
1999 S Springinsguth Rd.
Schaumburg
Illinois
Chris and Pam Schmick had spent six months cleaning out the scrap metal from their abandoned silos and just finished drilling thousands of holes in its walls. With little time to spare, they prepared for their climbing gym's grand opening on September 2, 1995—a date on which they had already agreed to hold a regional JCCA competition. The effort they've expended in the nearly 20 intervening years shows: today, climbers scramble on top ropes, lead ropes, and more than 20,000 square feet of lava-free climbing surface.
Instructors prepare visitors to surmount the gym's features in a range of classes, such as Rock Gym 101, which is an introduction to top-rope climbing that covers climbing safety, basic technique, and equipment. Once climbers are equipped with gear from the pro-shop, staff shows them around a multi-level bouldering cave, a main climbing area with 30-foot walls shaped by arêtes, cracks, and waves, and the building's five original silos. Elsewhere inside the gym, six auto-belays safely cradle visitors who wish to climb without taking a class.
1304 W Washington St.
Bloomington
Illinois
The hum of Honda GX200 engines pervades both of Chicago Indoor Racing locations, where a duo of tracks takes Bowman go-karts through a series of turns and straightaways at speeds of up to 35 mph. When not trying to clock in top lap times from driver's seats perched 1 inch from the ground, guests can set other objects in motion at billiard tables and shuffleboard tables, which can be rented by the hour or millisecond. Clark's Café at the Addison location and Stewart's Bar & Grille in Buffalo Grove refuel guests with casual American fare and shots of motor oil.
2381 W Army Trail Rd.
Addison
Illinois
630-433-3700
The Chicago White Sox have some truly dedicated fans. In 1994, the team decided to reach out to the youngsters who worshipped their footwear. They sought to provide kids with the same conditioning and training they honed their skills with, so they started a sports-training summer camp. In a mere seven years, demand for the trainers' services necessitated that the program conduct year-round sessions in all types of sports, and the Bulls/Sox Academy was born.
Taught by the trainers who spend their life making sure that the Sox and Bulls are ready to hit the field or court, Bulls/Sox Academy's lessons bring professional techniques to aspiring athletes. Baseball programs teach functional speed movements for high-speed base stealing and help kids build the upper-body strength to knock balls out of the park and through the windshield of their least favorite neighbor's minivan. The basketball course divvies up training between shooting, skills, and defensive play. The fast-pitch softball teachers—both former professional players and longtime coaches—arm students to beat back high-velocity pitches without hurting the ball's feelings.
6200 River Bend Dr.
Lisle
Illinois
The Five Seasons Family Sports Club houses tennis courts, a dining area, fitness facilities, swimming pools, and a full-service spa under one roof. Within air-conditioned indoor courts or on outdoor clay courts, racquet slingers compete in friendly bouts to sharpen swings, refine backhands, and showcase grunting abilities. Members can also break a sweat in exercise areas speckled with modern cardio equipment and weights or cool off in an Olympic-sized pool with diving wells and wading areas. Before meeting others for a postgame beverage at the lively café, clients can wander to the spa for a relaxing massage or partake in a sports workshop to gain a firm grasp on game mechanics.
6901 S Madison
Willowbrook
Illinois
The T-6 Texan isn't like most of the airplanes you see on the runway. For starters, it only has two seats. Then there's the US Military aircraft crest stamped on the side of its mustard-yellow frame—a reminder of the warplane's years of service, from the 1930s to the '50s, when it carried three 30-caliber machine guns and a 400-pound bomb-load. A 1944 T-6 Texan is part of the fleet of fliers at Gauntlet Warbirds, a flight-instruction center that specializes in warplanes and aerobatic aircraft.
Chief pilot Greg Morris has been flying for more than 15 years and teaching for 10. He has a degree in aerospace engineering from USC and was awarded Master CFI-Aerobatic by the National Association of Flight Instructors. He continues to teach the T-6 to aspiring Air Force test pilots and flight-test engineers at test-pilot school as part of the Qualitative Evaulation program. Morris and his team of seasoned instructors copilot joyrides and offer training programs for mastering each aircraft in their fleet, which, in addition to the aforementioned T-6 Texan, includes the 1942 Boeing N2S Stearman, the L-39 Eastern block military jet, as well as aerobatic stunt planes such as the Yak-52, Extra 300L, Bellanca Decathlon, and Super Decathlon, all of which credit their thrill-seeking ways to strict upbringings.
43W514 US 30
Sugar Grove
Illinois
630-999-2044
---